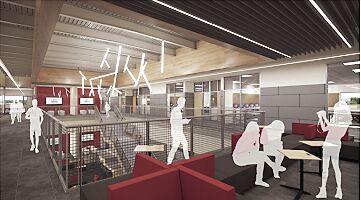 Frisco ISD's Career and Technical Education center is slated for an upgrade that aims to help the district keep pace with growth and changing industries.
During a Tuesday Board of Trustees meeting, the community got a preview of what expansions and renovations of the center will look like for staff and students. The update comes as the second expansion to take place at the center, which first opened in 2008.
"There is a need at the career tech center, there's a need for programs that are already in place and there's a need for future programs," said Konrad Judd, chief design officer with Huckabee Architects.
Planned work includes a two-story addition on one side of the center and a one-story expansion on another.
The two-story addition, planned for the side of the building that faces Ohio Drive, would include a mix of classroom and lab spaces as well as a center commons space on the first floor. The second floor will include labs for an animation program and a new AI lab, Judd said. The floor also includes teacher planning space as well as student focus and conference areas.
"There was a lot of discussion about these labs being very flexible, similar to the labs you've recently added, so it really accommodates future transitions as newer paths come about, you can quickly adapt to those and be able to fulfill those," Judd said.
The one-story addition, located on the side of the building facing the neighboring FISD administration building, would expand the Veterinary Medical program and provide more space for the floral program, Judd said.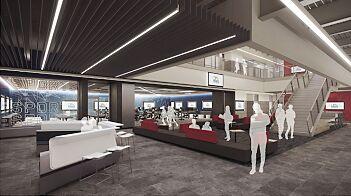 Renovations to the building spaces include repurposing underused audio-visual program spaces in the center of the first floor into space for the district's forthcoming online learning program, FISD+, which launches in August.
Judd said the building's second floor would have a health sciences focus, a development that Deputy Superintendent of Schools Kenny Chandler said would double the capacity of the district's nursing program.
Judd also showed what the expansions will look like from outside.
"You hopefully see that our goal here was to make this addition look like it was part of the original campus and really blend in and really let your community see this as something that was originally there," he said.
A presented timeline indicates the project would likely begin construction in August to be completed in May 2024.