Six speakers took the stage last week at Liberty Christian School in Argyle to share information and stories about sex trafficking.
For Sandy Storm, her stories came from living that life.
"I was trafficked at 6, 12, 22 and everywhere in between," Storm said. "It can happen at any point."
For the last 10 years, she's making it her life mission to keep others from falling into its trap.
Storm, who was trafficked for 15 years, joined a panel discussion that included members of law enforcement and representatives from various organizations that help those who have been trafficked and sexually exploited. The event was hosted by Refuge for Women North Texas, a Denton County organization that provides aftercare for women who have been in those situations.
Defining the problem
Panel members said the first step in helping eliminate sex trafficking is acknowledging that it exists.
John Kochan, who works in the human trafficking division for the Department of Homeland Security, said one of the last cases he worked was pulling 15- and 16-year-old girls out of a trafficking situation. He said they were located at a hotel on Interstate 35W near Texas Motor Speedway.
"It's here," Kochan said. "The challenge is a lack of public knowledge. They don't understand that it happens everywhere."
Dennis Ozment, executive director of 4theONE Foundation, which assists in finding missing teens, said he has worked cases in which the victims were from Flower Mound and the surrounding area.
Ozment said the C7 Human Trafficking Coalition, which includes Dallas, Denton, Tarrant, Collin, Cooke, Grayson and Wise counties, worked with 81 sex trafficking victims in the first quarter of 2019.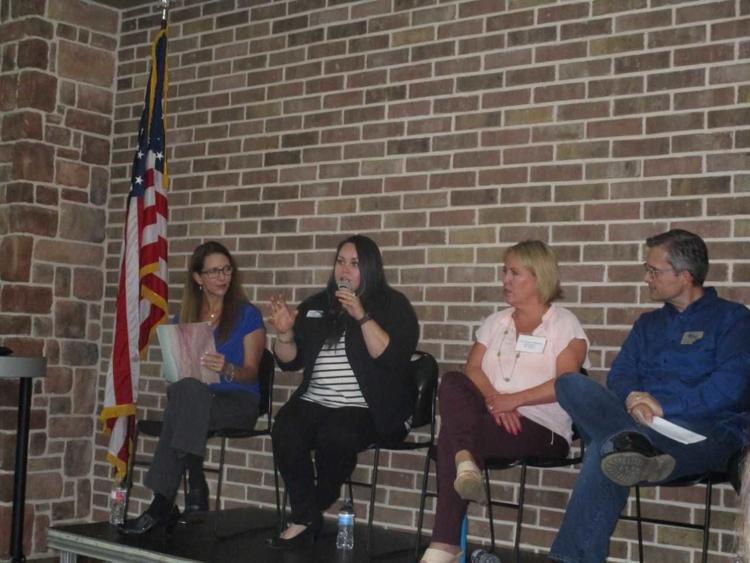 How it starts
Panelists said just as important as acknowledging that trafficking happens is understanding what it is.
Ozment said one misconception is that it starts with an abduction.
"They're running to something or from something," Ozment said.
Panelists said there is no typical victim when it comes to trafficking. Kochan said victims can range from children whose parents are in prison and turn to "survival sex" for money to children who are living a good life until a tragic event triggers a change.
"I've seen cases where kids who were 'B' students suddenly have some type of crisis in their life that opens themselves up to being exploited," Kochan said.
They said it's not always drug addicts that end up being trafficked. Rather, they often turn to drugs to mask what they are doing.
For Storm, it was an unstable home environment.
"I was the problem child in school because I was living a nightmare at home everyday," Storm said. "We lived in a nice neighborhood and went to yacht clubs and country clubs, but there were rooms in the back where there were men who were having sex with children. There was pornography being played in our living room every single day. I was acting out for a reason."
Storm said regardless of the victim's background, vulnerability is a common way trafficking can begin.
"Anytime someone is vulnerable and they are victimized, it's because someone else has power over them," Storm said. "If that vulnerability never gets answered the trauma just builds later and causes more vulnerability, and they can be exploited by another trafficker or be in another exploitative situation."
Ozment said it's important to make sure things are going right at home.
"It's more, I want to make sure my daughter's needs are met in a way to where vulnerabilities aren't there to where something or somebody else can step in and turn her to a direction that will be dangerous," Ozment said.
Panelists said childhood abuse is one cause of vulnerability.
"A lot of times it starts as childhood abuse from one form or another. The vulnerability gets started there, with low self esteem and self worth," said Christine Manos, program director for Refuge for Women North Texas.
Emily Chavez, director of case management at Valiant Hearts, a ministry that aims to eradicate sexual exploitation through preventative and restorative approaches, said 93 percent of sex trafficking victims were sexually abused as a child.
Kochan said traffickers are experts in using social media to find children who are vulnerable."They're casting a wide net out there. It's as simple as 'hi, you look nice today,'" Kochan said. "And if they get some engagement from that person they can tell just like that if they're going to be successful in recruiting or getting that person to come out. They'll approach hundreds of kids but might get two or three that will actually bite on it and end up in a trafficking-type situation. So it's critical to stay involved with your child's social media."
Panelists said it's important for parents to teach their children about online safety but said it's just as important to take a teamwork approach and not be adversarial. Taking away social media or cellphones isn't the answer, Storm said. Teaching them about safety and being on their side is.
"If they don't have a safe adult in their life, if they feel like everyone is against them, nobody trusts them or that they're not smart enough to make their decisions, that's another vulnerability," Storm said.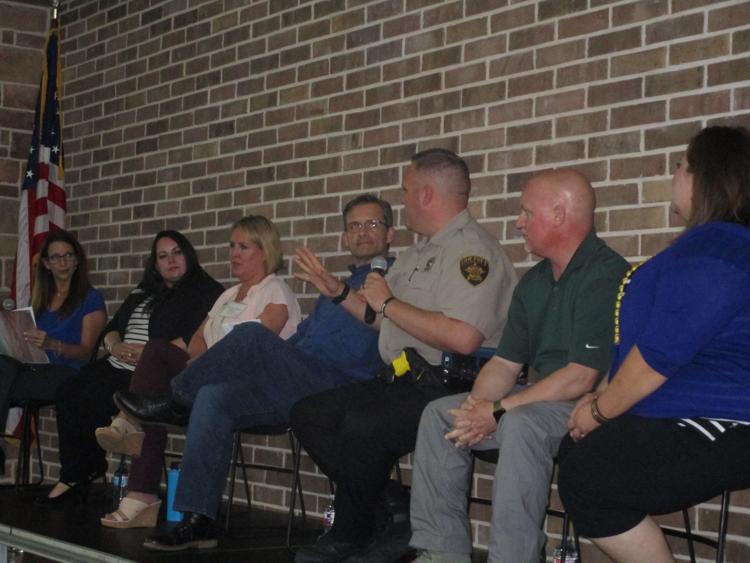 Deputy Josh Godi with the Denton County Sheriff's Department said while it's not easy to talk about sex trafficking to students, his team will address internet safety and how predators can groom potential victims.
Getting out
The panelists also discussed how hard it is for trafficking victims to leave their situation as the same vulnerability that got them there also keeps them there.
Storm said part of it is the fear of facing loved ones after what they've done.
"Guilt and shame can do a lot to a person," Storm said.
Others said it's fear of what a trafficker has threatened to do if they leave, such as go after a family member.
Christine Manos, program director for Refuge for Women North Texas, said there are also financial concerns.
"A big part of it is not being able to support themselves in a manner that's going to live up to the money they're making doing what they're doing," Manos said.
She said once they are able to leave and find organizations to help turn their life around, there are new sets of challenges if they don't have an education. She said that often leads the victim to go back to the streets.
"They come to our house and see there's a different way to live," Manos said. "But wait, I don't know how to count money. I have a fifth-grade education. How am I ever going to get out of this?"
Manos said trafficking victims often don't even realize they've been trafficked.
Abolition
Storm said if it seems like there are more trafficking cases being reported now it's because the efforts to raise awareness have increased, and law enforcement is better trained to know what to look for.
Still, panelists said there are newer factors that keep fueling the issue. Chavez said the organization has a support group for men who struggle with sex or pornography addiction. She said part of the organization's message is explaining how men are supposed to be protectors and defenders.
"There's been a huge shift in society in that that's not what they are and that they can exploit," Chavez said.
She said there is also a decrease in empathy, and she said social media has played a role in that.
"With that, you don't make the connections anymore," Chavez said. "It's a little bit easier to exploit if there's no empathy or connection there."
Panelists said a big key in ending trafficking is disrupting the root of the demand, which they said is often pornography.
"There is a huge demand for porn, which is driving the demand for sex," Storm said. "We have to have this discussion. There are people being sold on the streets out here."
She said there is also a need for more organizations like Refuge For Women.
Storm said a lot of it is simply being alert. She said things could have been different if people would have looked closer at her life instead of considering her a "broken little girl."
"If a teacher had asked one more question," Storm said. 'If a neighbor would have said, 'why are there men going into this house every single night when the mom's not home?'"
As for Storm, her mission continues. She speaks to groups across the country about her experiences, and her books "Hello Navi" and "Becoming Navi" detail the life even further.
And her business card – it includes the title "abolitionist."
"Our society has to change," Storm said. "What we do with this awareness is really important."