On a hot September afternoon, Melinda Lumpkin is quick to grab her book and plop down on her bed to start studying.
She's happy because at one time it didn't look like pursuing her real estate license was going to happen.
Not only that but for the first time in a long time, she has a quiet, air conditioned place to study. And to eat and sleep.
Until recently Lumpkin had been part of a rising trend in the country – homeless female veterans. But not anymore.
On Sept. 14, volunteers celebrated the opening of Mullins Transitional Home for Female Veterans, an eco-friendly house built by volunteers in Lewisville. The home was built to house five female veterans at a time, and Lumpkin was the first to move in.
"Transitioning from the military to civilian life is more of a transition than most people realize," said Lumpkin, who served in the U.S. Navy for 10 years as an electric technician.
Lumpkin said when she left the military in 2017 she intended to continue her education.
"But life happened," she said.
A roommate situation and later an engagement that didn't pan out left her without a place to stay. And with no income or rental history, finding a place she could afford was a big challenge.
"I can't just roll up and say, 'I'll get it together, just give me a minute," Lumpkin said.
So for about six months, Lumpkin went back and forth between sleeping at the Salvation Army, which she said was often crowded, and sleeping in her car.
"I thought I could tough it out, but in Texas it gets hot," Lumpkin said.
She said Veterans Administration does its best to help, but everything is a process. Often a long one.
But soon Lumpkin's case worker introduced her to Green Extreme Homes, a nonprofit that builds energy efficient affordable housing for veterans. The most recent project was the Mullins home.
"A lot of people think they can't find a place to live because of bad choices, and that's not always the case," said Jean Brown, executive director of Green Extreme Homes.
The Mullins house, believed to be the first of its kind in the country, was a joint effort by Green Extreme Homes and Citi, which provided thousands of hours of volunteer work in building the home, landscaping, assembling furniture and donating household items. It's projected the volunteer work trimmed $40,000 of construction costs. Home Depot donated $100,000 in gift cards.
What now sits at the corner of Mullins Avenue and College Street is a two-story, 4,000-square foot home with seven bedrooms, four-and-a-half bathrooms, a living room and a kitchen.
But it's not just any house. This one was built to the Department of Energy's "Zero Energy Ready Home" guidelines.
Steve Brown, president and builder of Green Extreme Homes, said this home costs an average of $1.50 a day to heat and cool. Several factors make the home energy efficient, such as 6-inch walls and an 8.4-inch roof, both with structurally insulated panels (SIP).
"It doesn't heat up a lot in the summer, and it won't cool down a lot in the winter," Steve Brown said. "We heat and cool a small amount."
The house is rated "indoor air plus" with an inverter-driven HVAC system and an air infiltration system that provides one air change per hour – the average home averages seven air changes per hour. Steve Brown describes the air quality as being "hospital air" clean.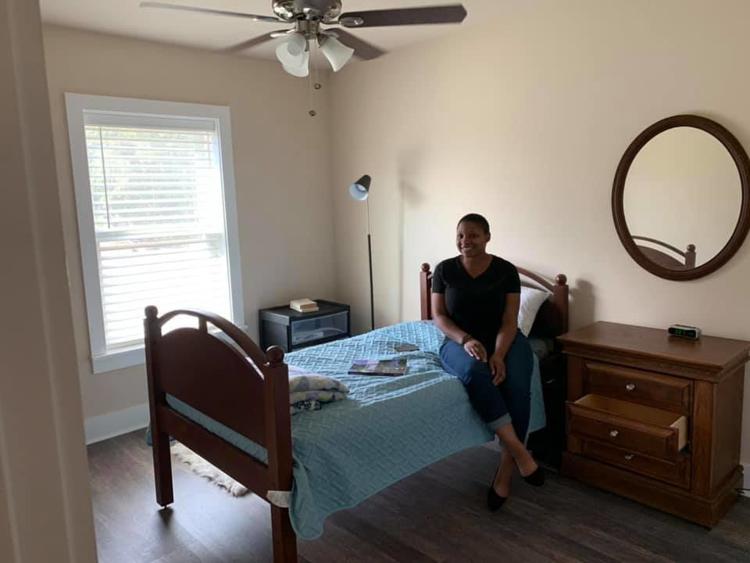 The house uses less water than most as its plumbing fixtures are rated "water sense." There are three eco-smart tankless hot water heaters.
Besides being zero energy, what sets this house apart from other transitional homes is a hydroponics garden that features 14 levels of vertical farming, which Steve Brown said equates to three acres of farm land.
Steve Brown said it uses 90 percent less water, runs on solar power and has no pesticides.
"And it gets you 24 crops per year instead of two," he said.
Jean Brown said there are other advantages.
"It's very therapeutic for veterans," Jean Brown said.
There is also a chicken coop in the back yard where the women will tend to the chickens and have fresh eggs.
And, courtesy of the Flower Mound chapter of the Daughters of the American Revolution (DAR), there will be a beehive so they can make their own honey.
"They've given their time to us, so we can give our time to them," said Saundra Smith, who volunteers with the Flower Mound DAR, which also provided home decorations.
When there's an opening, the house is available to homeless female veterans across North Texas. Residents who live in the house pay $400 in rent, and there is no deposit. But residents who live in the home must get a job.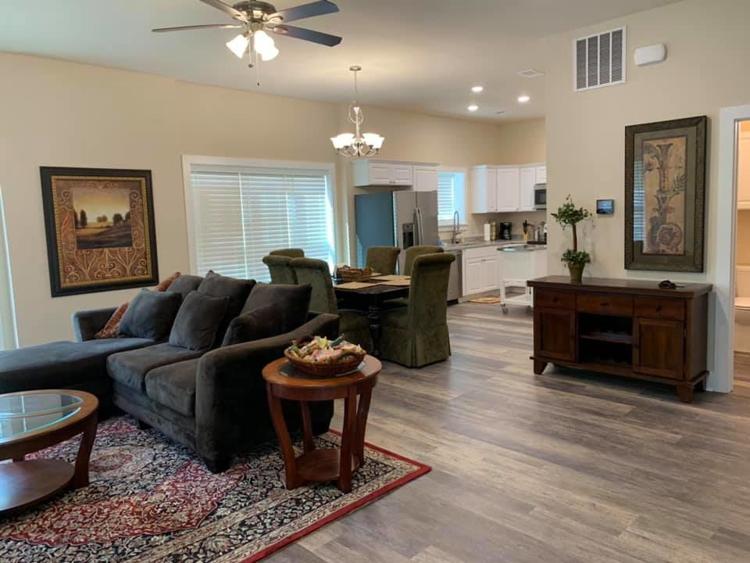 Jean Brown said there is no time limit for how long they women can stay, but she said she expects the average stay to be between six months and a year.
She also said the house is not staffed to care for veterans with drug/alcohol addiction or PTSD.
The house will also provide several social services such as financial coaching, counseling, and education and job development programs to help female veterans transition into a normal and productive life.
"This creates a nurturing environment where these women can work on their school work, getting a job and on self sufficiency," Jean Brown said.
Jean Brown said at first there was concern about what the neighbors would think about having a house for the homeless on their street. But that fear quickly went away.
"Neighbors helped put in some work, and they brought three bags of toiletries in case they didn't have any," Jean Brown said.
Jean and Steve Brown founded Green Extreme Homes in 2011 and has provided more than 150 homes to veterans since then.
"We build or remodel these like we're going to live in it," Jean Brown said. "Just because they're in transition doesn't mean they don't deserve to have a place like anyone else."