LEWISVILLE — Despite an unbeaten record in District 6-6A play, the Plano East girls basketball team is living on the edge these days — winning three consecutive games by four points or less. Junior Tiana Amos extended that streak to four in a row Tuesday in Lewisville.
With the game's final seconds ticking away, the Lady Panthers' point guard made a timely cut into the lane to convert the game-winning basket with 1.1 seconds left and give East a 39-38 victory over an upset-minded Lady Farmer squad. The win upped the Lady Panthers to 8-0 in district play while dropping Lewisville (5-3) from second place into a tie for third with Plano.
"They're young and have to fight through moments like this," said Jessica Linson, East head coach. "We're going to be in those moments where there isn't a timeout and they're got to figure it out. [Amos] just stepped up. Not having Kayla Cooper tonight and her having to step into that point guard role and just hitting a great shot at a great time."
Amos finished the night with four points — each one carrying momentous weight for an East team that played catch-up for all but a few minutes on Tuesday. Amos pulled the Lady Panthers even with 1:13 left in the fourth quarter on a pair of free throws to make it 37-37 before sophomore Mya Dotson put Lewisville back in front with one make from the line, 38-37.
East failed to convert on its first attempt at the go-ahead basket, prompting a timeout from Linson with 19 seconds left. Lewisville foiled the Lady Panthers' initial action out of the timeout, which led to junior Ada Anamekwe, double-teamed on the block, finding Amos cutting into the paint for an off-balance lay-in through contact for the go-ahead basket.
"As soon as it broke down, I wanted to get back into the play," Amos said. "That didn't work, but I knew I had my teammate on my side and knew if she got it deep that they would collapse on her and I could cut. I found an open spot, tried to stay composed and just put it up. No matter if it's by one point or not, a dub's a dub."
FINAL: Plano East 39, Lewisville 38TIANA AMOS!!! The Lady Panther PG scores with 1.1 seconds left to give East its first lead since 2-1. Idara Udo then blocks a last-second shot by Lewisville and East remains unbeaten in 6-6A. Wild game. pic.twitter.com/HvTOfIIjuv

— Matt Welch (@MWelchSLM) January 20, 2021
The basket was the second game-winner of Amos' career, delivering a last-second blow to Allen in a district ballgame last season as a sophomore. 
"It gets you so excited and so pumped. My teammates are cheering me on and getting in my face. I feel so encouraged by my teammates and my coaching staff because I know they believe in me," Amos said. "It gives me confidence to believe in myself, but it didn't stop there because we knew we had to play defense so they didn't get a bucket."
With just 1.1 seconds to get a shot off, senior KK Blair's inbounds heave found senior Laila Lawrence, but her shot was blocked by East sophomore Idara Udo as time expired to preserve the win.
"They've got to learn how to play in those games," Linson said. "It's a different style of ball when you get in the playoffs and can try and speed things back up, but teams are starting to figure out how to slow it down on us. To see us grinding and not quitting was huge."
Amos' basket gave East its first lead since 2-1 in the opening minutes of the ballgame. The Lady Farmers took control from there, deploying their own brand of smothering defense to limit East from doing any damage in the paint. Lewisville forced a number of errant looks inside for the Lady Panthers and turned some timely defensive stops into points on the other end, including a pair of coast-to-coast buckets from sophomore Mya Dotson and senior Haley Allen to pace a 22-17 halftime lead.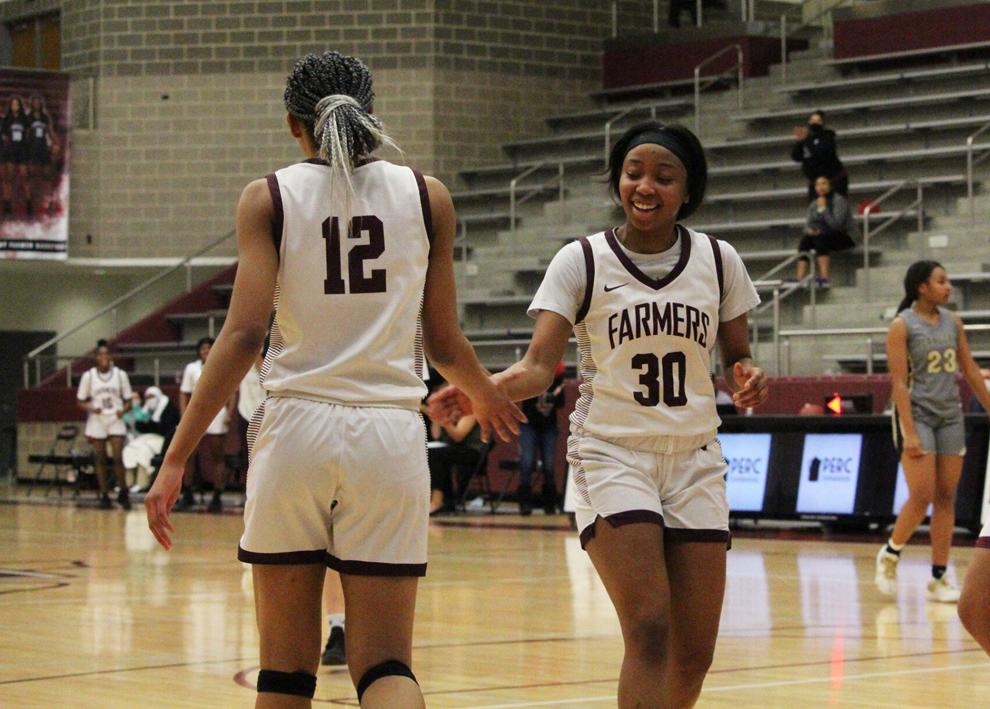 With East denying Lawrence touches in the paint, Dotson sparked Lewisville's attack with eight of her nine points in the first half to go along with five steals and a block. 
The Lady Panthers had their say on defense as well. East baited the Lady Farmers into 24 turnovers but had a tougher time turning those stops into points thanks to some well-connected transition defense by Lewisville to limit the damage off the miscues.
"We respond really well to that," said Sally Allsbrook, Lewisville head coach. "When we make mistakes, the girls know not to hang their heads and to go find a way to make up for it. We made mistakes but recovered on almost every single one of them, except the last one."
Lawrence got going in the second half on her way a game-high 11 points, while Allen chipped in 10. East junior Donavia Hall paced the Lady Panthers with 11 points before fouling out late in the contest. Junior Savannah Adjetey chipped in 10 points while Anamekwe scored six and logged seven steals as part of a tenacious press deployed by East to chip away at the Lewisville lead.
"Coach said that we were staying in [our press] the whole time, so apply that pressure," Amos said. "We know if we keep applying that pressure that they'll start getting flustered and we can build on that momentum. The first thing we know is defense — defense first, let's get stops and then score. That was our mindset."
The Lady Panthers return to action at 7:30 p.m. Friday when they host Plano West. Lewisville looks to bounce back at 6:30 p.m. Friday when it visits Flower Mound.