The Lewisville offense is yet to take its foot off the gas.
The Farmers racked up 608 yards on Friday, the bulk of which came during a dominant second half that saw them outscore Arlington Lamar, 37-20, for a 51-41 road victory to improve to 2-1 on the season.
Lewisville balanced its onslaught on Friday. Senior quarterback Taylen Green completed 21-of-32 passes for 314 yards and two touchdowns and added 122 yards and a pair of scores on the ground. Complemented by 171 rushing yards and a pair of touchdowns from junior Damien Martinez, the Farmers totaled 294 yards on the ground on 8.7 yards per carry.
That effort helped the club erase a 21-14 halftime deficit, busting loose with 27 points in the third quarter for a 41-34 lead heading into the fourth. Martinez scored on a 23-yard run to tie the ballgame, only for Lamar to answer back with a 73-yard score. 
Lewisville then scored two plays later on a 66-yard strike from Green to junior Armani Winfield, and the Farmers came through on special teams moments later after Billy Sanford recovered a blocked punt in the end zone.
Winfield finished with seven catches for 121 yards and a touchdown. He was one of two Lewisville receivers to eclipse 100 yards on the night, with Jalen Pierce catching six balls for 107 yards in the win.
The Farmers enter their bye week before kicking off District 6-6A action at 7 p.m. Oct. 22 against Plano West, which is also 2-1 on the year.
Hebron gets contributions all over 
JUSTIN — Last week, Hebron head football coach Brian Brazil said that it was hard having to tell his players that they wouldn't be able to play against Arlington Martin — a decision made by the Hawks due to COVID-19-related circumstances within the high school.
So when the Hawks resumed their season Thursday against Northwest Eaton, Brazil's message was simple.
"I said, 'Guys, you've all been through so much. Just go have fun tonight,'" Brazil said.
By the time the final horn sounded Thursday at Northwest ISD Stadium, there were plenty of smiles to go around the Hebron sideline following a 31-7 victory that doubled as the Hawks' first of the young season.
"I was proud of how hard our kids played tonight. Our kids played very physical tonight and that's what you have to do to win against big, physical teams like Eaton," Brazil said.
That shined through particularly in the second half, where Hebron outscored Eaton, 17-0, and forced four turnovers. The Hawks' surged over the last two quarters after the Eagles had closed the gap to 14-7 inside the final minute of the first half, capitalizing on a 51-yard bomb from Eaton quarterback Braden St. Ana to receiver Kenneth Greene. Running back Jahbez Hawkins put the Eagles on the scoreboard following a 5-yard run with 40 seconds left in the second quarter.
Hebron didn't let that slip-up linger — capitalizing on a rash of Eaton miscues to restore momentum. Midway through the third quarter, a muffed punt by the Eagles helped set up a 12-yard touchdown pass from Hebron junior Jacob Buniff to junior Cobye Baldwin for a 21-7 lead. 
Hebron 21, Eaton 7 @ 4:29/3QEaton tried to field a punt off the bounce with a ton of Hawks in the vicinity. That didn't exactly work out, Hebron got the ball back, and QB Jacob Buniff extends the lead back to 14 after finding Cobye Baldwin for a 12 yd TD. #SLMGridiron pic.twitter.com/Sg8J0NwciG

— Matt Welch (@MWelchSLM) October 9, 2020
Eaton fumbled away its next series on a miscued snap, which led to three more Hebron points following a 50-yard field goal by senior Brayden Beck. 
Hebron then intercepted St. Ana twice in the fourth quarter — junior Vinson Miller and senior Johnathan Jackson both recorded takeaways — with the latter prefacing a 35-yard touchdown run by senior Brandon Love to polish off the 31-7 final with 3:31 left in the game.
"That's a tribute to our defensive coaches and the kids for buying into what we're telling them everyday," Brazil said. "We always talk about turnover margin, field position and penalties. We did a great job in turnovers and field position tonight and that's something we always emphasize in practice."
The five turnovers forced were a welcome sight for Brazil, whose team played Thursday's game minus several starters. That included junior quarterback Weston Conaway, senior receiver Nick Frazier and senior defensive back Mason Williamson, which forced the Hawks into more of a run-based approach with Buniff managing an efficient, quick passing game in his second start of the season.
The signal-caller completed 18-of-23 balls thrown for 180 yards and a touchdown. He added a 1-yard quarterback sneak in the second quarter that upped the team's lead to 14-0.
"He's a good manager of the game who can throw everything well," Brazil said. "He's not the biggest guy, but he's a leader who's tough and has those qualities you need as a quarterback. We have all the confidence in the world in him."
Buniff got some help out of the backfield from Love and senior Jalon Wilson, who rushed for 66 and 62 yards, respectively, plus one rushing score apiece. Senior Nick Harris caught two balls for 51 yards as part of an offense that outgained Eaton, 320-242.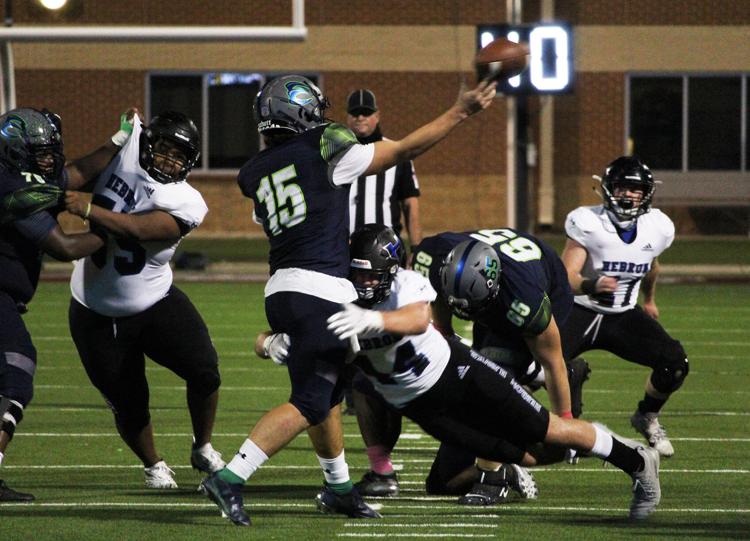 The Eagles, who outsnapped Mansfield Legacy 84-31 in a 17-7 win last week, only managed 53 offensive plays on Thursday versus 65 for Hebron. The Hawks limited St. Ana to just 16-of-31 through the air but for 211 yards and two picks. Hawkins, who anchored a run game that averaged 316 yards heading into Thursday's ballgame, was bottled up to the tune of just 27 yards on the ground.
"I didn't know how not getting to play would affect us coming in," Brazil said. "We had to redo some things — you saw some kids playing both ways tonight, and that's just the new way we're going to have to do things, because you don't ever know when someone could go down and you've got to be prepared."
Brazil noted that the cancellation of last week's game wasn't cancelled due to any COVID cases within his program, but as a result of having to quarantine players who had been around other students that had the virus. That decision had a trickle-down effect in the way Hebron is approaching the remainder of the season.
"I told them that these things can happen again, but we're going to do everything we can to make sure it doesn't happen by changing how we practice and how we do things so we've got as many guys available to practice and play both sides of the ball if we need to," Brazil said.
With injuries compounding the quarantines, the Hawks hope for a cleaner bill of health the next time they take the field on Oct. 23 for their District 6-6A opener, a 7 p.m. kickoff from Kimbrough Stadium against Plano East. 
"We're glad we've got two weeks to prepare for our first district game," Brazil said. "That district is so solid from top to bottom and we'll have to play well every week to win. We'll need this kind of effort every game."