After his student-athletes having been away from school for three months, Lewisville head football coach and athletics coordinator Michael Odle understands the temptation to move quickly as teams look to make up for the time lost to the COVID-19 pandemic.
The fourth-year head coach also sees the bigger picture, realizing that the start of the UIL's limited summer workouts is more marathon than sprint. That outlook has helped Lewisville wade through its first couple weeks of offseason work, as student-athletes across all Farmer sports regain the conditioning needed to compete when the school year begins in August.
"We were still doing virtual workouts as a whole, but with this we're all really starting over," Odle said. "That was a challenge to really go slow. We're excited and everyone wants to go fast, but you've got to tap the brakes and really stress that less is more and the biggest thing we're getting out of this is seeing them, loving them and being there to talk with them about life and everything else in between."
It was that sense of union that stuck with Odle most on June 8 when players and coaches convened for the first time since the statewide shutdown of high school sports in March. But whereas the mood of the day was brimming with optimism, the first couple days of workouts were about much more than exercise.
"We had to go over protocols and procedures and showing kids how to clean and sanitize, how to perform under the restrictions," Odle said. "It was so good to see everybody — seeing them start to sweat and seeing them want to be here. All in all, once Thursday hit I was a pretty tired guy but really encouraged by the turnout." 
Odle said more than 440 student-athletes — the largest turnout of the coach's tenure — were on hand for the school's three-pronged strength and conditioning regimen. Workouts span Monday-Thursday, beginning at 7 a.m. with boys entering grades 10-12. Incoming seventh- through ninth-grade boys work out at 9 a.m., and the girls take the stage at 10:30 a.m. — all adapting to the guidelines and parameters put in place by the UIL due to the ongoing pandemic.
The Farmers' weight room has essentially been moved to the program's indoor football field, with weight racks all spaced apart 20 feet vertically and 6 feet horizontally. Half of the participants in Monday morning's workout trained there, while the other half churned through sprints outdoors. Naturally, keeping everything adequately spaced at all times has added an extra element of attention for the coaches.
"I think we've got a pretty good plan in the weight room with our spacing but when you go outside people can congregate together, so preventing that has been a challenge," Odle said. "Also, getting kids back working out. Some of them haven't worked out much over the last 12 weeks, and even those that had, it's different when you're in a group and getting pushed. We're really making sure we don't overwork kids with them having such a little base after having been off for so long."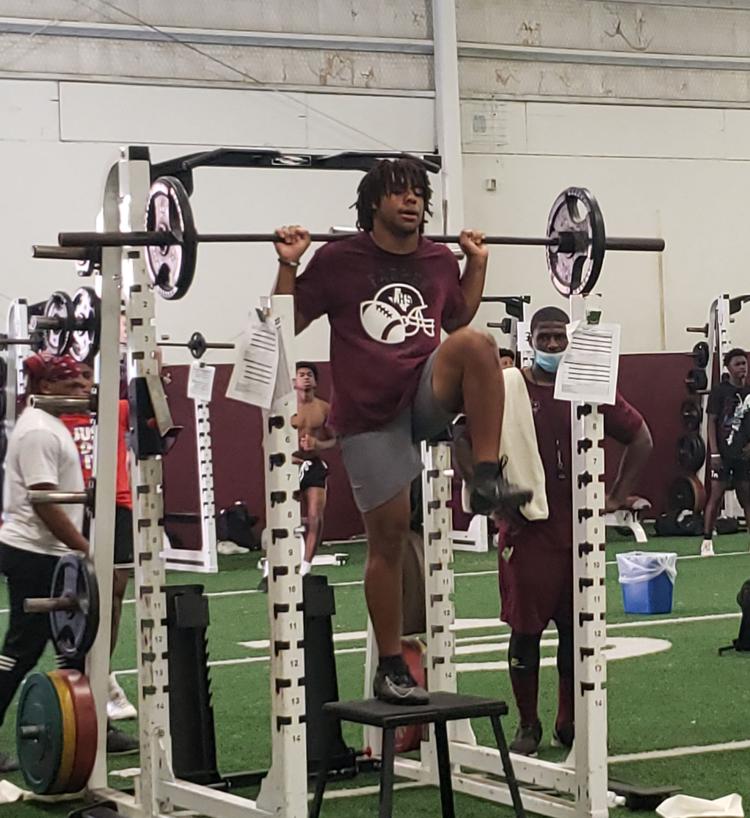 One thing that Lewisville hopes facilitates that has been an emphasis on one-legged exercises — performing things like split squats, lateral lunges and step-ups to help isolate specific muscle groups and encourage mobility and flexibility. 
"For now, we're doing a lot of lighter stuff with one leg. It's just stabilizers — we're real big on hip, knee, ankle flexibility and mobility, so that's included in a lot of our one-legged stuff, which is a really good piece that we do," Odle said. "It's injury prevention, stabilization and locking in your core — some of the things that we're starting with so we don't load up too much weight too soon. A lot of these kids haven't had access to weights — it's been a lot of bodyweight and cardio — so this is how we're starting to get that flexibility and mobility back. 
"I love the one-legged stuff. It really isolates those things and doesn't let you compensate."
As the players continue to restore their conditioning, Odle and his staff plan to ramp up preparations in the coming weeks — steadily mixing in the program's more intensive exercises like Olympic lifts — with the focus on Aug. 3 and the start of fall workouts. Along the way, the Farmers will do what they can to answer personnel questions that still linger from the cancellation of spring football practices.
"We have a deep, younger class that's competing hard and not having spring ball puts us behind there," Odle said. "But we're going to keep trucking along and teaching them what we can. When fall camp gets here, there are going to be a lot of open positions and battles. But we've got an extra scrimmage and it'll still be a while before we open up (district) against Plano West. 
"We've got quite a bit of things to do and learn ourselves before getting to take on our district."