A Little Elm family is asking for both help and answers after their property was destroyed in what they call a targeted incident.
Early Wednesday morning the family of Jayla Gipson and Charles Crawford woke up to Crawford's vehicle on fire in their driveway. The incident took place near the intersection of Eldorado Parkway and FM 423.
"My son had gotten up to use the restroom, and he saw the light outside from the fire," Gipson said. "He opened the door and smelled the fire, and he walked out onto the entryway and saw the car on fire. He was hysterical so he woke all of us up."
When the family went outside they noticed more than a vehicle fire.
The phrase "Trump 2020" were spray painted on the family's garage door. Two bricks had been thrown through their vehicle windows. Their Black Lives Matter sign had been spray painted. And by the time the fire department arrived the heat from the first car fire had damaged a second vehicle. Now, the family's Kia Forte and Kia Optima LX, both new cars, are totaled.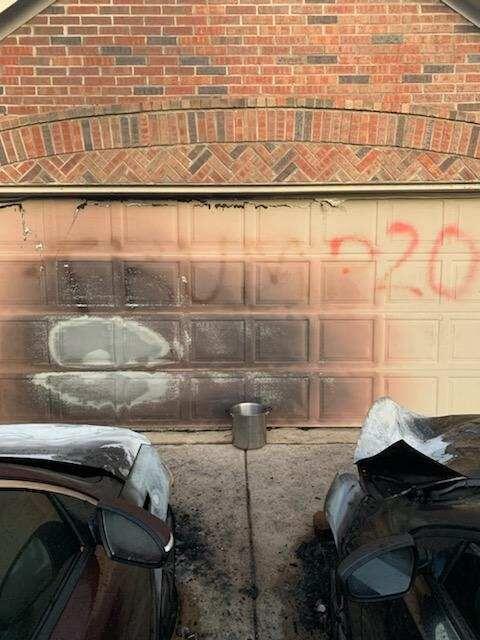 "We hadn't even had the cars six months yet," Gipson said.
Gipson said the total damage, including smoke damage to the items in the garage, totals approximately $70,000.
She said this came at the worst possible time.
"I'm recovering from brain surgery," Gipson said. "Sept. 23 is the last time I worked. This just adds to the toll of what we're already going through."
As to why this happened, Gipson said she needs to look no farther than the Black Lives Matter sign that was in her yard.
"We definitely feel targeted," Gipson said. "It's political, and it's uncalled for. I don't feel like we should have to go through that. This is because of how my family's identity and that we shared a Black Lives Matter sign."
She said her family had never before had a political sign in their yard, and that includes a presidential sign during the last election.
Gipson said the way the vandalism happened makes it even worse.
"They took bricks out of my yard to do this," she said. "I would rather they just take the bricks and knock the sign over."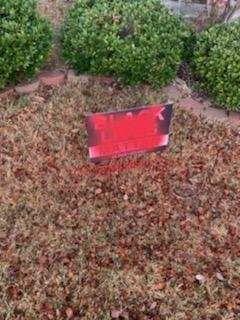 Gipson said she didn't expect something like this to happen in Little Elm.
"We've never had any altercations or anything," she said. "We love the community, and we love the schools."
While the family waits for answers, some residents have already stepped up to help. Gipson's friends Wanda French-Wallace and Glenda Beall set up a GoFundMe page to help with the family's expenses.
And Christmas.
"We still have to provide for the kids," Gipson said.
Gipson said a local resident also gave the family a surveillance camera system and installed it.
As far as the investigation, Police Chief Rodney Harrison said there are no updates.
"It's an open, active investigation," Harrison said. "We're working with our federal partners to get through it, and we're working a lot of different angles to see what took place."
Harrison said it's too early to say if this was a hate crime.
"We're looking at all possible angles," Harrison said.
Harrison said police won't make any further statements on the matter until the investigation progresses since the FBI is involved.  
But Gipson has a clear message.
"For the perpetrators it was cowardly," Gipson said. "I hope they pay the price."