The town of Little Elm honored Det. Jerry R. Walker on Friday with a wreath ceremony at the Little Elm Public Safety Honor Park, located outside of Little Elm Town Hall.
Sunday marks four years since Walker was shot and killed, becoming the first Little Elm police officer to be killed in the line of duty.
Around 3:30 p.m. Jan. 17, 2017, police received a call about a man walking in a neighborhood with a long gun. Police arrived and set up a barricade, and soon after the suspect fired shots from inside his house, striking Walker. Walker died later that evening at a local hospital.
The Little Elm community has honored Walker in various ways since that day.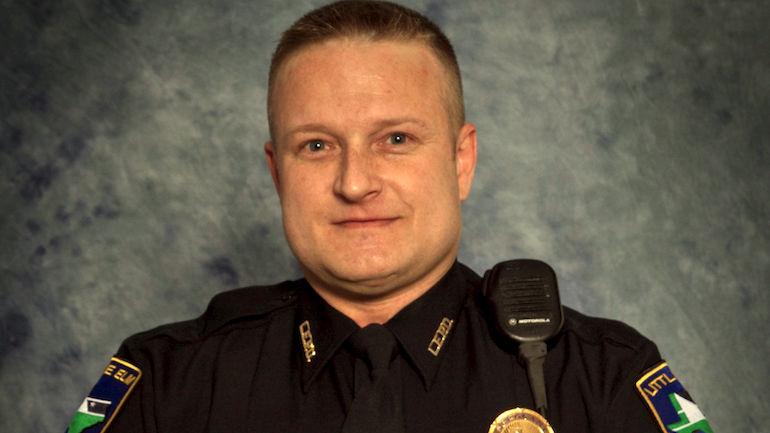 In May of 2019 the town opened the Little Elm Honor Park to pay respect to all those who have served and especially those who have given the ultimate sacrifice.
Friday's ceremony included the placing of a wreath in honor of Walker's life and service. The honor park includes a plaque honoring Walker as well as a statue of a sheepdog and statues of sheep, symbolizing Walker's desire to protect the public.
"We all mourn in different ways, we celebrate life in different ways, we understand that," Police Chief Rodney Harrison said to a crowd at the ceremony. "The No. 1 purpose of this honor park and how it originally got started is to remember the sacrifice that Jerry Walker did for our community.
"I'd like to challenge you in your day-to-day life to when you meet someone new to remind people about what Jerry Walker did for this community," Harrison said. "I'd also like you to remember how this community helped us get back out of that hole that we were in based on that loss."
Harrison reminded the community that the next several weeks will be difficult on the Walker family and encouraged everyone to help the family however they can.
In recognition of the day, all of the town's social media channels will remain dark until Monday.