Little Elm ISD was not idle in the summer months, finalizing multiple construction projects in time for the 2019-20 school year to commence.
Officials also reported significant progress on the future Jerry R. Walker Middle School that is slated for completion within the next year.
Executive Director of Construction Services Rick Martin laid out the entirety of the progress that has been made at a recent School Board meeting. Martin stated that good weather has allowed for projects to be even ahead of schedule and others to "catch up."
Walker Middle School and Strike Middle School both have scaffolding up and have the base of the structure cemented in. As of a week ago, according to Martin, 95 percent of the perimeter beams are in place at Walker Middle School. Parking is 80 percent complete and construction on this phase of the process started on July 16.
As for Lowell H. Strike Middle School, 50 percent of the grade beams are in place and construction of the fire loop will be starting within the next week.
"When I first saw it, there were four or five welding rigs hanging off the crane on the chain. As the weeks went by there were no more rigs hanging off the chain. That tells me they are making good progress and getting caught up on the steel," Martin said.
Little Elm High School's new football field is finished and operational. The turf has been put in place and the soil has successfully accepted the new surface.
"If you haven't seen it yet, it is done. We can hardly keep the team off of it," Martin said. "They have access to it and they got on it as soon as it was done. The track surface is probably going to be done this month. We want them to go on the field while also staying off the track."
The baseball field has been torn up, except the dugouts, by the high school. The field is currently undergoing a transition to completely turf surfaces.
"They are coming along. We have finally been able to get them to where the soil will accept the chemical we need to get into it. We have actually have some areas get some to pass, which is good," Martin said. "It is a similar situation we ran into with the track, as far as how level the ground is, but it is getting there."
The transportation station, which houses all the buses for the district, was completed in July.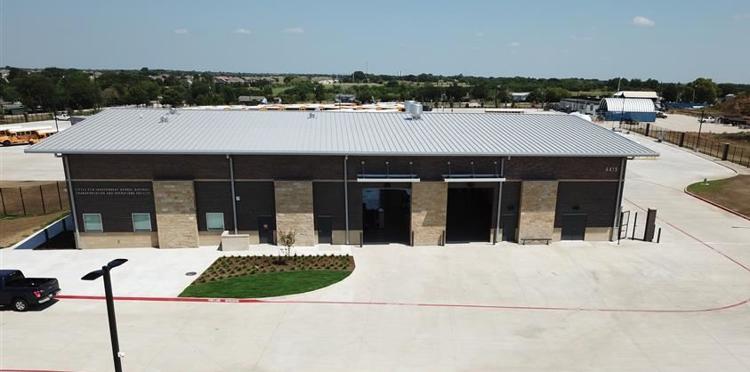 "The staff is starting to settle into the spaces. The buses are starting to come in, and it is done. The field systems are 100 percent, and all the other buildings that were scheduled for removal have been," Martin said.