As council members and town staff posed for pictures in front of Caterpillar construction vehicles and a stanchion of rainbow colored balloons, two Little Elm landmarks stood in the distance. 
With the old water tower and the oldest church in town populating the background of the groundbreaking festivities on the aquatics center, the metaphor couldn't be ignored. The message, to anyone watching, was so becoming of the day – Little Elm is growing fast but simultaneously embracing their roots. 
Mayor David Hillock may be the perfect messenger for this seemingly juxtaposed directive. Hillock, who now is entering the twilight of his mayoral tenure, has spent his entire career presiding over an unprecedented period of growth. Through his time on the Planning and Zoning Commission, City Council, town boards and now in the mayor's chair, Hillock has devoted everything to his town and been unwavering in embracing the "town on the lake" mantra. 
Wednesday felt like that story's crescendo. The unfailing visionary delivering a 42,000-square-foot monument to the cause; the work of a town, and a leader, who knows exactly who it is.
"It is part of this whole thing we call 'Lakefront.' This project started out as just something to define our community. Ultimately, we found out along the way, that since we are a town that is completely surrounded by water and the town with the lake attitude, we needed to have something people can enjoy that is water related when the lake is cold," Hillock said. 
Hillock compared Little Elm to a fishing town in New England, with businesses relying on people coming to the lake for revenue. What the mayor was sure to add, though, was his town was far more than just a "few things related to fishing." Instead, the Little Elm he has helped create is now a vibrant, diverse community that is ready for growth.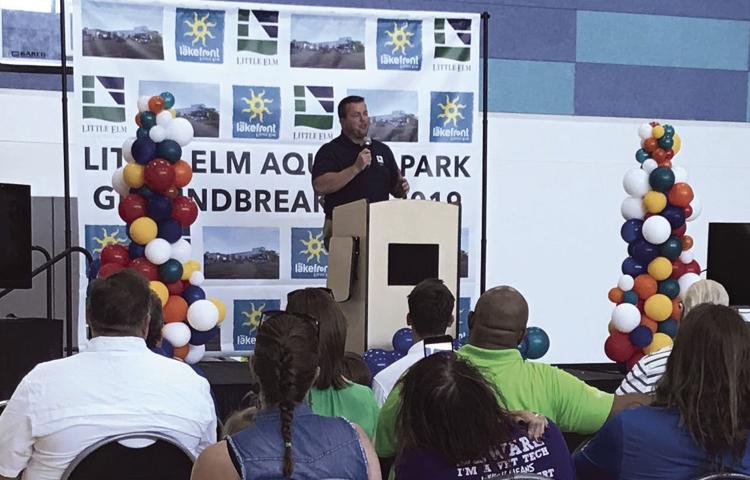 "We had pretty intense meetings with our town manager, Matt Mueller, and other members of staff. Having discussions of the cost associated with this is certainly important," Hillock said. "But the potential to our community to provide that venue that is going to address the needs of our residents, our visitors and our businesses, is going to meet all of those needs. It will provide that opportunity for a year round to continue to attract people in." 
The venue will be an impressive display of craftsmanship to say the least. The center will feature two large slides, a splash pad, a surfing area, lap lanes and a cliff for diving. It will have party rooms, a mezzanine terrace and a cabana to go along with the purely aquatic aspects of the project. Located right next to the current recreation center, the price will come in at nearly $21.5 million, according to a staff memo. 
The project, however, is projected to be a major source of revenue for the town. Hillock noted that this will be an exponential help to local businesses and generate plenty of sales tax for the town. 
"We talk about things like this in terms of providing services to our residents. But I'll be honest with you, if it's full everyday and not one Little Elm resident is there to enjoy it I will be fine with that," Hillock said. "I hope our residents love it but I hope our neighbors pay for it. I hope our Dallas community fills it up everyday and dumps money into the pockets of our local businesses. It will fill up the coffers on town hall from the sales tax generated." 
With construction slated to finished in 2021, the center will have plenty of time for the naming process to finish. The town is taking name ideas from residents and also floated the idea of sponsorship for another revenue source. 
"I can't wait to get it going. I think that is pretty obvious," Hillock said. "Thanks for being a part of this vision with us, and I look forward to building something in this community we can be proud of for a long time."