Justin Beller has been officially declared the elected District 1 city councilman in McKinney.
The decision came Monday after the McKinney City Council certified the May 1 election results that established George Fuller, Geré Feltus and Charlie Philips as the winners in the mayoral, City Council District 3 and City Council At Large 1 races, respectively, and that had originally left Beller and opponent Stan Penn geared up for a June runoff to determine a District 1 winner.
However, Penn announced May 6 that he would be withdrawing from the race and turned in a certificate of withdrawal to the city that same day. As a result, the City Council on Monday was able to proclaim Beller as unopposed and therefore as the winner of the District 1 election.
"I also want to point out that Mr. Beller received over 40% of the vote in a four-person race, and that is a significant and substantial number of votes for a four-person race, so I commend him for that," Mayor George Fuller said.
Beller said in an interview that after a four-month campaign in the runup for the May election, he was glad that a runoff election wasn't going to happen.
"Just to be able to be done with it is a little bit of a relief," he said.
On May 1, Beller received the highest number of votes among the four candidates vying for the District 1 spot, landing at just over 40% of the votes. Penn received about 32%.
"I think the things I tried to focus on were experience in this community, that the people knew who I was, knew my track record, knew lots of things about me," Beller said.
He added that voters wanted to talk about District 1 issues and what was happening in the area.
"I think at the end of the day, that's what people came out and voted for, the issues that were important to them and what they saw in our community," Beller said.
The District 1 spot saw an unorthodox change of hands in November after McKinney residents voted to recall former councilman La'Shadion Shemwell with over 70% (47,843) of the votes.
Efforts to recall Shemwell from the council began after his arrest for refusing to sign a traffic ticket after he was stopped for speeding. In a news conference held soon after, Shemwell said he felt he was being targeted and his rights violated by the McKinney Police Department. The body camera of the arresting officer, Kyle Wilkerson, revealed that Shemwell's arrest was due to his refusal to sign the speeding ticket.
After Shemwell's removal, the City Council appointed Angela Richardson-Woods to be the city's interim District 1 representative and the first African American woman to serve on the City Council.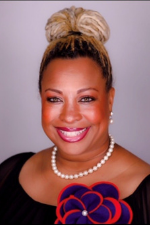 Now that Beller is poised to take his spot on the dais, he said he is looking to provide some calmness and stability as a District 1 representative when it comes to the spot's recent history.
"I think what Ms. Richardson-Woods has done has been a very calming time for this district, and I think that I'll continue that because of my personality," he said.
In a broader sense, Beller said there was a need for engagement between the city and the district.
"We need some kind of proactive planning and solution-finding for issues that we face," Beller said, "and so I hope I can provide those things as well."
As the council approved the May 1 election results on Monday, council members took the time to thank Richardson-Woods for her time on the dais.
"You stepped into a very tumultuous, very volatile situation and brought just a calming, a voice of reason, and you eliminated all drama and just conducted business in the most professional and appreciative way," Fuller said. "Not just for this council, but for the entire community, and that will never be forgotten, it will always be appreciated."
Fuller added that he hoped she would decide to run for election in the future.
"Because you should be up here," he said.
Councilman Charlie Philips added that Richardson-Woods had been the unanimous choice for appointment to the City Council.
"I just want to make sure you knew that, that we had that much confidence in you, and you didn't let one of us down," he said. "You have been a blessing."
Richardson-Woods thanked the city and Fuller for considering her for the opportunity.
"Thank you to the community for embracing me," she added. "Many did not know me, but thank you for allowing me to have the opportunity to serve in this capacity."
Richardson-Woods's last meeting will be on May 18. She will continue to serve on the McKinney Community Development Corporation after she finishes her time on council.
Winston Henvey contributed to this report.