The McKinney City Council on Tuesday approved appointing Pastor Chris Thornton to the District 1 seat on the City Council.
After being officially appointed, Thornton addressed the City Council chambers during the regular meeting.
"I'm me," he said. "I'm Chris Thornton, and I hope that in these next five months, or whatever it is, that I can be of service to my community. But don't expect me to be anybody else other than who I am."
The appointment comes after former Councilman La'Shadion Shemwell was removed through a recall election Nov. 3.
Thornton, a lifelong McKinney resident, will serve on the seat for the roughly five months leading up to the May election when voters will get to decide who will take the seat. Should the May race for the District 1 seat result in a runoff, Thornton will serve on the district seat until a candidate has been selected during the runoff election date.
"I'm a product of McKinney, born and raised on the east side," Thornton said. "I'm a Black man, truly enough, and I stand for that, but I'm also a fair man. I look at it from every aspect that I'm supposed to. But first and foremost I'm a Godly man, and I follow God and I trust God in where he's leading me and (in) what I need to say and what I need to do."
Thornton said he was looking to help his community and the city over the next five months.
"Because, yeah, I'm a Black man, but I've got brothers and sisters of all shades and colors," he said. "But I'm going to stand for what I believe is right. Right or wrong."
During a special Tuesday afternoon meeting of the City Council, Mayor George Fuller said he had reached out to leaders of the east side of the city and asked for their input on who should be appointed to the empty seat. The community formed a committee, Fuller said, and after meeting with multiple people came up with two names and a recommendation. The list had been narrowed down to Thornton and Angela Richardson-Woods, McKinney Community Development Corporation treasurer.
The community had ultimately recommended Thornton, Fuller said. Councilman-at-large Frederick Frazier said Richardson-Woods did not want to lose her seat with the corporation.
Council members didn't present any additional names for recommendation. After a brief discussion, the City Council unanimously approved appointing Thornton.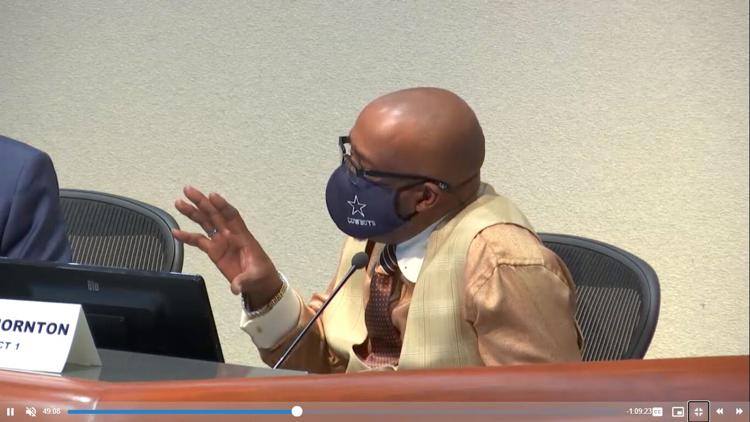 Thornton is the associate pastor at Mt. Pilgrim Baptist Church in McKinney and the pastor of Hopewell Missionary Baptist Church in Colbert, Oklahoma, according to the McKinney city website.
Thornton graduated from McKinney High School in 1982 and was the first African-American student elected class president at the school, the city website states. He served in the United States Air Force after high school.
Later that evening, multiple citizens congratulated Thornton on his appointment.
"He's a uniter," McKinney resident Tammy Rogers said. "He's a strong voice, he's a man of strong conviction, and since the very first time I met him, he's just a person who brings people together."