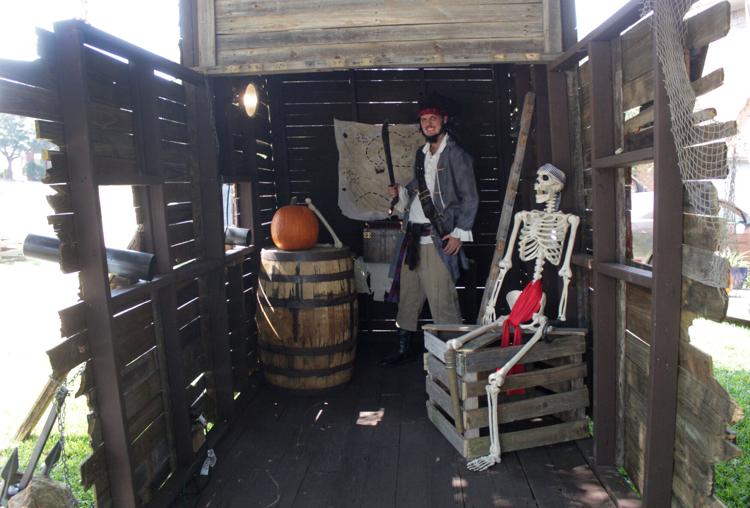 Trenten Williams has created scenes for screen and stage, but for Halloween, he's using his know-how to create another world in his own front yard.
The McKinney resident has taken to his front yard to create a shipwreck scene for Halloween complete with skeletons, two home-built pirate ships, and, of course, a treasure chest of candy.
"Pirates are something everyone enjoys," he said. "It appeals to all of our sense of adventure to sail the seven seas, swashbuckle and drink rum to your heart's content, so it just appeals to that inner sense of fantasy and fun that everyone has."
Williams, a film student, got the idea last year when he was working on a short film about pirates. That led him to create his first rendition of "Pirate Land," which then featured a crow's nest, kraken tentacles and a shipping dock leading up to the front door.
"I like to build things, and I'm creative, and I've always wanted to do something just crazy for Halloween," Williams said, "so I was like 'how can I turn this from just a script to a whole yard decoration?'"
After last year's Halloween, the shipping dock stayed stored on the side of the house, Williams said. Now that the season has rolled around, the dock is once again featured in the 2020 version of Pirate Land.
"This year, the idea was to do it bigger, better and more interactive," he said.
The front yard tells the story of a shipwreck complete with two pirate ships built by Williams himself. One stands proudly and fully intact — the attacker in Williams's story. The other sits in two pieces. The front part extends over the sidewalk while the ship's other half contains a treasure map and bears the ship's name, "The Dragon's Loot."
The elements that come together to form Williams's otherworldly experience come from a variety of sources. The wooden slats forming pirate ships are from disposed fences he found through Facebook Marketplace. The map inside one ship is made from a pillowcase drawn over with marker and burned at the edges. The treasure chest and helm featured in the display come from a thrift store. Skeletons posed in and on the ships give a hint at life in Pirate Land, and PVC pipe cannons line the open hatches he has worked into his designs.
Add to that a blue light to make the front lawn look like the ocean, a fog machine and pirate music playing over the yard. The components have come together over the span of two months to form what will be an interactive display on Halloween night.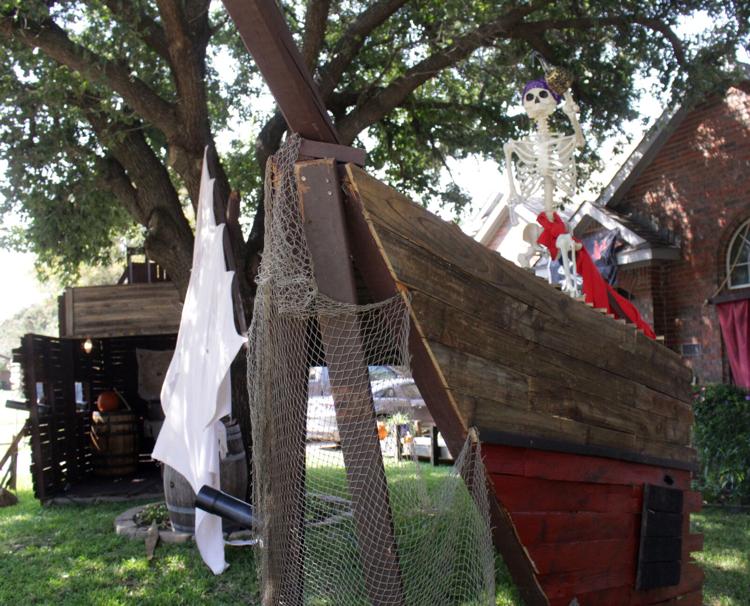 Williams's neighbor, Chele Reilmann, gave him one of the skeletons featured in the display.
"There's a lot of pride that people come and check it out, because it should be checked out," she said. "It's cool."
Reilmann's 8-year-old son plays among the fantasy land after coming home from school, Williams said.
"Every time a group of kids come by it, their eyes light up," he said.
And they're not the only ones.
"Even adults have been coming up and going in the ship and acting like pirates," Williams said.
For Williams, seeing that kind of reaction makes his nearly two months of work in his backyard worth it. It also solidifies his hopes of inspiring what he feels is a fading interest in the Halloween spirit.
"It seems every year less and less people put decorations out or give out candy," he said. "So I'm hoping people see this and are like 'Well maybe I can do something like that.'"