Shortly after introducing its new members, the McKinney City Council got a look at the future.
Jonathan Smith, associate partner with architecture firm Lake Flato, walked council members through concept designs for the forthcoming McKinney Municipal Community Complex, a five-story 180,000-square-foot space intended to be the center of city operations.
The move to a new facility comes after McKinney voters approved a 2019 bond that provided $50 million as a major funding source for a new Municipal Community Complex. A city of McKinney press release said a timeline for construction on the project has not yet been established.
The presentation of the concept designs during a Tuesday City Council work session comes as a first step toward the project's inception. The concept designs included ways to provide a number of collaborative environments.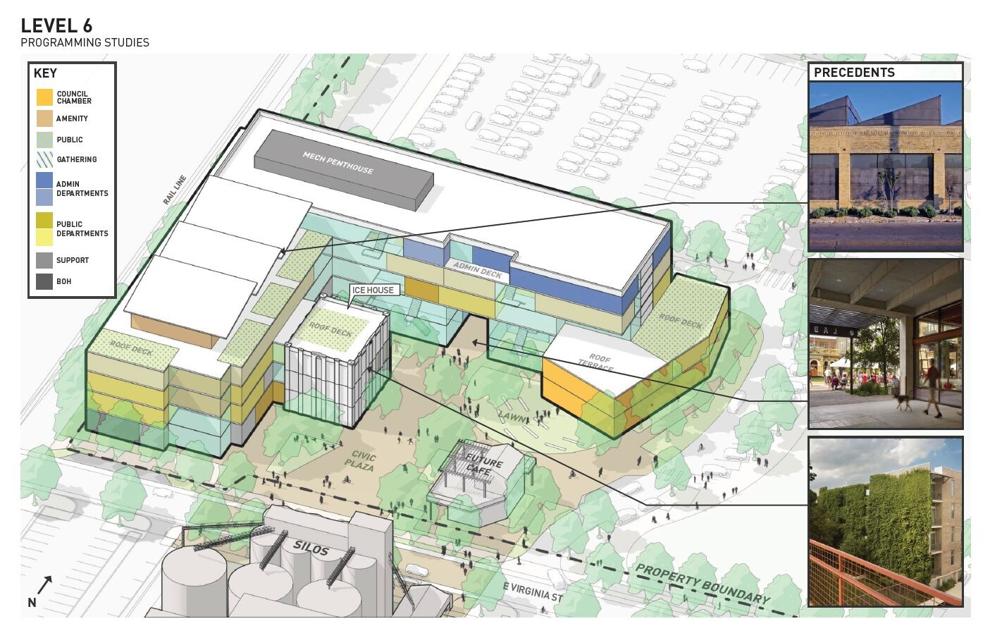 "Right now you're in, whatever it is, half a dozen different buildings," Smith said. "And so just putting everyone in the same building is going to be a huge step forward for your workplace culture. But also trying to take the next step forward and having less total square footage dedicated to everyone's individual space and more dedicated to their collaborative space while still giving everybody their own individual space."
Smith's presentation also included making sure the facility points to McKinney's heritage. He highlighted McKinney's surrounding artifacts on the planned complex site, including nearby historic flour mill silos and the historic McKinney Coal and ice Company's three-story ice storage building.
"Really thinking of ways that instead of turning our backs to these things, we can really celebrate these things as uniquely McKinney," Smith said.
As Smith led council members through concept designs for each floor, he peppered in ideas for incorporating elements of local history, including the potential for converting the ice storage building into an event hall and facing a civic plaza towards the historic flour mill silos.
"That's a really unique opportunity to have this civic plaza really reference that past and that history," Smith said.
Smith's presentation included a rundown of each of the five floors envisioned for the site. The ground floor includes a breezeway and City Council chambers, as well as conference space. Smith described a vision of allowing the council chambers to interact with the plaza and adjoining lawn such as by having a glassy opening or rolling doors.
"You get a sense that we're just trying to create this simple and civic feeling, timeless building," Smith said.
The second floor concept design included public departments like engineering and building inspections, and the third floor included a rooftop terrace over City Council chambers. The fourth floor showed spaces for more city departments as well as a roof deck over the ice storage building, and the fifth floor concepts include conference rooms as well as the city manager's office. Smith also mentioned ideas for outdoor meeting spaces.
"We intend to create not just a City Hall, but a community gathering space the entire community will embrace," Assistant City Manager Barry Shelton said. "That means we design to the context of this unique historical district and celebrate it in the area around the building."