He's the poster child for a normal 6-year-old boy. Playing little league baseball, learning the ways of the road with Hot Wheels cars and taking his first trip to Legoland, Drew Herrell of McKinney was finding is feet in a chaotic world. But very recently cancer flipped the script on everything in Drew's life and changed the tenor of his routine.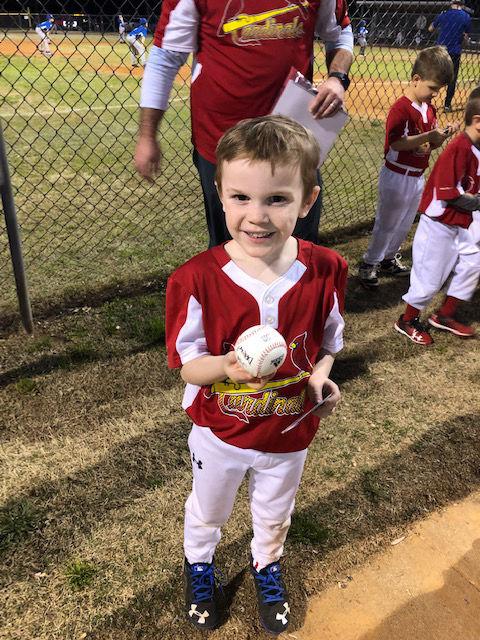 After being diagnosed with Stage 4 rhabdomyosarcoma just weeks ago, it appeared Drew was going to have to put his life, and his growth, on hold. Instead, Drew is using the cancer to mature faster. Sure, it may not be through fielding a ground ball, but the 6-year-old is using his experiences to mature even beyond some adults.
"One night we talked to Drew about the cancer. We thought he was better off knowing what he had and hearing it from his parents. We said, 'Drew do you know what you have?' and he responded without hesitation. He said, 'I have Jesus'. That is more than I could say at that age," Drew's mother Emily Herrell said.
Cancer, in an almost unexplainable way, has the ability to bring out the best in humanity. Emily talks about the compassion her son has showed at the hospital with sharing toys with other boys. Perhaps the most incredible part about this is the compassion from the outside people looking in.
"I was at Target for the first time after Drew returned from his nine-day overnight in the hospital. It was the first time I had been away from him and my emotions were heightened. I was making a go bag for him and myself for any time we needed to rush to the hospital, but my card declined for some reason," Emily said. "I was crying and I was confused because we had the funds to pay for it."
While Emily called the credit card company, a woman walked over and took care of her charge. The good Samaritan's message was simple: Her grandfather had passed away from cancer that day, and she said it was her gift from him. In those moments, Emily believes she sees faith at work.
"I know no matter what happens, he is saved. It shows me that (God) is looking out for Drew," Emily said.
Drew will undergo 42 weeks of chemotherapy and every third week will be admitted to the hospital. After three months, he will go to the daily radiation clinic every day, Monday to Friday. His mother knows he will return to first grade next year in the second semester when he comes out of this stronger.
Drew also has one of the rarest blood types, O negative, and may need a blood transfusion in the coming days. People with O negative blood type can only receive transfusions of the same type, whereas other types can receive more than one. His family is campaigning for everyone to donate blood at the McKinney Battle of the Badges Blood Drive this weekend, June 7-9.
"We are donating blood – even though I cannot donate to Drew directly – to show we are with him," Emily said.
Follow Drew's story at facebook.com/DrewMonsterStrong
Donors can make an appointment for any of the Battle of the Badges Blood Drive locations and vote in support of either the police or fire department and receive a Battle of the Badge T-shirt.