Understanding that this school year students will be going back to school, the Dawoodi Bohra Community of Collin County has planned a backpack drive to collect backpacks and other school related supplies.
This event will be held between 5:30 – 7:30 p.m. Saturday at the Dawoodi Bohra Masjid Site at 1410 South Tennessee Street in McKinney. Anyone who would like to be a part of this initiative can do so by stopping by the event or contacting the Dawoodi Bohras at collincounty.tx@usa.thedawoodibohras.com.
The second part of the event, scheduled for August 1, will include distribution of backpacks and supplies. For that, a local NGO the organization works with often, Little Free Pantry McKinney, has offered to widen the reach to those in need.
The distribution will happen at the McKinney Masjid site and will involve the youngsters of the community.
"Education has always been a priority of the Dawoodi Bohra Community," Rashida Rasheed from the Dawoodi Bohra Community said. "With the new school year around the corner, we wanted to do something that would help take away the financial burden many families are facing. Our goal is that when kids go back to school, they should go back excited, happy to learn, and prepared — and do what we can to make it happen."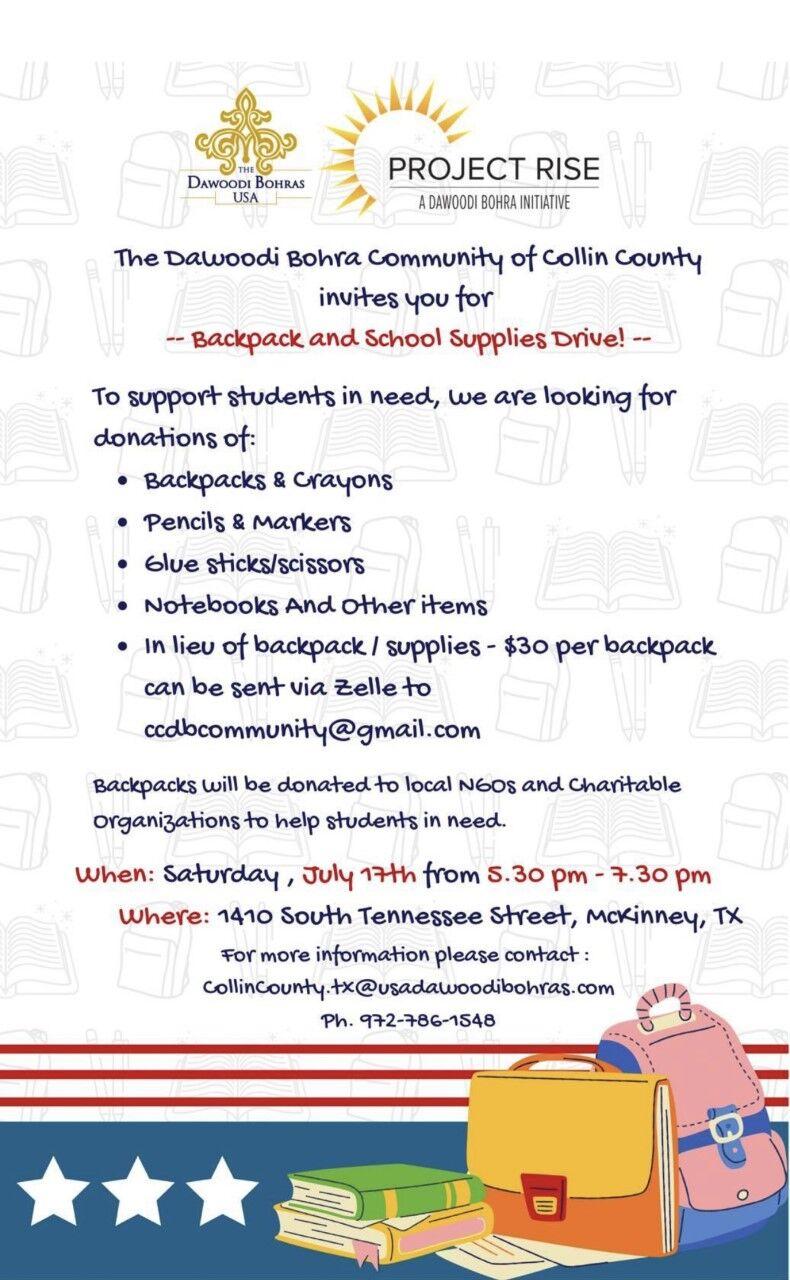 Rise Project Rise is a philanthropic endeavour initiated by the Dawoodi Bohra Community which is being implemented wherever the community resides across the world. Its aim is to raise and elevate the less fortunate. It strives to foster a culture of empathy, awareness and generosity such that no individual is neglected, overlooked or marginalised. Project Rise deals with a wide spectrum of initiatives and activities in healthcare, nutrition, water and sanitation, environmental responsibility and conservation as well as education. It endeavours to bring about an uplift in people's lives so that they may live in comfort and with dignity.