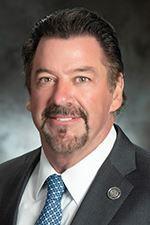 McKinney is known as a healthy, active community. Whether you are a marathon runner or a weekend warrior, there are opportunities for you to take an active role in your health and the health of your family.
I am excited to announce my partnership with the McKinney Parks and Recreation Department to put on a community wellness day event as a part of the It's Time Texas Community Challenge that will positively impact the health, fitness and activity levels of everyone in McKinney.
In case you're not familiar, the Community Challenge is a statewide competition built around healthy activities like walking, running, drinking water, eating your greens, or yoga. You sign up on behalf of McKinney and earn points for our community with every healthy action you submit. At the end of the eight-week challenge, the cities and school districts with the most points in each size category get a cash prize to put toward a community health project. There are also regular prize giveaways for individual participants.
Our McKinney community event is taking place at Old Settler's Recreation Center and the Apex Centre on Feb. 15. From Zumba parties and yoga to wellness classes and swim lessons, the day is full of free activities everyone will enjoy.
If we get 25 people to attend, we earn a substantial amount of points, towards our community total. If you're able to make it, let me know by RSVPing on our Facebook events. You'll find more information and the RSVP links online at www.mckinneytexas.org/FitnessChallenge. Then, register for the Community Challenge at ittcommunitychallenge.com. (It will help us earn more points!)
Even more than the competition, the It's Time Texas Community Challenge is about encouraging each other to lead healthier lives and build a stronger, more connected community. Promoting a healthy community not only benefits our citizens by improving the quality of life and place, this program will also serve to attract companies seeking to relocate in areas where healthy lifestyles are part of the fabric of the community.
I'm looking forward to meeting you, your friends and family at our wellness day event and getting healthier together. 
If you can't make the event, don't let it stop you from participating in the challenge with us. Every ounce of water you drink or 15 minutes of fitness counts. Take a walk around Towne Lake Park, play a game of tennis at The Courts of McKinney, visit one our community centers for a game of pick-up basketball or walk your dog. We're in this together.