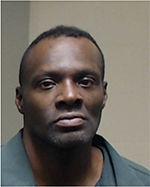 Collin County District Attorney Greg Willis announced that habitual offender Christopher Crawford, 42, of Dallas, was sentenced to 30 years in prison after a jury found him guilty of unlawful possession of a firearm by a felon.
"I commend McKinney police for their quick response and bravery in apprehending this dangerous felon. They also zeroed in on the two handguns he threw out of a stolen truck near a neighborhood entrance, before a child could have found them," added Willis.
On Nov. 6, 2018, McKinney police responded to a residential aggravated robbery call. The reporting party said the suspect had a gun, stole his truck, and drove away.
Officers spotted the truck driving nearby and tried to pull it over. Instead, the truck sped away. A 15-minute high-speed chase ensued from McKinney and north into Melissa, reaching speeds of 70-80 mph.
During the chase, officers saw Crawford throw something out the passenger window, which sparked as it hit the ground. Eventually, in an attempt to end the chase, officers rammed the truck, which then crashed into a tree. While searching Crawford's pockets, officers found two speed loaders for a revolver, both loaded with bullets.
Officers next searched the area where Crawford threw the object out the window and found a semi-automatic handgun on the side of Highway 5 near the entrance to a McKinney neighborhood. Officers also found a revolver a short distance away.
McKinney Detective Craig Owens interviewed Crawford, who admitted to throwing two handguns out the passenger window during the chase. Crawford described one as being a semi-automatic handgun and the other as a chrome revolver with a brown handle. Both descriptions matched the guns found by officers.
A jury convicted Crawford of unlawful possession of a firearm by a felon. During the punishment phase of trial, prosecutors presented evidence of Crawford's prior felony and misdemeanor convictions, including robbery, assault, family violence, terroristic threat and drug possession.
Under Texas habitual offender law, Crawford's prior felony prison sentences raised the range of punishment for this crime from 2 to 10 years to 25 years to life. Judge Tom Nowak presided over the jury trial and assessed punishment at 30 years in prison.