A stranger passing by the meeting room of the Allen La Quinta Inn on Thursday may have overheard their conversation. The first impression they might have is there's a group of old friends in there catching up, just chatting about grandchildren, health troubles and life in general. For the 20 or so men who gathered in Collin County this weekend, it's much more than that.
Thursday through Saturday marks the biannual reunion and chapter meeting of the Texas Chapter of the Third Marine Division, an assembly of Marines who are or once were members of the Third Marine Division. The group is spending the weekend in McKinney, Frisco, Plano and Allen, taking in sights like The Star in Frisco, Southfork Ranch and the George Bush Library and Museum. The men, alongside their wives and children, will cap the reunion with a banquet on Saturday evening.
While the chapter is open to soldiers of all eras, it's chiefly comprised of Vietnam veterans and a handful who fought in World War II. As proud Marines, their goal is to foster the camaraderie among the Third Division and preserve the memories they have together.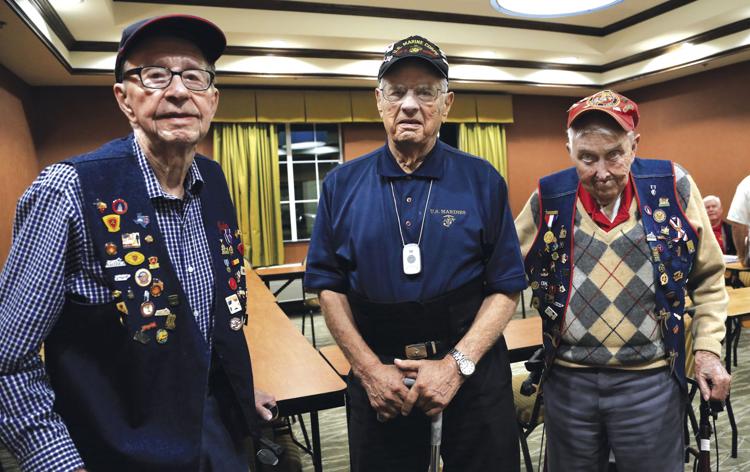 Three members who attended the weekend are among an elite and increasingly rare group as veterans of the Second World War. Oliver Smith, 96 of Houston; Hubert Spann, 92 of Benton, Arkansas; and John T. Kula, 93 of McKinney, don't let their age keep them away from their chapter.
Kula remembers fighting in the Battle of Iwo Jima, where he was injured, and he takes every chance he gets to express his gratitude for his safe return.
Thanks to the chapter, Smith and Kula were united years after they were both stationed on Guam, although it was at different times. In fact, when Smith was wounded there, Kula was his replacement – a brother in arms that he'd never met.
But that's the way of the Marine Corps brotherhood. As Spann puts it, "a Marine is a Marine and always will be, and he's always a friend to another Marine."
"Any time one Marine meets another Marine, maybe it's just on the street, you've made a friend for life," he said.
The men say they simply had a job to do, and they did.
While Smith said he doesn't often tell his own war stories, he said each chapter meeting brings in new friends, and every meeting brings new stories
"But all the stories come back to one thing: We had a job to do. We did it," he said.
The younger members, themselves approaching their 70s and 80s, returned home from Vietnam to a much different social climate than what their WWII brethren saw or what more modern soldiers experience now. But as the times have changed and they're often thanked for their service, they still seek comfort in one another.
Vietnam veteran Ron Whitacre said he didn't wear his Marine Corps cap for many years after his time in the service.
"Now I wear it all the time," he said. "It's not because every once in a while a little old lady wants to hug me in a grocery store, which happens. It's because I'll run into one of these guys out there in the world … it starts a different kind of conversation that's enjoyable to me."
Through the chapter and the relationships the members have made, they can always lend a hand, whether it's to find health care services or to connect with other resources.
Pete Post of Georgetown, Texas, has spent the last few years working to bring home the remains of two Marines under the Defense POW/MIA Accounting Agency (DPAA), a task force whose mission is to account for Americans who are listed as Prisoners of War or Missing in Action. His current goal is to bring back Cpl. James Trimble and Pfc. Tony Pepper, who were killed in Khe Sanh. Post fought in the April 6-7, 1968, battle that claimed the squad leader and radio operator. He said 11 were killed in action (KIA) and 45 were wounded.
Post has been back to Vietnam three times in the search, and despite looming health concerns, mistaken locations and funding limitations, he hopes to bring Pepper and Trimble home to be laid to rest on American soil.
One positive experience Post has had since his return was during a stay at a hotel in Dong Ha south of the demilitarized zone (DMZ). He said during dinner one evening he noticed a group of members of the North Vietnamese Army (NVA) and struck up a conversation.
"Through the interpreters, one of them said, 'Look, your country asked you to do a job. You did it. Our country asked us to do a job. We did it. Forgive and forget,'" Post said.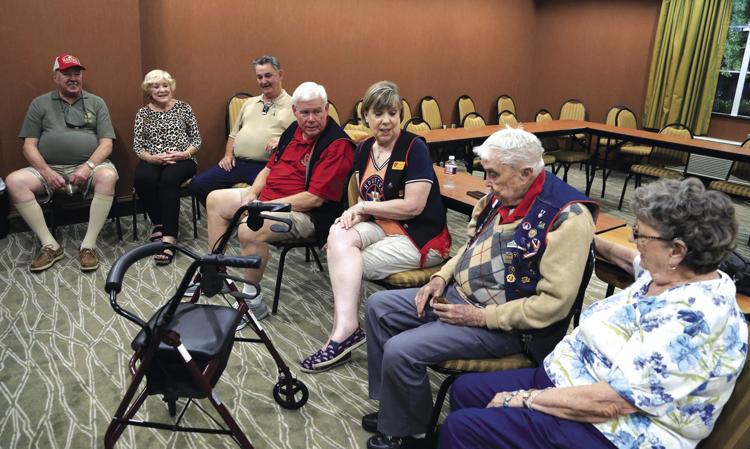 No matter where their paths have taken them over the years, the chapter members agree the Texas Chapter of the Third Marine Division is a source of therapy in itself, and they hope to see it grow with the younger generation.
"It helps to reunite with other people who did the same thing," Post said. "A lot of them have PTSD and a variety of different problems. They can say these guys are still living, they're still functioning, I guess I can, too."
Chapter President Bob North of Houston said it pains him to lose members or when they're absent from the reunions. And, as veterans of earlier conflicts age, efforts to gain new members continue. Anyone from the Third Marine Division is eligible to be a member. Associate membership is open to those who are legal dependents, parents or spouses of those, living and deceased, eligible for regular membership. For information, visit caltrap.org.