The McKinney Fire Department (MFD) is warning of the risk of freezing pipes in fire protection sprinkler systems as temperatures drop overnight. Freezing water expands and can rupture a sprinkler pipe fitting or possibly activate a sprinkler head. The resulting water damage can be costly.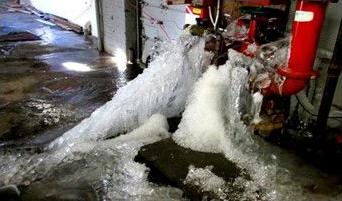 To prevent problems:
• Give the system a thorough inspection.
• Keep cold air out. Be on the lookout for areas in your building that could let cold air in and increase your risk of freezing pipes.
• Riser rooms and all other areas with sprinkler piping, are required to have a space or unit heater. Make sure heaters are in working order and set to at least 40-degrees at all times.
• All water-control valves should remain open.
• Make sure there is no water in low-point and auxiliary drains.
"Freezing pipes are a real risk if you don't take the time to maintain your fire sprinkler system," said Chad Nester, Graduate Fire Protection Engineer. "If something does go wrong, contact a repair specialist immediately to prevent significant damage to your facility."
More safety information can be located at www.mckinneyfire.org or www.nfpa.org.