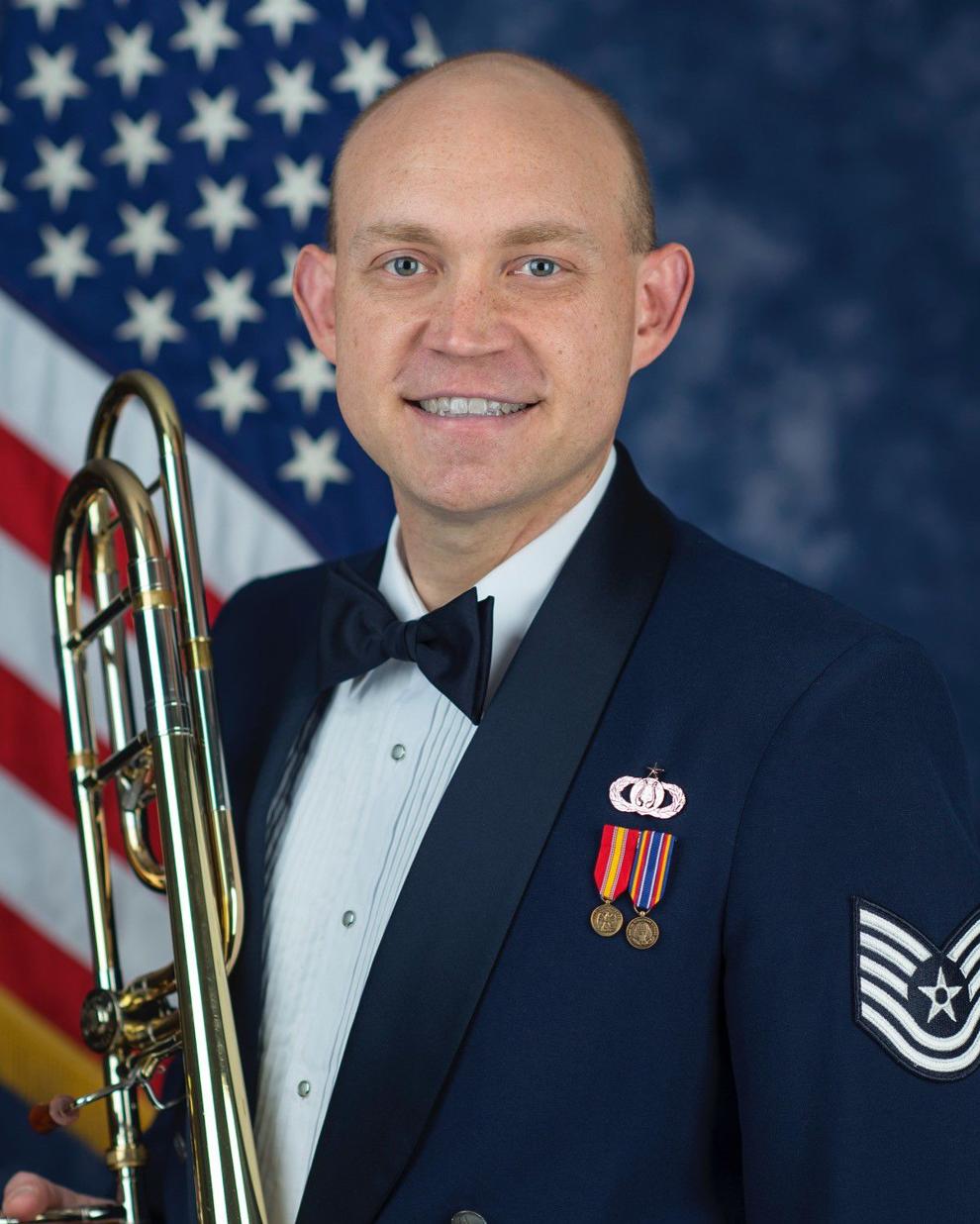 James Layfield's beginnings in the McKinney High School band set the stage for his current role as trombonist with the US Air Force Concert Band. After high school, Layfield earned degrees from University of Texas at Arlington, Southern Methodist University and ultimately his doctorate from University of Michigan. Since being chosen from over 70 trombone candidates for the band, Layfield has performed in the Inaugural Parade, Arlington Cemetery ceremonies, Macy's Thanksgiving Parade and various events in the nation's capital. Although he now resides in Alexandria, Virginia – outside Washington, DC – Layfield will get to return home at the culmination of the band's New Mexico and Texas tour at 7 p.m. Saturday, Oct. 27, at the Allen ISD Performing Arts Center, 300 Rivercrest Blvd.
Are you married? Children/pets?
I am married to my lovely wife Caitlin. We have one dog, Emmylou and two cats, Kitty and Rey.
How long have you been interested in music? 
I've been interested in music as long as I can remember. I really started enjoying playing the trombone when I joined my father in the church orchestra at First Baptist Church in McKinney.  
How long have you played trombone?
I've played the trombone for over 20 years.
Did you play music at MHS? If so, how did that experience help your future career?
I played trombone in the band all four years while at MHS under the direction of great music educators Paul Stephens, Gilbert Stulting-Flores, Paula Corley, Jennifer Grice and Jeremy Kondrat. Having such a positive music making experience at a young age inspired me to pursue music in college and led me to where I am today.
What other instruments do you play?
I play alto and bass trombone in addition to tenor trombone.
How was it being selected for the U.S. Air Force Band two years ago?
It was a great honor to be selected as the winner of the Air Force Concert Band trombone audition two years ago. I have always enjoyed listening to great military bands, and now to be a part of one is a dream come true.  After winning the audition, I went through basic military training at Lackland Air Force Base in San Antonio before beginning my position with the band at Joint Base Anacostia-Bolling in Washington, D.C.
You've performed many venues to this point. Do you have a favorite? Why?
We perform at a variety of venues on tour ranging from gymnasiums to beautiful orchestral halls. My favorite so far was playing at Kodak Hall at Eastman Theater, part of the famous Eastman School of Music in Rochester, New York. We performed there during our spring tour earlier this year.
Do you have a pre-show ritual/routine?
I typically warm up on a standard routine to feel loose and ready to tackle the challenging music for each program. 
Tell us about the tour in New Mexico and Texas.
We will play 12 consecutive concerts this tour. We begin in Los Alamos, New Mexico, and travel all the way to Allen, Texas, playing in different towns along the way. Our current Commander and Conductor, Colonel Larry H. Lang, is on his final tour with the band before he retires. He is from El Paso, Texas, and we will perform there along the way, making this a special tour for him. 
Are you looking forward to performing in Allen, so close to home?
I can't wait to play in Allen, Texas, so close to where I grew up! I have many family and friends who will attend our final concert of the tour. It's extra special because the trombone section will be featured that night on the popular piece Malagueña. It will be an exciting and patriotic concert. Our concerts are always free though tickets are required. For free tickets to the concert in Allen, visit www.allenpac.org.
Up next for the band is a wonderful concert in Frederick, Maryland to honor our veterans on Nov. 11, Veterans' Day.