Debbie Meyer is a familiar face around McKinney ISD's Central Office as administrative assistant for the Fine Arts Department, but she doesn't just work around artists – she is one. The State Fair of Texas is known for the unique arts and crafts entered every year, and this time around, judges took notice of Meyer's work. Her piece, made from papier mache, shows children's TV icon Mister Rogers alongside Trolley on the "Neighborhood" set. While Meyer has taken home plenty of second and third place fair ribbons over the past seven years, she was always vying for the top spot, and Mister Rogers helped get her there, taking first place in the Designer Craftsman department. The four-month project is one of many Meyer has made to honor Mister Rogers and one of two she entered this year.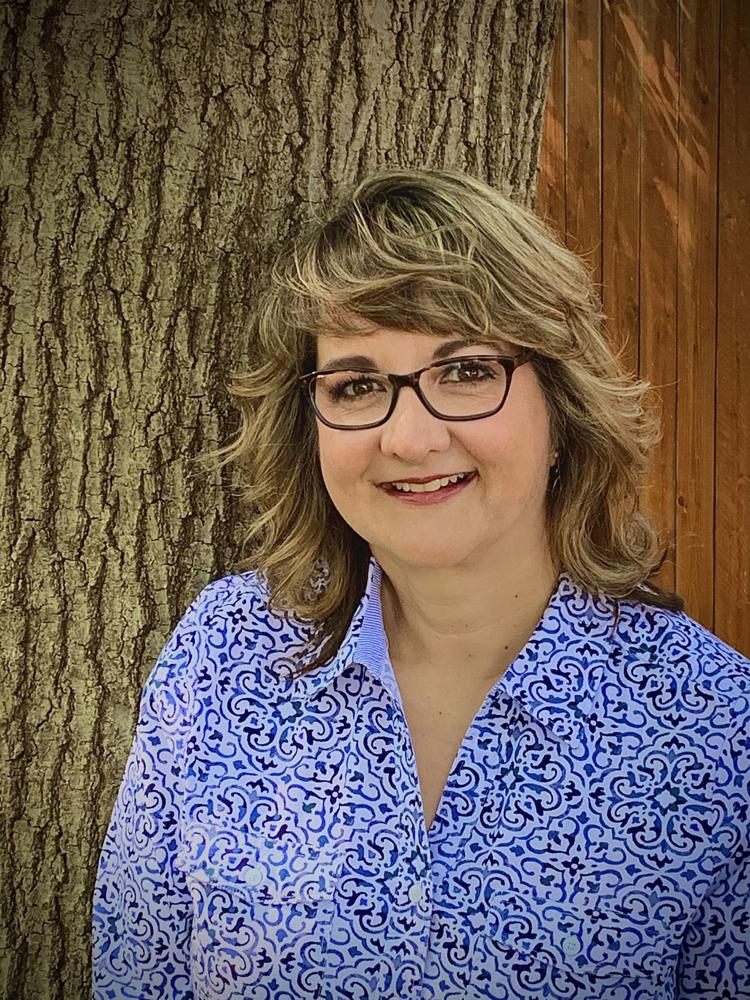 How long have you been making your figurines? How did you get into that art form?
I've been making paper mache figures for only about three years. I went on a cruise to Cozumel and saw some Day of the Dead figures that looked like paper mache and I thought, "I want to make one of those!" so I came home and figured out how to made some cute little skeletons and also Santa.
What different mediums to you use for them?
To build the structures, I use pipe cleaners, Styrofoam, cardboard, newspaper and tape. Then I cover them in a mixture of flour and water with strips of newspaper. I paint them and use scrapbook papers and also like to crochet things to go along, too.
What did you think when you found out your Mister Rogers had won a blue ribbon?
I was super excited because it has been my quest to win a State Fair of Texas blue ribbon for the past seven years.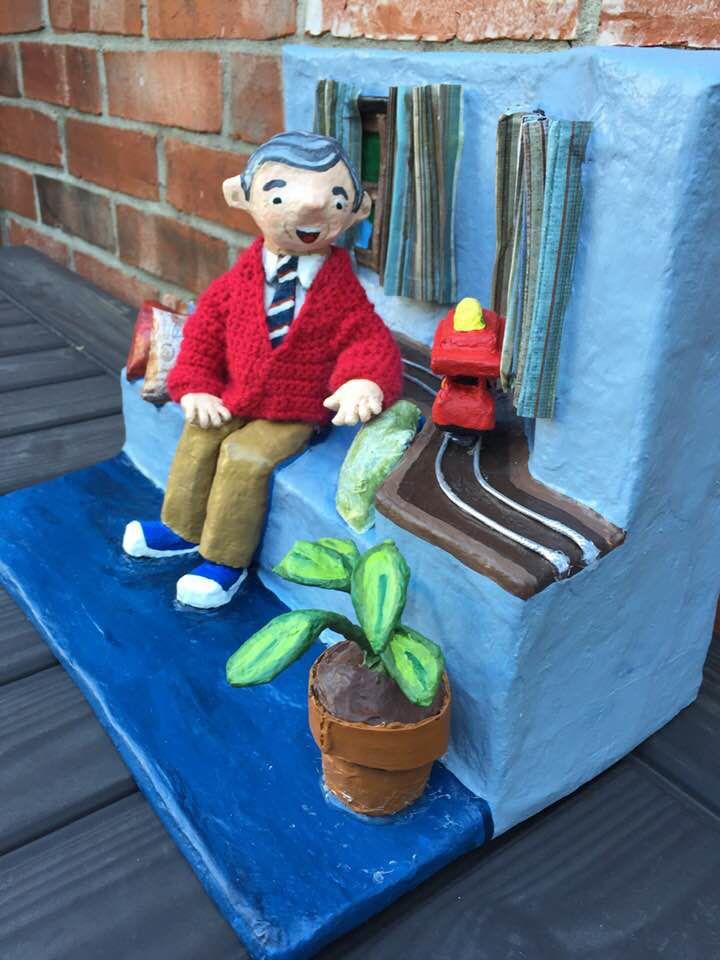 Where did you get the idea to do this particular piece?
Well, I love Mister Rogers and have a shelf of things related – a framed sheet of Mister Rogers USPS stamps, a mug, a crochet doll that I created, and other Mister Rogers things friends have given me. When I was coming up with ideas for my fair entry, it just popped into my head. The next step was figuring out how to create it, which is always a fun challenge.
How did you choose which scene to put him in?
Mister Rogers with Trolley is iconic. If you've ever seen the show, you know exactly what's going on at that moment, so it was the first idea I had. Since I crochet, making him a sweater was definitely something I had to do.
Have you entered your work at the fair before? If so, what did you enter and how did it go?
I've entered for the past seven years. One year I missed the deadline to actually bring my work after I had entered, which was disappointing but a good lesson in organization. I've always entered crochet dolls that usually receive Honorable Mention ribbons and are on display at the fair. Last year I entered a crochet Mister Rogers doll that won third place, a Mister Rogers original cross stitch sampler that won second place, a sewn llama from a pattern that won third place, and a paper mache Conan O'Brien that won second place. So, second and third were great but made me want that blue ribbon even more! This year, in addition to the Mister Rogers paper mache, I also entered a Freddie Mercury crochet doll that received an Honorable Mention ribbon and is at the fair as well.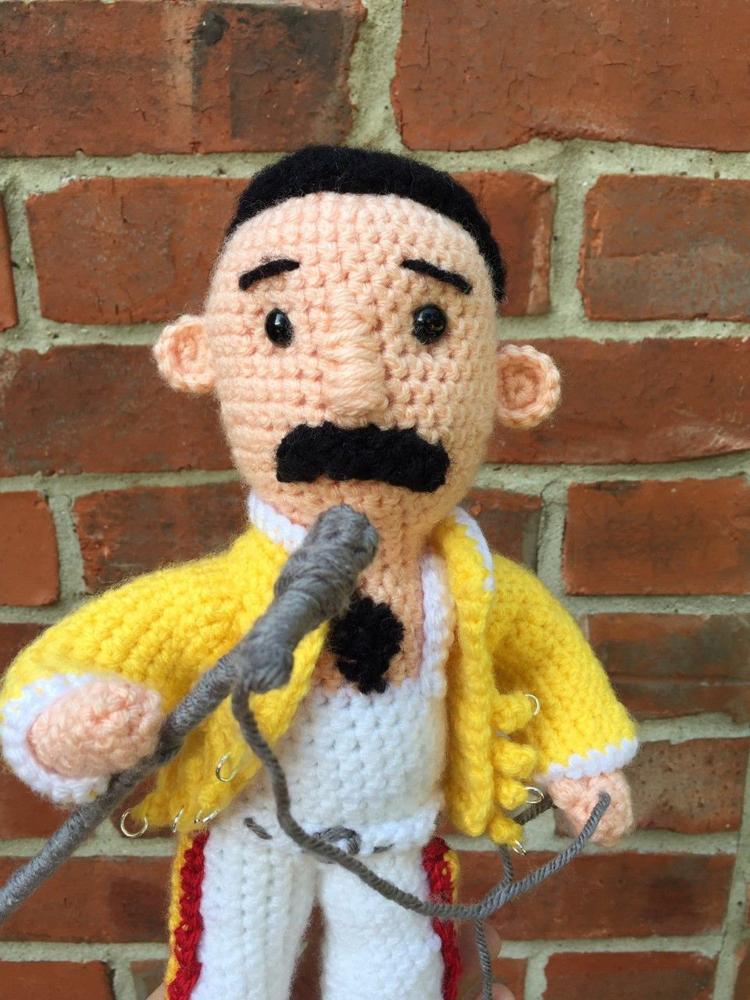 What, if any, other types of artwork do you do?
I am a children's illustrator and have created illustrations for several Christian publishers and school publishers, and I crochet. I like to do something creative every day and usually spend my lunchtime drawing. My website is debmeyercreative.com
What do you do with McKinney ISD?
I'm an administrative assistant in the MISD Fine Arts Department. I support teachers and students with promoting their art/concerts/performances, ordering supplies and instruments and arranging transportation to performances and other fine arts trips.
Do you ever get inspiration for your art from your job?
Definitely. There are so many talented artists in our district. I'm lucky to see student artwork every month when it's on display at MISD Central Office and it inspires me to try new things or come up with a story based on their drawing.
What are you working on now?
I'm a member of The Society of Children's Book Writers and Illustrators. My goal is to write and illustrate picture books. I've got a couple that I will be sending to an agent and then crossing my fingers that they eventually become a published book. I'd also like to do more paper mache projects and maybe take on commissions.