Final discussions are underway to keep the Byron Nelson tournament in McKinney through 2030, McKinney Mayor George Fuller said Thursday. 
The announcement came during a State of the City event hosted by the Mckinney Chamber of Commerce. The Byron Nelson tournament and its impact was one of multiple topics covered by a panel including Fuller, City Manager Paul Grimes, McKinney ISD Superintendent Rick McDaniel and Collin College District President Neil Matkin. 
Fuller's announcement comes months after McKinney hosted the tournament for the first time. The mayor said the tournament, which had restricted audience numbers due to the COVID-19 pandemic, had garnered over 15.2 million viewers and had featured both TPC Craig Ranch, where the tournament was held, as well as landmark parts of the city of McKinney, such as the historic downtown. 
"Really, it showcased and spotlighted McKinney on an international level," Fuller said. 
He predicted an economic impact of about $50 million to $60 million. 
"In addition to that, we're already seeing introductions and meetings taking place with corporations that saw McKinney, got introduced to Mckinney, got introduced to our EDC at that tournament, conversations developed, and now we're in discussions about those companies and opportunities they see here in the community," Fuller said. "So nothing but exciting things to come, looking forward with the Byron, and I can say we are in the final discussions of extending the Byron in McKinney to 2030."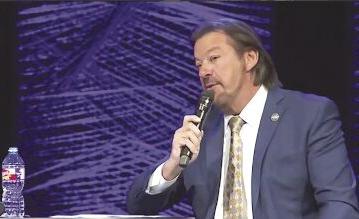 The Thursday discussion touched on efforts to provide affordable housing in McKinney, a topic Grimes called "the policy challenge of our time."
Grimes said people who have just graduated from college or who just received vocational degrees can't really afford to buy a house in McKinney or North Texas. He said members of a young workforce would be sending their children to local schools and paying taxes. 
"We need them in our community, and they have to be able to find a place to live if they're going to be part of the economy," Grimes said. "So this is really important."
Grimes said the local business community had been vocal about a need to address the city's housing issues. He mentioned a study commissioned by the city that had provided a snapshot of the city's housing situation and strategies to move forward. He mentioned a "smorgasbord of strategies" such as possibly loosening code requirements and programs wherein builders set aside some living units that would be available to people with a certain income level. 
"Because we need thousands of units. Not hundreds," Grimes said. "We need thousands of units that are going to be affordable for folks who are going to represent the future of our workforce and raise their kids and send them to our schools."     
Grimes also discussed redevelopment east of McKinney's Highway 5, which he said involved a two-fold approach. 
"It's not just redeveloping city hall and creating catalyst projects, which is what it is, but it's also how do we preserve the existing neighborhoods and the character of the east side of Highway 5," Grimes said, adding that city staff are working on both angles. 
Construction on the forthcoming City Hall is slated to begin in September, Grimes said. 
"We're estimating somewhere between 85 and 100 million dollar investment by the community for really what will be a showcase project for a generation," he said.