On Saturday, June 15, the McKinney Parks and Recreation Department, with the help of the Rotary Clubs of McKinney, completed Phase 2 of the all-abilities playground at Bonnie Wenk Park.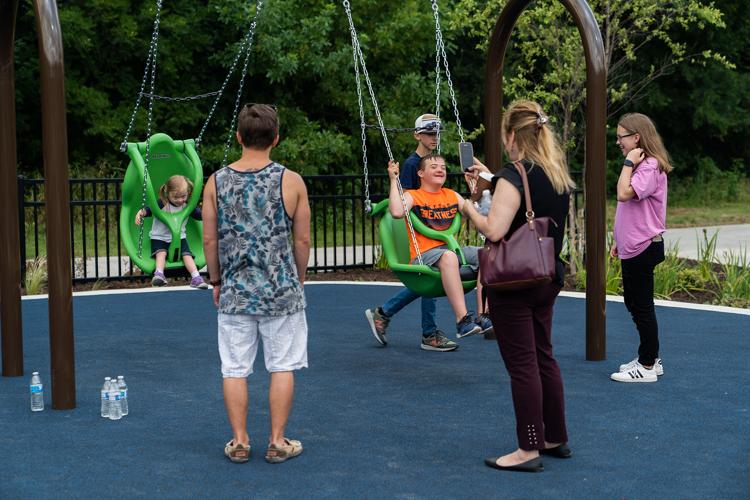 The 170-acre park was designed for children of all abilities and contained a specified playground for those who may have muscular dystrophy, autism, cerebral palsy or other disabilities. It also features a zipline, sky walk and several multipurpose fields.
Bonnie Wenk Park first opened in 2013 with Phase 1. It contained a dog park, an amphitheater with stage, lake and connections to the overall hike and bike trail system along Wilson Creek, Parks and Recreation Director Michael Kowski said in a press release.
Phase 2 of the projects feature new concrete hike and bike trails, two additional parking lots, two multi-purpose sports fields, five play pods, skywalk, zipline and ropes course, restrooms and two playgrounds. One of those playgrounds was specialized for children with disabilities and contained sensory enhancements for their benefits.
During Phase 2, Rotary Clubs of McKinney stepped in and raised donations for the enhanced park playground. Because the special playground needed expensive equipment to piece it together, the clubs teamed up to raise donations for the construction funding. Together, they raised over $400,000 for the playground. They later said that building the park was one of their biggest humanitarian projects.
The Rotary Clubs of McKinney, on its website, noted that Bonnie Wenk Park is a chance for kids with disabilities to experience the "Gift of Play" and to do so alongside other children.
After the Bonnie Wenk Park phase 2 was complete, the City of McKinney hosted its grand opening on Saturday, with food trucks, different sporting events and a DJ.
"We designed Bonnie Wenk Park to offer something for everyone," Kowski said. "By adding these new amenities we hope that visitors will find something new and unexpected to explore and enjoy each time they visit this beautiful community asset."
Building the park paved way to other locations adding specialized playgrounds to their parks.
For example, the Plano Rotary Club raised over $25,000 to fund the addition of a specialized playground in Jack Carter Park.
Others are beginning to take the initiative and follow in McKinney's footsteps.