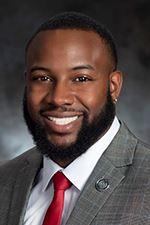 McKinney City Councilman La'Shadion Shemwell spoke with residents on attempts to recall his place on the council and reinforced his reasons for issuing a black state of emergency at the District 1 Town Hall meeting Monday at Old Settler's Recreation Center. 
After a brief mention of a few projects Shemwell has underway, he gave his back story starting with his early childhood of how he became a council member. 
Shemwell said the pinnacle of his rise was said to be when he was a barber and heard about the lead levels in the pipes of east side McKinney and took on the city to fix the issue.
"He made the false claim about the city of McKinney had lead in the water, and that's what motivated him to get involved," Mayor George Fuller said. "Again, it's completely false and he knows that, and he has a copy of the report. He knows the water that was tested was given the highest rating possible moving us from a one-year to three-year inspection." 
The lead water came from homes that had lead pipes in their plumbing. The city later mitigated the issue in the homes despite it being out of the city's responsibility. 
"He knows this, but again this doesn't play into the narrative,"Fuller said. 'If you're going to be a hero, it's gotta be you're fighting the big bad city."
Shemwell then gave a background on the recall, which started with him being arrested for refusing to sign a traffic ticket after he was stopped for speeding. He said the reason is not for the proclamation he issued during the Oct. 15 City Council meeting. He commented that the recall was demanded long before his arrest related to a traffic violation.
"Some people spearheading the recall were asking for a recall before I ever got elected. It's on social media," Shemwell said. "We can dismiss the rumor that this recall is because I issued a black state of emergency. The social media will tell the truth. It's all out there."
Alan Perry, one of the spearheads of the petition to recall Shemwell, spoke at the meeting in response to Shemwell's sentiments about the backlash he has received. 
"This is all about the black state of emergency," Perry said. "Do you really think Chief Conley and the council have declared war and are conspiring to kill, injure and oppress people? You really believe that businesses should not travel to Texas in fear of being killed? Do you really believe that?"
Shemwell asked Perry to leave for interrupting the meeting, but before police officers escorted him out, Fuller said that as a public facility, no one will be forced to leave the recreation center.
Fuller later clarified the origin of the recall.
"The recall would have been something that started last year," Fuller said. "It started with La'Shadion Shemwell being arrested for refusing to sign a traffic ticket after he was stopped for speeding. He held a news press conference at City Hall and gave a completely inaccurate statement as to what had transpired. It was identified as inaccurate because the police very readily released the body cam and dash cam footage that exonerated them from every single allegation that Mr. Shemwell made."
Shemwell stated the reason for the black state of emergency issued as a way to address the issue of police brutality as people of color are pulled over for seemingly no reason, and that local governments across Texas of which he's a part of and the police department have declared war and are conspiring to kill people.
"What you don't get is that this is the new Jim Crow, the same where they raised statues of confederate soldiers to show free slaves, you might be free you might be integrated, but we still have the power, and we are going to show you and remind you every time that we have the power. That's why I responded the way I responded. Because even though I fought, I could not get the respect of the department that I serve and that I write the budget for, that I do policy for. I was still another black man that could be pulled over in this city."
Shemwell also addressed the issue of wanting to review data over police pullovers but not having access to the data he wanted. He was outraged that the city did not have data ready for him to review regarding police stops and that it would take a quarter of a million dollars to acquire. 
Fuller said Shemwell made a request that would have required the police department to go through all of McKinney's 94,817 traffic stops in the last three years, go through the video of each of them and identify the timestamps of when people were stopped, how long it took for the police officer to get to the window and talk to people, and how long did they stand at the car. 
"The information that they could give, they gave him immediately," Fuller said. "When we start doing the math on looking at, call it 10 minutes of video at a traffic stop times 94,817 traffic stops, you start to get an idea of what kind of time is involved. The other data, they said we will have to hire people, it will take eight months full time, two people a week for 40 hours to compile that information."
During the Q&A portion of the town hall, residents from District 1 centered their questions around the economic development of the east side of McKinney. Shemwell stated that the racial tension between the police department and residents is what keeps businesses from coming to District 1 and to recall him would be the demise of McKinney.
Fuller addressed how Shemwell announced a black state of emergency in which he said that the state of Texas, its local governments and its law enforcement agencies have declared war on black and brown citizens, and that they conspire to kill, injure, oppress, harm and take away their civil liberties as well as issuing a travel warning that you should not travel to or through the state of Texas if you are a person of color, as you may be killed. .
"He did everything he could do to bring national attention, even international attention, that that is not something that is positive for a city. Certainly it's not anything that the city of McKinney earned. That divisive rhetoric has great potential to impact economic development, people considering McKinney as a place to move and live and locate a company. I believe that La'Shadion Shemwell is the single biggest detriment to the city of McKinney and his district."
Both Shemwell and Fuller encouraged residents of District 1 to stay engaged, as it remains unclear if Shemwell will be recalled. Fuller also encouraged residents to attend the next budget meeting to voice their concerns so the city can better understand the needs of District 1.