A group of McKinney high-schoolers and their moms are learning what it's like to give back to the community through an organization that promotes volunteering.
They are members of the Young Men's Service League, a nonprofit organization with a mission to serve and support those in need, develop leadership skills among its membership and promote mother-son relationships.
Most recently, the YMSL conducted its annual philanthropy event, the "Ultimate Gift." The chapter organized a fall festival for an assisted living facility. Activities included a full day of interviewing staff and residents, playing memory games, making crafts and letter writing and decorating.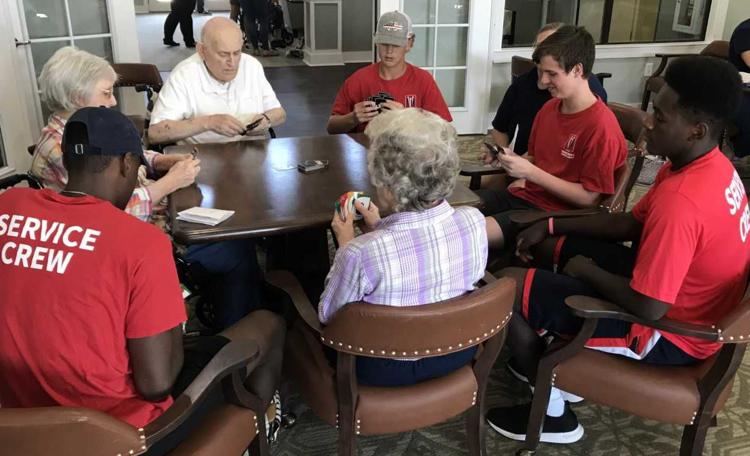 Jana Grimone, the organizer of the Ultimate Gift event, said the fall fest was a unique experience.
"Ultimate Gift was a great experience for us," Jana said. "I love being in service with my son. Having an activity that is meaningful prompts meaningful conversations and opportunities for life lessons. I believe that my favorite part so far is to see him being kind and responsive to the people he is working with during the volunteer opportunities."
Volunteering together allows moms to watch as their sons develop into compassionate young men.
"The best aspect of volunteering together has been watching my son, Luke, work with special needs children," said member Stacy Tarby. "I have teared up several times watching him work with them while they are playing basketball, soccer and baseball and helping kids get into airplanes to take an adventure into the sky."
The adventure through Challenge Air paired YMSL members with special needs children.
"Volunteering with Challenge Air has been the highlight so far," Luke Tarby said. "Kids with special needs are able to go up in a small airplane and fly with a pilot. Helping these kids have their dream come true was awesome."
The Challenge Air experience was meaningful to Luke's mom, too.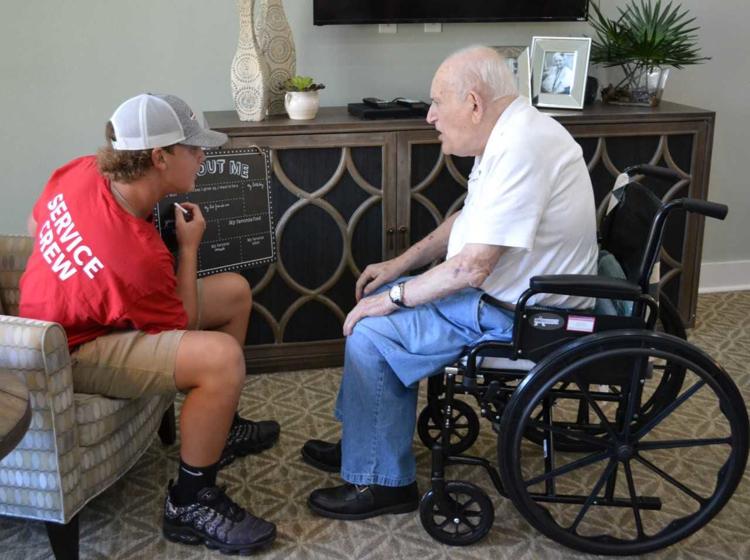 "The projects aren't always easy, but Luke stays patient with the kids and truly seems to love working with them," Stacy said. "Volunteering with him and seeing his kind heart with those kids is something I will always cherish."
The local YMSL chapter, YMSL United, is one of 94 across the country. Each member serves more than 20 hours of community service annually.
According to YMSL United President Carrie Alfieri, last year's contribution totaled 2,685 hours in service to the community. She challenged members this year to volunteer more than 3,000 hours. And the organization is on track as members have already logged 1,957 hours since May 1.
The Tarbys joined YMSL because they wanted to make a difference.
"YMSL is amazing," Stacy said. "Not only does it provide opportunities for hours of mother-and-son time doing great things for the community, but it teaches leadership and life skills to the boys."
Carrie said the volunteer organization creates the chance for moms to make a lasting impact on the world by inspiring their sons to serve and lead.
YMSL is a four-year program that works with more than 1,000 philanthropies, including Special Olympics, Habitat for Humanity, Meals on Wheels, Wreaths Across America, Miracle League and the Salvation Army.
Stacy emphasized it's not always about giving back to the community. The sons benefit as well.
"These skills, along with their hearts of service, will only help them be amazing men," she said.
YMSL is open to increase its membership to other moms and high school sons.
"I would invite people to get involved if they are looking for ways to teach their sons about being leaders in our community and our world," Jana said. "YMSL challenges our boys to be part of the solution of making our world a better place."
Jana said it is easy to get caught up with the busy things in life and forget about what is important.
"We are often consumed with our own lives and our own needs, but it is important to recognize the needs of the people around us," she said. "We got involved because I feel like it is important to teach children to be in service and make our community a better place."