PLANO — For the second consecutive week, the Plano Senior football team entered Friday night with a chance to lock up a spot in the playoffs. Once again, that postseason berth eluded the Wildcats.
McKinney Boyd had a hand in that shortcoming, keeping its playoff hopes alive behind an emphatic second half that punctuated a 28-0 victory from Clark Stadium and laid the groundwork for a frenetic finish to the District 9-6A schedule.
With one postseason bid still up for grabs, Plano Senior dropped its second straight ballgame and sits at 3-3 and tied for fourth place with McKinney, which upset Jesuit, 24-21, on Friday. The Broncos are just one game back at 2-4 heading into next week's iteration of the "Crosstown Showdown" with the Lions — a game that suddenly could have a playoff spot on the line.
"I'm really proud of the kids. We've worked really hard to try and stay in the playoff hunt," said Joe McBride, Boyd head coach. "We won this game and now it comes down to a big one next week against McKinney. I'm really proud of the coaches and the kids. We've been taking steps through the week and we've come together."
Plano, meanwhile, still controls its own destiny and needs a win to qualify for the postseason, but will need to defeat second-place Prosper on the road to bring that goal to fruition. Should the Wildcats lose to the Eagles, the winner of McKinney-Boyd gets the last playoff spot.
"We're going to get through Senior Night and bring the kids in [on Saturday] and get them back up and going," said Jaydon McCullough, Plano head coach. "We're not going to quit and we're not going to give up. This is a tough defeat for us, and there's a lot that transpired beforehand, but that's the game of football. You have to go with the hand that's dealt."
That came in the form of a depleted passing attack, with the Wildcats' top three pass-catchers — seniors Jayden Chambers, Nolan Williams and Christian Sabatini — all out for Friday's contest. The consequences weren't pretty, with the Broncos limiting Plano to just 192 yards of offense, including just 109 through the air on 14-of-29 attempts and three interceptions thrown by junior quarterback Oliver Towns.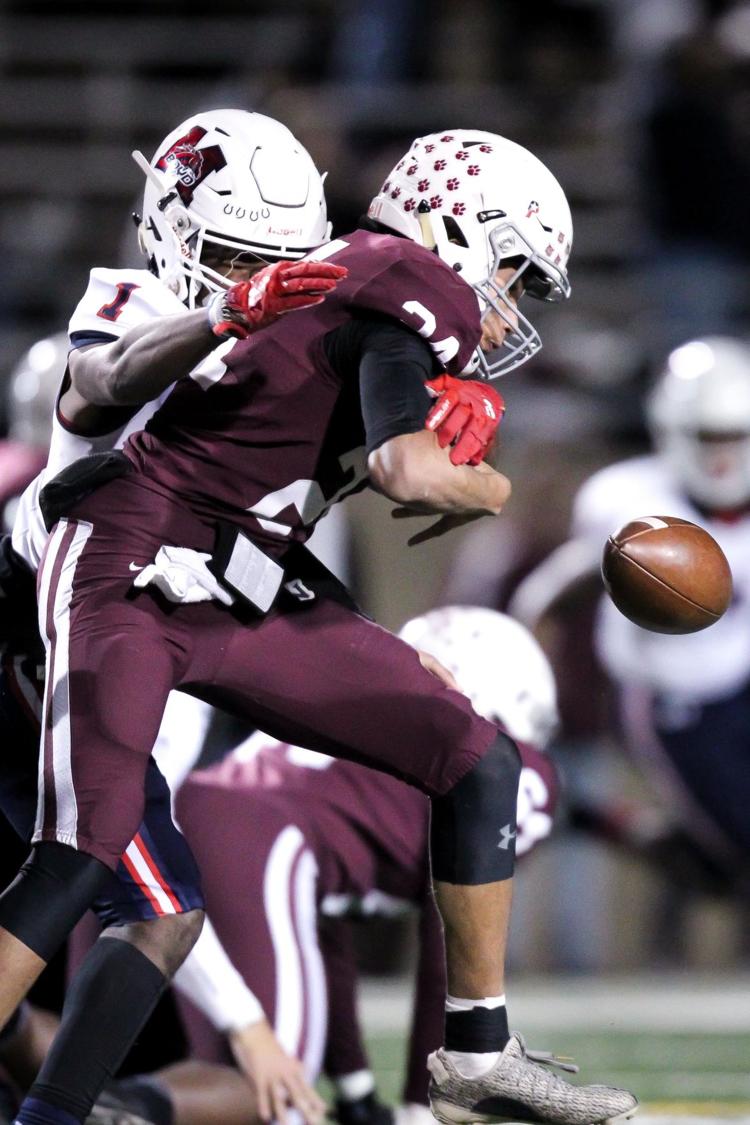 Junior Matteo Bianchi, senior Jaylen Shaw and sophomore Peyton Shaw all came away with picks for an aggressive Bronco secondary, which helped deal Plano its first shutout loss since 2015.
"We've been playing good defense and now we've got some offense going and getting the defense off the field so they can get rest," McBride said. "Those kids work so hard and we take a lot of pride in our defense."
That offense picked up its pace in the second half after leading just 7-0 through the first two quarters. Momentum swung firmly in the Broncos' favor within the first few minutes of the third stanza, despite Plano maneuvering its way to the Boyd 45-yard line behind a slew of direct snaps to junior running back Tylan Hines. Facing fourth-and-two, the Wildcats opted to punt the ball in hopes of winning the field position battle.
Instead, sophomore Carter Whitefield found senior Jake Fex down the sideline for a 48-yard gain, flipping the field in one fell swoop. The Wildcats eventually put Boyd in its own fourth-down predicament at fourth-and-one from the Plano 7-yard line, but McBride eschewed the field goal and was rewarded with a 7-yard touchdown run on a keeper by Whitefield for a 14-0 lead with 6:18 remaining in the third quarter.
"We just felt like we had a good pace going and felt good about where they were and what we were running," McBride said. "We wanted touchdowns, not field goals."
"The game was still 7-0 and we felt good about playing defense and getting the ball back," McCullough added. "I was thinking that we'd stop them and get good field position out of it. Hindsight is 20-20 and looking back on it now, we probably should have went for it."
The Wildcats worked their way back into Boyd territory on their ensuing four drives, but never so much as sniffed the red zone — ending the four series with a turnover on downs, a punt and two interceptions.
"I felt like we'd play much better. We were prepared, we worked hard and had great practices," McCullough said. "Boyd did a really good job moving [Fex] to the backfield. That guy is a difference maker."
Fex made his imprint on Friday's contest, logging 108 rushing yards on 14 carries to go along with his 48-yard reception. That run game opened things up through the air, where Whitefield ballooned the Broncos' lead with fourth-quarter touchdown passes to senior Kareem Coleman (25 yards) and senior Jack Hagan (31 yards).
Whitefield finished with 111 passing yards on 5-of-11 attempts and four total touchdowns. Hines spearheaded the Wildcats' initiative with 74 rushing yards and 47 receiving yards, while senior Cody Crist chipped in 41 receiving yards as well.
The loss puts Plano's playoff hopes once again on the outcome of a regular-season finale versus Prosper, while McBride gets his first taste of the Boyd-McKinney rivalry in a game that breathes new life following Friday night.
"I have a lot of respect for McKinney," McBride said. "I'm just glad both of our teams are in this position where we're playing for something. We're just excited to go to battle. This is what football is all about."