For all the hardships the McKinney Boyd volleyball team incurred during the third and fourth sets on Tuesday against Allen, the Lady Broncos conjured just enough to avoid a debilitating setback in their pursuit of a district championship.
What had the early makings of an authoritative sweep quickly gave way to near-disaster for the visitors, as Boyd let a 2-0 set lead dissipate by totaling just 25 points in the third and fourth frames against a supercharged Lady Eagle bunch.
But for all the intangibles Allen had working in its favor heading into Tuesday's fifth set, a sliver of hope was all the Lady Broncos needed to steady the tide and ultimately take a 3-2 road win (25-23, 25-22, 14-25, 11-25, 15-9).
"I think we finally had a bit of fight and just started pushing forward. In the last couple matches, like against Guyer, we weren't fighting throughout the match," said JJ Castillo, Boyd head coach. "Allen is a good team with a really strong defense, so I'm proud of how we didn't give up. We changed the momentum in that fifth set."
FINAL: @MBHSVolleyball 3, @ALLENVBALL 2Avery Calame puts an exclamation mark on this one with a block and kill for the final 2 points to seal a 15-9 win in set 5. Boyd fends off a tenacious comeback attempt by Allen and improves to 7-2 in district. Allen dips to 5-3. pic.twitter.com/Hb9AlLcBDG

— Matt Welch (@MWelchSLM) October 13, 2021
After alternating the first four points of the decisive frame, the Lady Broncos made their move behind a 5-1 run, bolstered by an ace from senior Avery Calame and a kill by junior Camryn Weldon, for a 7-3 advantage — the team's first lead by multiple points since the second set.
The Lady Eagles crept back to within 8-6 before a hail of errors unraveled things for the home side. Allen's two-point deficit swelled back to five following a trio of consecutive miscues — the Lady Eagles were whistled for eight errors during Tuesday's fifth set.
"A lot of it was on us. We did a great job to even get to a fifth set but we felt like we sets three and four, we had momentum and had them incredibly frustrated," said Stephanie Poole, Allen head coach. "Everything went so well and that fifth set was on us — just too many errors."
The Lady Broncos obliged, punctuating the frame with a block and kill by Calame for a 15-9 win. The all-district first-teamer was absent from Boyd's first go-around against Allen on Sept. 17, a 3-0 loss that was the Lady Broncos' lone setback during the first half of 5-6A play.
"Avery is a fighter. She and (senior) Hannah (Billeter) both stepped up in that fifth set," Castillo said. "They came through clutch on both offense and defense and that really helped carried things for us late."
The win improved Boyd to 7-2 in district play, staying afloat in the 5-6A title race. Denton Guyer currently leads the pack at 8-1 following its 3-1 victory over Prosper on Tuesday. Allen sits in fourth place at 5-3.
Those same Lady Wildcats put away the Lady Broncos in just three sets on Friday, upping the need for a bounce-back win on Tuesday. The Lady Broncos initially positioned themselves to do just that by eking out a pair of back-and-forth sets to begin the contest.
Despite a furious start by Allen, which led 16-10 in the opening frame, Boyd rode the tried-and-true duo of Calame and Billeter to a 25-23 victory. Calame accounted for five kills in the opening frame, while Billeter chipped in four kills and two blocks.
The two combined for 10 kills in the second set — freshman Ale Romo added three kills and a block as well — to stake Boyd to a 24-19 lead. Although the Lady Eagles rallied to within 24-22 on a kill by sophomore Alyssa Boyte, Billeter stifled the comeback bid with her second straight set point.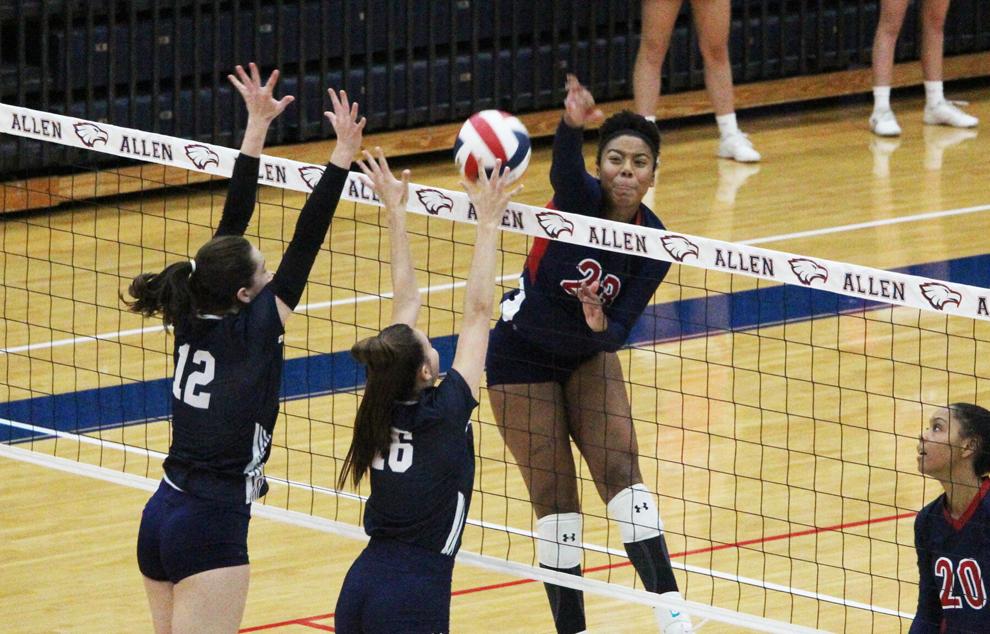 Down 0-2, Allen made a lineup change to involve three of its top hitters — Boyte and seniors Divine Muo and Tori Wilson — all on the floor at once. The dividends paid off immediately, as Wilson opened the third set with two consecutive kills to kick start an eventual 25-14 victory.
Allen was even more emphatic in the fourth set, leading the Lady Broncos by as many as 15 points en route to knotting the contest up at 2-2 with a 25-11 set win. Wilson combined for seven kills and two blocks during Allen's two winning frames on Tuesday — across that same stretch, Muo totaled five kills and Boyte added six to complement stifling back-row defense by seniors Emily Canaan and Lorna Platt.
"In the first two sets, I tried to triangle a few of our most productive hitters and spread them out a bit," Poole said. "In the third and fourth, you're down 0-2 and at that point you've just got to go out and play. We also changed it up to where Tori, Divine and Alyssa were all next to each other. 
"That worked well, we gained confidence and just played looser and with nothing to lose."
We're headed to 5 sets. @ALLENVBALL, after trailing 2-0, roars back to take sets 3 and 4. They win set 4 25-11 on this kill by Emma Vu. Allen added 4 aces and some outstanding defense by Emily Canaan and Lorna Platt that frame. pic.twitter.com/BAdUB3SwNF

— Matt Welch (@MWelchSLM) October 13, 2021
Tuesday marked the sixth time this season that Allen has gone five sets against an opponent. The Lady Eagles are 2-4 in those matches, including 1-2 in district play. Boyd, meanwhile, was taken to five sets for just the first time.
"This is the only time we've gone to five and I'm proud that we won a match like this," Castillo said. "These are the kinds of matches that'll happen in our district and the playoffs. Every night is competitive and brutal, so it's nice for us to come away with a win like this."
The Lady Broncos next visit cross-town rival McKinney at 5 p.m. Friday, while Allen visits Prosper that same day at 5:30 p.m.