PLANO — If the McKinney Boyd baseball team needs any solace after a frustrating start to the playoffs, the Broncos have been down this road before.
During Texas high school baseball's last postseason in 2019, Boyd paved its road to the state tournament for the first time ever and did so by winning four consecutive best-of-3 series after dropping Game 1.
Behind a costly error and some airtight pitching by former district rival Plano, the Broncos are back in familiar territory after the Wildcats upset the District 5-6A champions 4-1 on Thursday at John Paul II to start their bi-district series.
Plano didn't learn its playoff fate until just a few days prior, tasked with winning a play-in game on Saturday against Plano West to earn the No. 4 seed in 6-6A. All the while, the Broncos had the top spot in 5-6A already locked up, but seeding was of little significance on Thursday.
"We told our guys coming in that in playoff baseball against a team the caliber of Boyd, all it can take is one circus inning and maybe just one play that's the difference between winning or losing," said Rick Cremer, Plano head coach. "Both teams' pitchers threw well but we got the break tonight."
That moment came in the top of the fifth inning with the Wildcats and Broncos gridlocked at 1-1. Senior Reese Miller led off the frame with a single and seniors Blake Van Cleve and Jason Hawkins also got on base after drawing a walk and being hit by a pitch, respectively. With the bases loaded for sophomore Kyle Bade, a swing of the bat wasn't even required to break the game open.
Boyd senior Landon Brown attempted a pick-off at second base, but the throw sailed wide and into the outfield. To compound matters, the ball got past the Broncos' outfielders as well, rolling back to the warning track and allowing all three Plano base runners to score for a 4-1 lead.
"I didn't see the angle of the throw. It looked like he was off," said Brooke Court, Boyd head coach. "We called the pick because we thought it was there and we've practiced that all year long. Unfortunately, it got past him and then past our center fielder."
"Anytime you do a pick like that, it's a gutsy call just because there could be some things that go wrong there — especially when you're throwing in the opposite direction of home plate," Cremer said. "Boyd does as good a job at executing that stuff as anyone, so it was pretty surprising the way it turned out. I honestly wasn't ready for it."
The Wildcats nursed that lead to the finish line, allowing just two Broncos on base the rest of the contest. Senior Jacob Prokarym had plenty of say in that, pitching the final three innings of the contest in relief of Van Cleve. The southpaw didn't allow a hit and struck out seven of the 10 batters he faced, including the side in the bottom of the seventh to seal the Wildcats' first win in a playoff series since 2017. 
"[Prokarym is] a guy that can come in and do a good job staying on point and in the strike zone," Cremer said. "It's nice to get him back from injury earlier in district, and he's kind of grown into that role. It's a nice asset to have."
Van Cleve threw four innings of one-run ball, allowing five hits and striking out six. The majority of those hits resulted in extra bases, including an RBI triple in the bottom of the third inning by senior Tyler Collins. He scored junior Ben Abeldt, who doubled to lead off the frame, for a 1-0 lead. Junior Jake Dempsey doubled earlier in the ballgame in the first inning. 
"We've got to do better offensively," Court said. "Landon pitched fine and Nolan (Foster) did a good job of getting some quick outs for us in the end, but we've got to pick it up offensively and scratch out some runs when we have chances."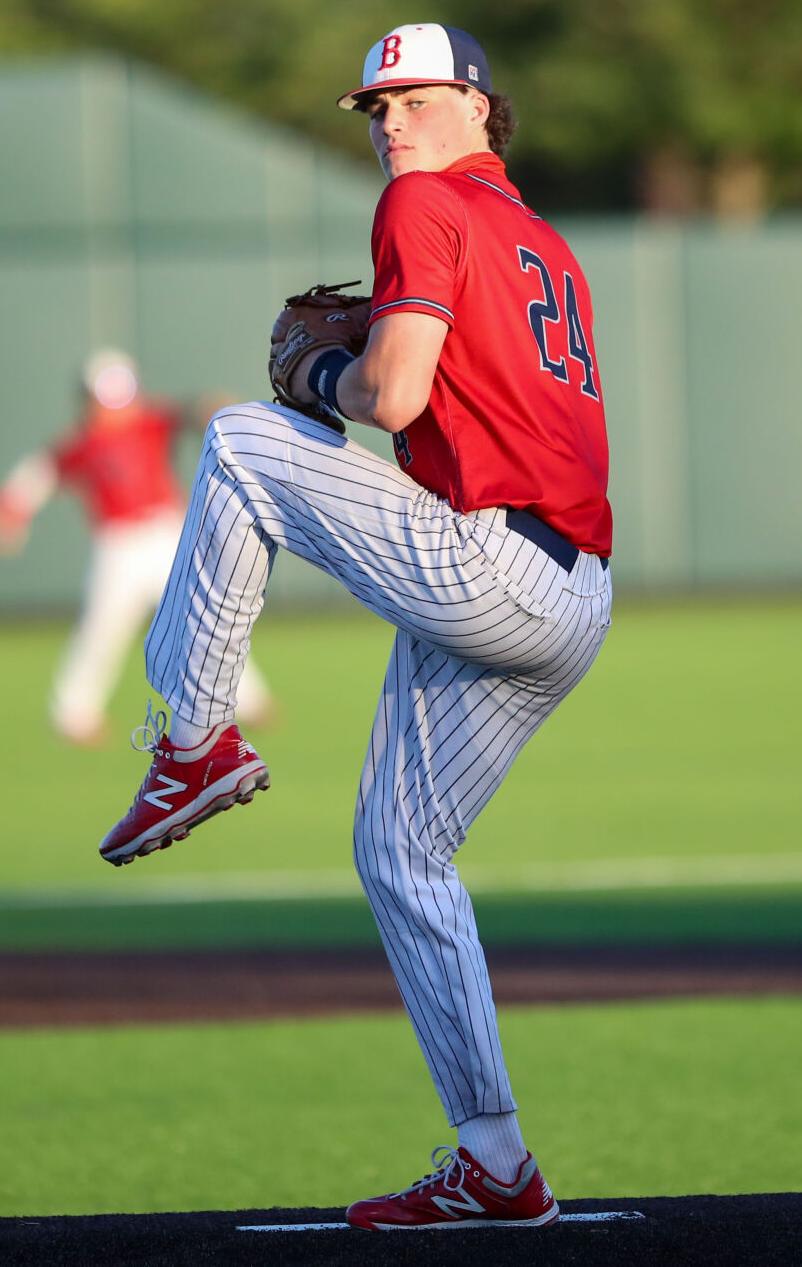 In defeat, Brown pitched six innings and held Plano to just three hits along with nine strikeouts.
Although the Broncos drew first blood, Plano's response came quickly. In the top of the fourth inning, control issues got the better of Brown for a stretch as the Wildcats loaded the bases for senior Ashton Cason, who scored junior Troy Piesker on an RBI single to tie the game at 1-1.
"Coming out of our district, the kids throw seeding out the window," Cremer said. "They've been tested against top 10 teams, top five teams and we played well against them. We didn't get wins against all of them, but we played well. I feel like our guys believe that if we do the things we need to do that we can play against anyone in the state. But Boyd's the same way."
The Wildcats continue their best-of-3 series at 7:30 p.m. Friday back at John Paul. If necessary, Game 3 will take place at 2 p.m. Saturday at John Paul. Should the Broncos rally, it would be the program's fifth consecutive three-game series won after trailing 0-1, dating back to 2019.
"Some of them are used to it, but we just have to keep doing what we're doing and we feel like we'll be fine," Court said. "We'll have our lefty (Abeldt) on the mound tomorrow, so hopefully that goes well and the offense can pick it up a bit."