McKINNEY — A 10-7 final score isn't something that's typically associated with Flower Mound football. Not with an offense that had finished among the best in the area the past two years. 
But with 10 offensive players making their first-ever starts on Thursday, paired opposite an aggressive McKinney Boyd defense, nothing came easy for the Jaguars in their season opener.
Instead, it was a stifling performance from a Flower Mound defense that forced three turnovers that helped fend off the Broncos for a 10-7 win at McKinney ISD Stadium.
"We knew the defense would have to come in and not them [Boyd] get settled in," said Brian Basil, Flower Mound head coach. "I was really proud of them. They're really good on offense with a good line, but our defense fought their rear ends off. They got turnovers when they needed to and got stops in the red zone. They answered the call time and time again."
Timeliness was certainly on the Jaguars' side in the turnover department, forcing all three of their takeaways with Boyd in Flower Mound territory, including two times in the red zone. The Broncos turned the ball over on each of their final two possessions, losing a fumble at the Flower Mound 11-yard line on an attempted third-down conversion with 7:56 to go in the game and then later coughing it up after a huge hit in the backfield by Jaguar senior Joey Lucash with 3:14 to play.
"Our defensive coordinator, Bryan Vardeman, talks about putting out fires. Those guys never wavered and I'm so proud of them," Basil said.
Boyd only advanced into Flower Mound territory four times on Thursday — three resulted in turnovers and the fourth ended in a blocked field goal by the Jaguars midway through the third quarter. Instead, it was fittingly enough the Broncos' defense that accounted for the team's lone points of the ballgame. Those came with 2:16 left in the third quarter after junior Trey Collins blew up a Flower Mound shovel pass deep in Jaguar territory that Boyd junior Sean Madkins recovered in the end zone for a touchdown and a 7-3 lead.
For the most part, Boyd matched Flower Mound's defensive intensity — particularly in the front seven with seniors Luke Reber and Matteo Bianchi taking up residence in the Jaguar backfield plenty on Thursday.
"Defensively, we played outstanding but they got a couple big balls on us," said Joe McBride, Boyd head coach. "We've got to respond and not let that happen. I'm proud of our defense and proud of our kids for playing hard. We've got to get things fixed and that's on me as a head coach. I hurt for our kids right now."
One of those big plays came immediately after the Boyd defensive score. Under pressure for most of the night, Flower Mound junior Nick Evers capitalized on a rare clean pocket and found junior Landon Weidner deep for a 75-yard touchdown to retake the lead at 10-7 with 2:00 to play in the third quarter.
"We just had to give him some time," Basil said. "There were some things there, but with a young offensive line and some of the things Boyd was doing, we just felt like something was there and we just needed to give him some time. We finally got it and Landon Weidner made a big-time catch."
Moments like that were far and few between for each quarterback on Thursday, with Evers and Boyd junior Carter Whitefield routinely on the move due to an aggressive pass rush. While Boyd's linebackers had their say, a stout Flower Mound defensive line led by senior Stone Eby contributed to a night that saw Boyd total just 163 yards of offense. The Jaguars totaled 295 in the win.
"It verifies what we ask them to do in the weight room and practice everyday," Basil said. "We pride ourselves on doing those tough things and that's what defense is all about. We want to be explosive on offense, but you win championships by playing great defense."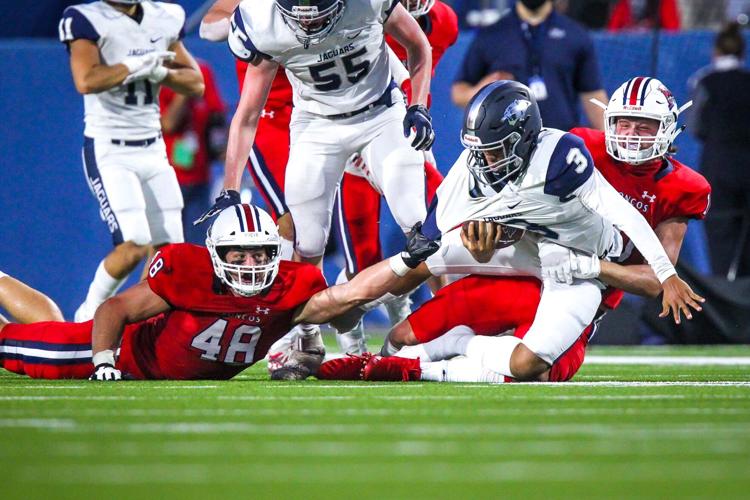 Evers completed 19-of-23 balls for 221 yards and a touchdown with 100 of those yards sent the way of Weidner. Boyd junior Jay Thompson tallied 69 rushing yards and junior Caden Park caught two balls for 39 yards. 
The Broncos and Jaguars were mirror images of each other for most of the first half, trading punts and succumbing to three-and-outs in eerily similar fashion. All too often on Thursday, one team maneuvered its way into third-and-short only to be overwhelmed at the line of scrimmage by the opposing defensive line.
That kept either offense from finding a rhythm early on, with the two teams combining for 149 yards in the first half and totaling 10 three-and-outs.
Boyd's best crack at an early score came on its second drive, as Whitefield used his legs to navigate the Broncos down to the Flower Mound 2-yard line before losing a fumble after overselling handoff exchange with his running back. Five plays later, the Jaguars gave the ball right back after a strip sack by Bianchi afforded the Broncos their own fumble recovery.
Flower Mound, meanwhile, finally got its tried-and-true quick game working inside the final two minutes of the first half. Although Boyd pushed back after junior Ethan Wesloski and Reber teamed up for a sack, the Jaguars exited the half with the game's first points after senior Bert Auburn — the reigning 6-6A Special Teams Player of the Year — comfortably booted a 47-yard field goal as time expired for a 3-0 lead.