For a game that the McKinney Boyd football team led at the half, 14-6, one statistic loomed large as the Broncos prepared to take the field for the final two quarters Thursday night against Jesuit.
Despite amassing an eight-point lead, the Broncos had done so despite the up-tempo Rangers logging 44 offensive snaps in the first half versus only 16 for the Broncos.
With its defense practically shackled to the turf Thursday at McKinney ISD Stadium, it didn't take long for that snap disparity to catch up with Boyd in the second half.
Jesuit went on to out-snap the Broncos, 73-41, and out-gain them, 413-178. And although the scoreboard didn't reflect as such in the first half, the Rangers broke the levee in a big way with back-to-back 17-point quarters to round out Thursday's 40-21 rout of the Broncos.
"Our defense was on the field way too much. We just got tired defensively," said Joe McBride, Boyd head coach. "Offensively, we had too many drops and just didn't make the plays we needed to make. As a head football coach, I've got to get that fixed and get us to make plays."
Surrendering 40 unanswered points in the loss, the end result was hardly a sign of things to come early on. 
After recording only 14 points in last week's setback to Plano East, it took the Broncos (0-2, 1-4) just over five minutes to match that figure on Thursday.
On the third play from scrimmage, sophomore Carter Whitefield found senior Kareem Coleman over the middle and the speedy wide out took care of the rest in racing in for a 48-yard touchdown for a quick 7-0 lead just 48 seconds into the ballgame.
The Rangers (2-0, 3-2) responded by whittling their way to the Boyd 2-yard line on 11 plays before running back EJ Smith lost a fumble that was scooped up by Boyd senior linebacker Javon Matthews and returned 98 yards for a touchdown and a 14-0 advantage with 6:54 left in the opening stanza.
"They came out ready to play for sure, but you just can't play defense for as long as we had to tonight," McBride said. "Offensively, we've got to push the ball and we've got to execute. We need to put our heads together during this bye week to fix it."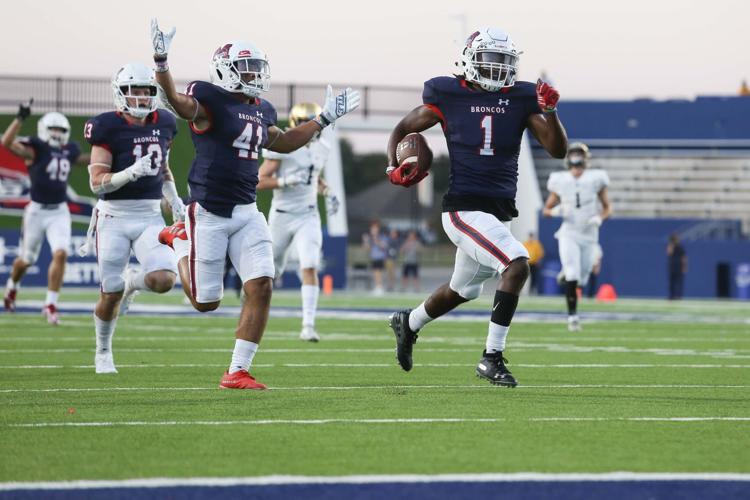 What appeared to be an early momentum shift for the Broncos, however, was a blueprint for the Rangers, whose death-by-a-thousand-cuts offense amassed long drive after long drive while Boyd countered with three-and-outs and gained just 31 yards for the remainder of the half.
It was an approach that paid dividends in the second half, where the Rangers broke the contest open with a stretch of three consecutive touchdown drives across just 7:40 of game time.
After closing the gap to 14-9 on a Parker Brown field goal, Jesuit's Robert Fitzgerald intercepted Whitefield on Boyd's first play of the ensuing series. The Rangers capitalized with an 8-yard touchdown run by Smith for their first lead of the night, 16-14, and the first of three scores for the stud rusher in the second half. Smith punctuated the Rangers' next two drives with touchdown runs of 27 and 63 yards on his way to 188 total yards gained (144 rushing, 44 receiving) in the win.
Leading 30-14 after Smith's third score, Jesuit capped the rout with another Brown field goal and a 1-yard touchdown run by Sam Morales after another Boyd turnover.
The Rangers' second-half success reflected in their per-play efficiency on Thursday. After gaining just 3.7 yards per play in a first half defined by airtight defense from the Broncos, Jesuit accrued 9.2 yards per play over the final two quarters against an increasingly fatigued Boyd unit.
Things weren't as pretty for the Broncos. 
Of Boyd's 178 yards gained, 75 came on a window-dressing final drive that resulted in a 9-yard touchdown pass from Whitefield to senior Jasiah Barron as time expired for the Broncos' first offensive points since the 11:12 mark of the first quarter.
Coupled with its opening-drive score, a 65-yard series, Boyd's two touchdown drives bookended a stretch of only 38 total yards gained and one first down across its other 10 offensive series on Thursday.
Not helping matters was an early injury to lead running back and senior Ja'Tyler Shaw, who exited the contest during Boyd's second series and never returned — logging four carries for 23 yards — in what McBride speculated was an ankle injury.
With Shaw out, the Broncos turned to a committee approach between senior defensive backs Jake Fex (five rushes, 26 yards) and Plae Wyatt (four carries, 13 yards) on a night when Jesuit slowed the Broncos to just 2.7 yards per carry.
Through the air, Whitefield finished 10-of-19 for 118 yards, two touchdowns and two interceptions. Coleman's team-high 48 receiving yards came on his lone catch of the ballgame.
"We're beat up and just had to pull other people from spots to fill in," McBride said. "We need this open week to heal up. It's a long, hard season and we've got to step up."
With Thursday's setback marking the Broncos' fourth straight loss, including an 0-2 start to district play, the team looks to regroup during the bye week before resuming action at 7 p.m. Oct. 11 on the road against Plano West.
"We need to use this bye week to really reflect and look at ourselves. I've got to do a better job," McBride said.