With a daunting district schedule looming, the McKinney Boyd football team got a much-needed shot in the arm Thursday night against Trophy Club Byron Nelson.
It materialized in a fashion that's become increasingly familiar with this year's Bronco team — another low-scoring, defensive-minded grinder waged down to the wire. After falling short in close games to Flower Mound and Grand Prairie, the third time was the charm as Boyd (1-3) broke through for a 14-7 overtime victory over Nelson at McKinney ISD Stadium to rack up its first win of the season.
"I'm really proud. They've been resilient," said Joe McBride, Boyd head coach. "We could very well be 3-1. We battled, our kids showed up and continued to work and believe. That's where you win a game like this. You keep battling. I'm proud of them. We have some guys hurt, so some others had to step up and play well."
It didn't come easy, with the two sides gridlocked at 7-7 through four quarters. Despite only mustering a single touchdown through all of regulation, the Broncos needed just two plays to find the end zone in their lone overtime possession.
That was when sophomore Ryan Shackleton, making his first varsity start at quarterback, slung a dart over the middle to senior Brooks Rigney for a 24-yard touchdown and a 14-7 advantage.
As the Bobcats tried to answer, their response tailspun in a hurry. A high snap on second-and-eight amounted to a 9-yard loss, and Boyd senior Matteo Bianchi devoured Nelson quarterback Jackson Owen for a third-down sack that staked the visitors at a fourth-and-25. Owen's pass down the sideline sailed out of bounds, and the Broncos celebrated their first win of the season.
"We needed a shot in the arm. We feel like there were a couple games we could have won, but you have to earn that right with the plays you make," McBride said. "We just shot ourselves in the foot, but tonight was big to battle a good football team like this and show some resilience to pull it out."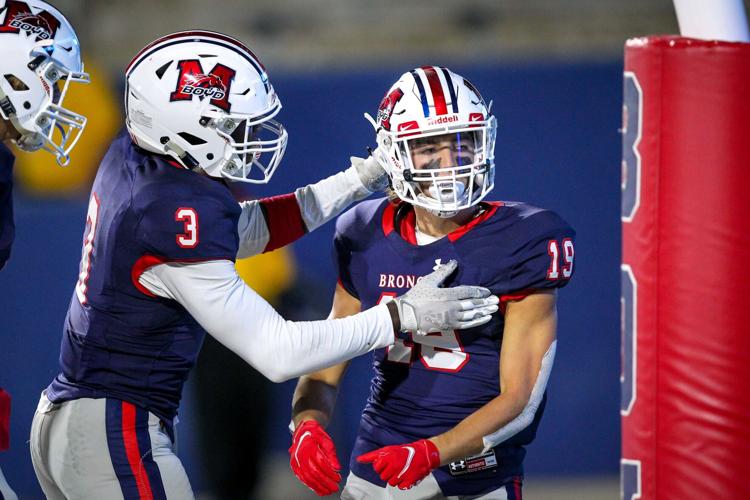 McBride lauded several players having to step up due to injuries to starters. Among that group was Shackleton, who was pressed into duty after an injury to junior Carter Whitefield. The Broncos' incumbent signal-caller was sporting a large cast on his arm on Thursday.
"Carter is a great leader for us and does a great job, but he's going to be out for a while," McBride said. "We had to bring our young buck in and he was calm and played great. I'm very proud of him."
Shackleton went 20-of-31 for 174 yards and accounted for both of the Broncos' touchdowns. Prior to his overtime pass to Rigney, Shackleton put Boyd ahead 7-0 early in the second quarter on a 1-yard quarterback sneak.
Although the cast precluded Whitefield from throwing a football, the junior was still deployed out of the backfield as a running back. He caught a screen pass that went for 11 yards in the win.
"We still need to find ways to plug him in because he's a great player," McBride said. "He can play a lot of things, so our biggest deal this week is to sit down as a staff and take time to get him plugged in. He needs to be on the field a lot."
As Boyd prepares to roll with Shackleton under center for the foreseeable future — McBride was unsure of when Whitefield would be healthy enough to resume his duties at quarterback — the Broncos got a welcome boost from their defense and special teams on Thursday to keep Nelson from ever finding a groove.
Bianchi was at the forefront of that effort. The linebacker was involved in numerous tackles for a loss, logged a pair of sacks, stripped a Nelson running back to force a turnover, and blocked a second-quarter field goal that kept the Broncos in front, 7-0, heading into halftime.
"I've been doing this for 30 years. The effort and want-to of that kid may very well be at the top," McBride said of Bianchi. "He wasn't going to be denied. I'm really proud of all of them, but he made so many plays tonight. He's a big-time player and people are starting to take notice."
McKinney Boyd's Matteo Bianchi BLOCKS a 28yd FG by Byron Nelson. Broncos take over with less than 2 minutes in the 1st half and a 7-0 lead. pic.twitter.com/lDE5coWka5

— Matt Welch (@MWelchSLM) October 16, 2020
Eventually, the Bobcats broke through. With 2:04 left in the third quarter, Nelson capped a 12-play drive with a 21-yard hook-up between Owen and Landon Ransom-Goelz to pull even at 7-7. 
Boyd looked to be teetering on offense for much of the second half, thanks to some aggressive play by Nelson to generate a steady pass rush on Shackleton. The Broncos went three-and-out on their next three possessions after the Bobcats drew even, but a short punt aided by a heavy wind gave Boyd a chance at the win with 2:18 left in the fourth quarter.
Shackleton moved the Broncos downfield to eventually set up a 22-yard field goal by junior Austin Woodruff that was blocked by Nelson to preserve the tie and force overtime.
"Give credit to [Nelson]. They bowed up and made some adjustments at the half," McBride said. "They were giving us fits, but we just never stuck our heads down and pouted. We earned the right to win this one at the end."
McKinney Boyd 14, Byron Nelson 7 @ OT1Broncos find the end zone on their 2nd play of OT as Ryan Shackleton hits Brooks Rigney for a 24yd TD. Nelson will try and answer. pic.twitter.com/pTt08ng3dO

— Matt Welch (@MWelchSLM) October 16, 2020
While Shackleton keyed the offense, which produced its best passing mark of the season after averaging just 94.3 yards through the air entering Thursday's ballgame, his favorite target with Rigney, who had seven catches for 72 yards and a touchdown. Senior Dominique Stevenson and junior Dylan Drake both had four-catch nights to help the Broncos avoid an 0-4 start heading into a challenging 5-6A schedule. 
Boyd opens district play at 7 p.m. Oct. 22 when it hosts high-powered Denton Braswell at MISD Stadium.