McKinney shuts down Plano, picks up 1st win under Shavers
PLANO – With less than a minute to go Friday night at Clark Stadium, an attempted onside kick by Plano Senior sailed out of bounds. The joy was palpable on the McKinney sideline, as first-year head coach Marcus Shavers raised his arms, flanked by players uproarious in celebration.
After five games of hardship, the Lions finally saw the fruits of their labor rewarded with the first win under their new head coach.
It all came at the expense of a familiar foe, as McKinney (1-5, 1-2) erased its zero from the win column following a 17-7 victory over the Wildcats (2-4, 1-2) – the Lions' third consecutive win over Plano.
"The guys just kept their resolve. It was awesome. I'm so proud of our kids right now," Shavers said.
The Lions never trailed on Friday, continuing their trend of scoring first – something the team has done now in five of six games this season. Senior Kelvin Thomas did the honors against Plano, evading the Wildcats' pass rush and scampering in for a 9-yard touchdown that put McKinney put, 7-0, with 3:33 left in the first half.
The rest, as was the theme all night, was left up to the Lions' defense.
McKinney limited Plano to just 239 yards of offense, including only 121 on the ground and just a 1-of-10 mark on third-down conversions, and won the turnover battle, 2-0 – highlighted by a one-handed interception bagged by senior Andrew Pitts in the fourth quarter.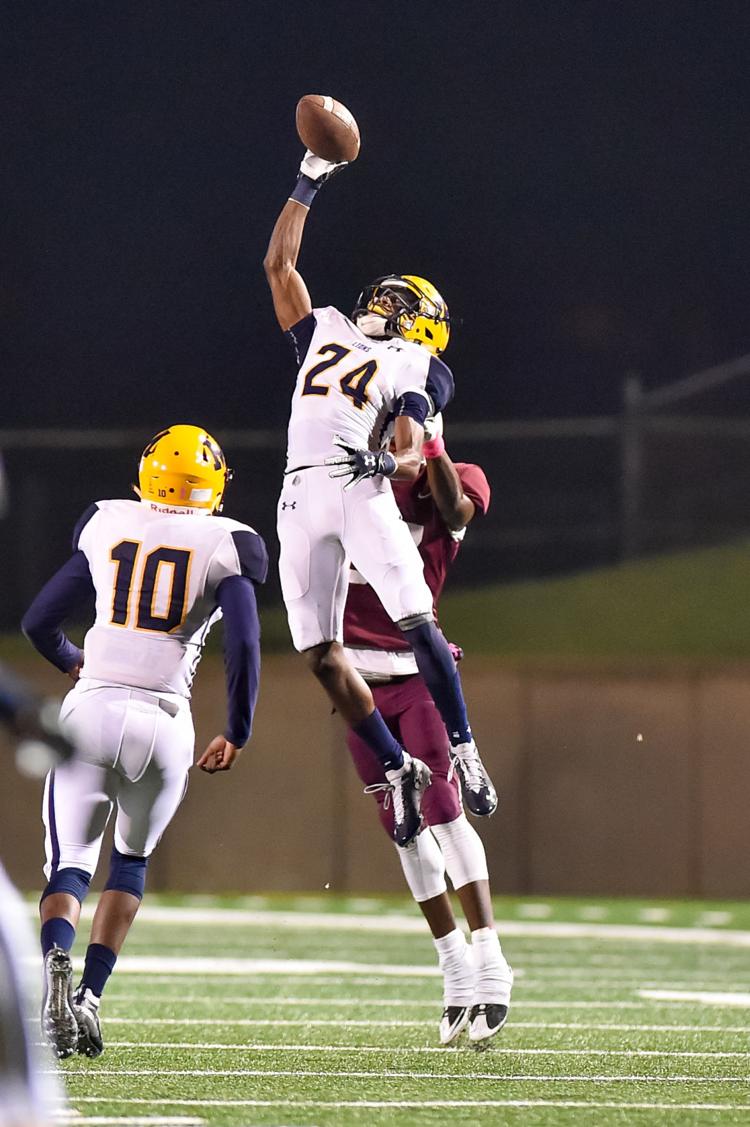 "Pitts is a really talented football player and has been a solid corner for us all year," Shavers said. "He does a great job doing everything we've asked him to do, and with his athleticism, vertical and ball skills, that was such a great play."
It added up to the Lions keeping the Wildcats off the scoreboard for the first 47 minutes of game time, despite Plano advancing into McKinney territory during five drives on Friday.
"Our coaching staff put a great plan together," Shavers said. "Our kids fought through some adversity and injures and played really well. I thought they tackled really well. That was the difference: When our defense tackles well, we have a chance to play really well."
Plano's defense was plenty productive its own right, holding the Lions to just 129 yards overall and allowing only nine first downs. Bolstered by the play up front from seniors Keyon Hurse and John Sharp, Plano limited McKinney's run game to just 2.5 yards per carry.
"The defense played great. They gave us an opportunity to win the game," said Jaydon McCullough, Plano head coach.
That same momentum didn't translate to special teams, where a pair of Plano gaffes helped give McKinney life and contributed to the Lions' only two touchdown drives. With less than six minutes remaining in the second quarter, the Wildcats botched the deep snap on a punt, setting up McKinney at the Plano 24-yard line. Five plays later, Thomas was running free into the end zone for a 7-0 lead.
Later in the game, with McKinney nursing a 10-0 margin with roughly four minutes to go in the fourth quarter, Plano muffed a punt that the Lions recovered at the Wildcats' 18-yard line. Thomas capped that series with an 11-yard touchdown pass to junior Isaiah Wallace for a 17-0 advantage with 2:43 to go.
"The reason we lost was because we didn't execute, things like drops and not blocking," McCullough said. "We had too many penalties and we had some issues with special teams."
There was an ominous wind from the Wildcats' opening drive, as Plano posted its most productive series of the game – marching 73 yards on McKinney before a 25-yard touchdown run by junior Cody Crist was negated by an illegal block. Moments later, the Wildcats watched a 26-yard field goal sail wide and the score stuck at 0-0.
Crist accounted for Plano's lone score on the night, finding the end zone on a 1-yard run with 41 seconds remaining to avert the shutout. Crist posted 46 rushing yards and a touchdown, while senior Kyron Cumby was held to 45 yards and senior Cole Winnett tossed 107 yards and a pick.
Lions senior Cordrick Dunn churned out 92 yards on the ground, while Wallace caught three passes for 21 yards and a score to seal McKinney's first win under Shavers.
"I think it came down to belief," Shavers said. "We've been approaching games hoping to win, but tonight we played this game expecting to win."
McKinney looks to stay hot at 7 p.m. Friday when it returns to Clark against Plano West. The Wildcats look to bounce back that same time at Kimbrough against rival Plano East.
For continued news and coverage on the local sports scene, follow Matt Welch on Twitter.