As if 2020 wasn't weird enough.
Already embroiled in a two-point game in the waning moments of the fourth quarter, in a matchup that impacted the District 7-5A Division I playoff picture, McKinney North (3-5, 3-2) and Sherman (3-4, 2-1) were dealt a hand neither could have foreseen late in Thursday's football game.
With the Bearcats clinging to a 37-35 lead with 2:25 left in the contest, and just having averted disaster after a North onside kick careened out of bounds, a power outage shut down McKinney ISD Stadium.  
With the game's venue cloaked in darkness, save for a few scattered light poles, nearly 30 minutes of deliberation led to the verdict to resume the game a few miles north at Ron Poe Stadium. 
"I've never had that happen before, but that's what happens when you're in 2020," said Mike Fecci, North head coach.
McKinney ISD Stadium just about completely went dark with 2:25 left in the game. pic.twitter.com/pvDVNuJv3y

— Matt Welch (@MWelchSLM) November 20, 2020
From the moment MISD Stadium went dark around 9:30 p.m., just over 80 minutes elapsed before the Bulldogs and Bearcats reconvened on MISD's elder football venue. Despite the frenetic evening, Sherman managed to hold off North's fourth-quarter rally for a 44-35 victory.
"You've got a little momentum going, you kick an onside kick that you should have gotten but just didn't make play. You're still feeling good about getting a stop and then bam, everything goes out," Fecci said. 
A situation without precedent, Fecci lauded his players for how they handled themselves during the stoppage of play. The Bulldogs exuded as much once action finally resumed at Ron Poe, stuffing Sherman on first and second down and staking the Bearcats to third-and-10 with 2:12 left.
But as was evident early on, Sherman showcased a penchant for the big play on Thursday and dialed up a pair of haymakers that sunk North for good. A play-action pass from quarterback Tate Bethel found running back Benji Omayebu for a 23-yard gain that moved the Bearcats into Bulldog territory. One play later, Bethel iced the victory with a 39-yard touchdown run with 1:25 to go.
"I thought we came over and did a good job handling it all. It's about assignment football," Fecci said. "When you're playing like we were at the end and you're loading the box and selling out to stop the run, you can't get your eyes in the backfield and we did. [Omayebu] is a really good football player and there are a lot of good ones on that team."
Sherman went to that well plenty of times early on, dialing up one play that gained at least 30 yards in each of its first three series of the night. Omayebu scored on a 51-yard run and Bethel later dropped off a screen pass to running back Andrew Nehrbass that he took 71 yards for a 17-3 lead with 2:01 left in the first quarter.
"We didn't play very well early. We've got to tackle much better. We put ourselves in that position," Fecci said.
The Bearcats totaled 593 yards of offense, swelling their lead as large as 34-17 with 4:25 left in the third quarter after Bethel found Jacoby Hunt down the seam for a 27-yard touchdown pass.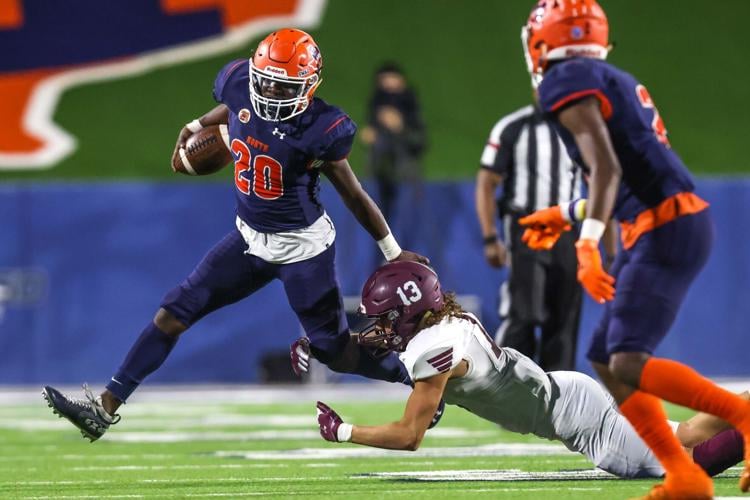 From that point forward, however, North made things interesting. The Bulldogs responded with a 12-yard touchdown run by junior Dylan Frazier — an oft-used red zone package for North on Thursday that netted the tight end 30 yards and two touchdowns on four carries.
"We had been looking for a way to pound the football and our quarterback (sophomore Gavin Constantine) is getting better, but he's not very big. We decided to put our biggest guy back there and see what he could do with it. I was real proud of how we executed that."
Sherman 17, McKinney North 10 @ 11:27/2QQuite the wrinkle by the Bulldogs, who dial up a direct snap to TE Dylan Frazier. Some impressive agility as Frazier weaves through the Sherman D for a 13 yd TD run. pic.twitter.com/bH0ay1T6MY

— Matt Welch (@MWelchSLM) November 20, 2020
Fecci has already seen his team conjure momentum through special teams throughout the season, and they did so again on Thursday. Following Frazier's second score, North recovered a pooch kick to regain possession — the Bulldogs then trimmed their deficit to 34-29 with 11:14 left in the fourth quarter following a 5-yard touchdown run from junior Elijah Alexander.
"I'm proud of that. It shows the guts our kids have — it just didn't work out for us. We've got stuff ahead of us still," Fecci said. "We've got to bounce back … I was proud of our effort and I'm hurting for them, because losing that way is a tough one."
Just as special teams willed the Bulldogs back into Thursday's ballgame, they also resulted in some points left on the field. In the second half, North had an extra point blocked and went 0-for-2 on two-point conversions, including one with 2:25 left in the ballgame that Constantine and junior Luke Paley connected on an 11-yard touchdown that pulled the Bulldogs within 37-35.
"It's a game of inches and they got more than we did tonight. That's a credit to Sherman," Fecci said.
Alexander, the latest in an assembly line of running backs used by the Bulldogs this season, ran for 169 yards and two touchdowns, while Constantine added 143 yards through the air and 84 on the ground. Paley was his top target with 72 yards and a score on a night when Sherman went all out to prevent North senior JJ Henry from finding a rhythm. Although the four-star receiver had his moments returning kicks, the Bearcats limited him to three catches for 8 yards.
The Bulldogs look to bounce back Nov. 27 when they travel to Longview. A win will clinch a playoff spot for North.