For the fourth year, McKinney North alum Ronald Jones II returned to his hometown to host a youth football camp. Saturday's clinic, however, was just one of several items on the agenda of a busy morning for the Tampa Bay Buccaneers running back.
After conducting the clinic at Craig Ranch in McKinney in previous years, Saturday's festivities were held on North's campus. Perhaps it was all-too fitting then that on the same practice field where he spent his high school days developing into one of the country's top running backs, Jones became the first North football player to have his jersey retired.
In a ceremony conducted by Bulldogs' head coach Mike Fecci and McKinney ISD athletic director Jennifer Frazier, Jones' longtime high school jersey, No. 24, was further etched in program history.
"It's their first football jersey retired, so that's a special accomplishment in its own right," Jones said. "It feels good knowing that's forever my number and it's going down in history here."
Moments prior, Mayor George Fuller presented Jones with a city proclamation, recognizing June 26, 2021 in McKinney as Ronald Jones II Day.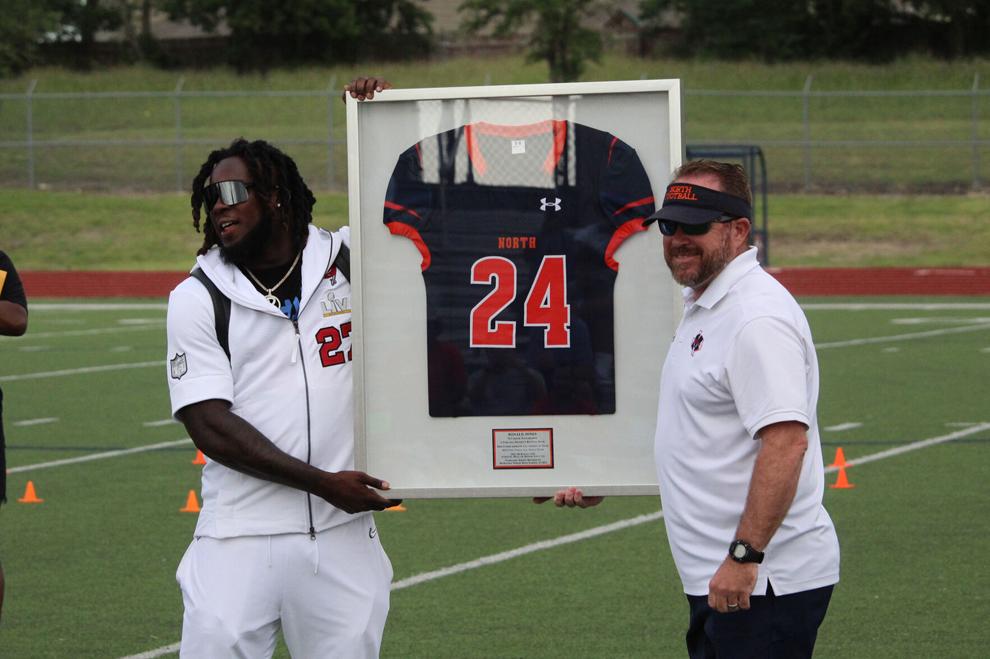 It was a ceremonial return for Jones — a class of 2021 inductee into the MISD Athletics Hall of Honor — to his high school alma mater, a site where he still has plenty of fond memories. Across three years on varsity, Jones ran into the record books as North's all-time leading rusher (4,935 yards) and was integral to the Bulldogs' run to the state quarterfinals in 2014.
"Just waking up everyday knowing that I'm trying to achieve and accomplish a goal," Jones said, reminiscing on his high school days, "and just putting my everything into it with my best friends — friends who are still with me to this day."
One of those very friends, North alum and quarterback Nick Hutchins, was on hand to address the crowd prior to Saturday's camp as well.
The clinic, organized by the Alliance of Elite Youth Leadership, was offered free to the public and welcomed youth and teens between grade levels three through 12 for an opportunity to work with Jones and other instructors in a variety of fundamental drills.
As campers rotated between stations spaced all over the Bulldogs' practice field, Jones bounced from group to group — even at one point participating in a tug of war drill with one of the campers.
"It means everything to come back to the city and put this on at my former high school. After the season we had, it was the perfect time," Jones said.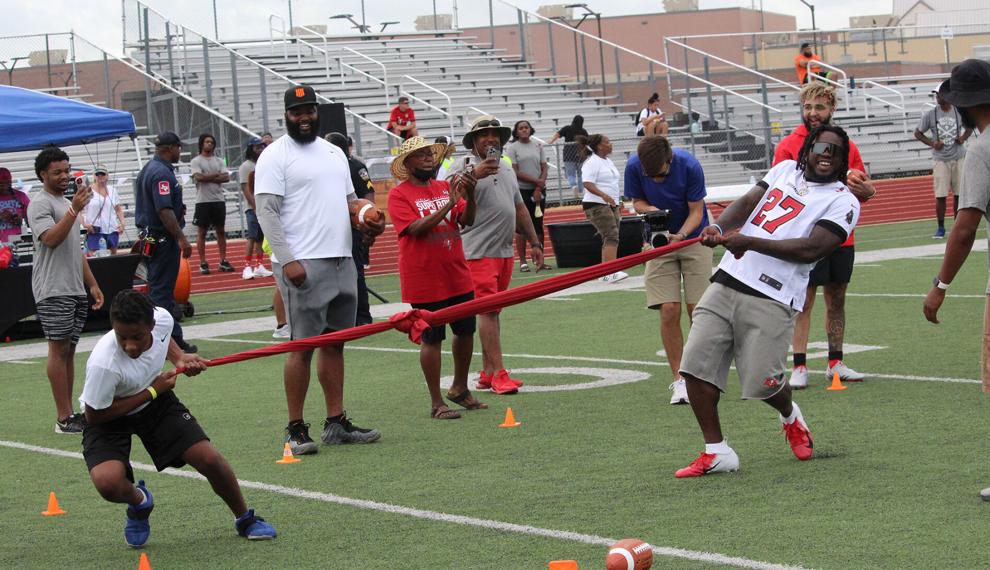 It was a season that like no other during Jones' football career. Fresh off his third campaign in Tampa Bay, Jones and the Buccaneers were last seen polishing off a 31-9 victory over the Kansas City Chiefs to win Super Bowl LV. Jones ran for 61 yards on more than 5 yards per carry in the victory.
"It's a great feeling. No one can ever take it from you. It's almost like having a degree," Jones said.
Teaming out of the backfield with running back Leonard Fournette, Jones enjoyed a career year in his third season with the Buccaneers. With seven-time champion quarterback Tom Brady at the helm, Jones posted career-high marks in rushing yards (978), rushing touchdowns (seven) and rushing yards per carry (5.1).
Jones feels like the Buccaneers' best is yet to come, particularly with Tampa Bay set to return all 22 starters for its title defense later this fall.
"It's only going to get better," Jones said. "Like our coach said, 'We won the Super Bowl not even playing our best football.' I feel like as a team that we haven't peaked yet. We feel like we're still on the way."
And on a morning when Jones further etched his legacy at his former high school, that same motivation is driving the running back as he prepares for the upcoming season.
"We just want to keep winning. That's how you put your name down in history: Just keep winning," Jones said.