McKINNEY — There's just something about McKinney vs. Plano.
The Collin County football rivalry has escalated in recent years, giving way to stunning outcomes and emotional finishes for both programs. Friday's season opener between the two may just be the matchup's wildest installment yet.
From an imposing start by the Lions to a resilient comeback by the Wildcats — all capped by some special-teams heroics by McKinney to eke out a 36-35 victory from McKinney ISD Stadium.
"It says a lot about our football team," said Marcus Shavers, McKinney head coach. "The 'never quit' attitude and doing the things you need to do to be successful. We've got great senior leadership and those seniors came through at the end for us."
That was the case inside the final minute of the fourth quarter with McKinney staring down a 35-28 deficit that seemed improbable just a couple hours earlier. With Plano riding high upon seizing its first lead of the night, that jubilation was short-lived after Lions senior Cameron Rivas went from one sideline to the other and managed to weave through the Wildcats for an 82-yard kickoff return that pulled the Lions within one point, 35-34, with 33 seconds to play.
The touchdown came moments after Plano was flagged for being offsides on its initial kickoff, which McKinney managed to return near midfield. Instead of taking the advantageous field position, Shavers opted to have Plano rekick. Rivas took care of the rest.
"We felt good about our return guys back there. We thought that they'd sky it and get it to one of our faster guys that we moved up to the wing," Shavers said. "They kicked it deep instead and Cam Rivas just went out and made a senior play."
The Lions decided to double down on their momentum and went for a two-point conversion — a call that senior RJ Carver made good on by barreling his way through multiple Plano defenders for the requisite yardage to put McKinney ahead, 36-35.
McKinney 36, Plano 35 @ :33/4QRJ Carver!!! The McKinney RB toughs out the 2 pt conversion and the Lions are back in front. What a response by McKinney. #SLMGridiron pic.twitter.com/FCDNiJJ2Kq

— Matt Welch (@MWelchSLM) September 26, 2020
Plano managed to maneuver just past midfield before a last-ditch heave by senior quarterback Oliver Towns fell into the arms of the Lions' defense to secure the dramatic win.
"[Carver is] a tough back. He's in shape and has done a great job with his conditioning," Shavers said. "He's going to make a lot of plays for us, but we've got to do a better job blocking for him."
Carver finished the ballgame with 152 rushing yards and two touchdowns on more than 7.5 yards per carry. His efforts came in handy for a McKinney offense that sputtered over the second half, which gave way to a momentous comeback effort by Plano.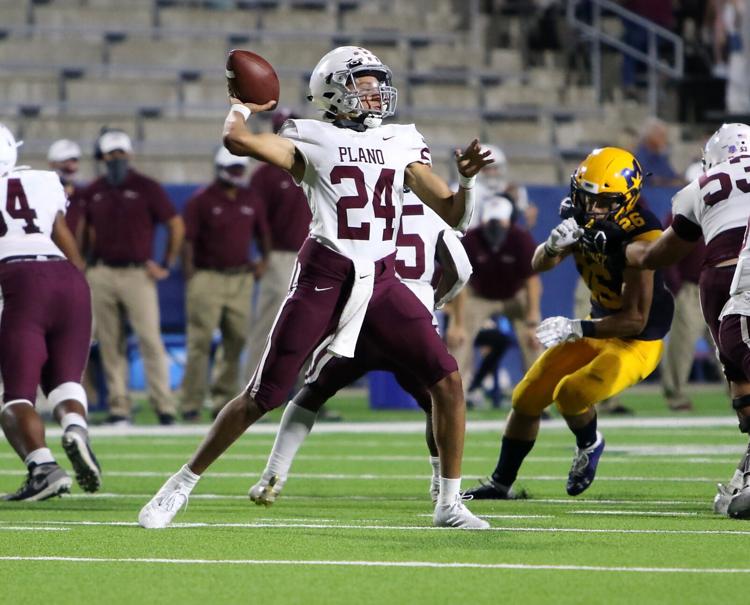 The Wildcats trailed by as many as 21 points with 6:09 to go in the third quarter following a 3-yard score by Carver to make it 28-7. Plano scored the next 28 points of the ballgame to seize an improbable 35-28 lead inside the final minute of the contest.
The senior duo of Towns and running back Tylan Hines had their fingerprints all over the comeback. Hines spun off a tackle and kept his balance to score on a 15-yard, third-quarter run and later caught a 20-yard pass from Towns on a swing route on fourth-and-12 to close the gap to 28-21 with 11:44 remaining in the fourth quarter.
As the Lions' offense slowed, Plano's continued to hum. With 5:19 to go in the contest, Towns scrambled for a 16-yard touchdown run that tied the ballgame for the first time all night. 
Following an interception by junior Amaechi Humphrey, the Wildcats went in front after Towns connected with senior Khamare Spivery over the middle for a 19-yard score — erasing a three-score lead that McKinney built on the strength of a run game fueled by Carver and junior quarterback Sampson Nazarko.
Plano 35, McKinney 28 @ :57/4QUnreal. Wildcats have their first lead of the night after trailing by 21 in the 1st half. Oliver Towns finds Khamare Spivery for a 14 yd TD. What a comeback! #SLMGridiron pic.twitter.com/0yGfLEzYoa

— Matt Welch (@MWelchSLM) September 26, 2020
"We've got to get in better shape as a football team," Shavers said. "If we don't, we're going to struggle with some other teams. We've got to go back to work because we've got a really big test next week."
The Wildcats tallied 447 yards in their first game under new head coach Todd Ford, the bulk coming in the second half and on the strength of its senior backfield. Towns threw for 165 yards and ran for 154 more, totaling three touchdowns, while Hines totaled 173 yards of offense and found the end zone three times.
It was a 50-yard run by the Plano speedster that broke the seal with 57 seconds left in the first half for Plano's first points after McKinney sprinted out to a 21-0 lead.
McKinney 21, Plano 7 @ :57/2QMuch-needed TD by Plano, as RB Tylan Hines does Tylan Hines things and breaks off a 50 yd TD run. He had a 22 yd run earlier in the drive. #SLMGridiron pic.twitter.com/NIP7MfS221

— Matt Welch (@MWelchSLM) September 26, 2020
Nazarko threw for 124 yards and ran for a pair of touchdowns but was picked by Humphrey and Plano senior Dylan Davis. Carver added 42 receiving yards, while senior Jaxon Harris logged 32 receiving yards.
The Lions look for a more even-keeled effort at 7 p.m. Friday when they welcome Marcus. Plano hits the road for a 7 p.m. Thursday kickoff at Homer B. Johnson Stadium against Rowlett.