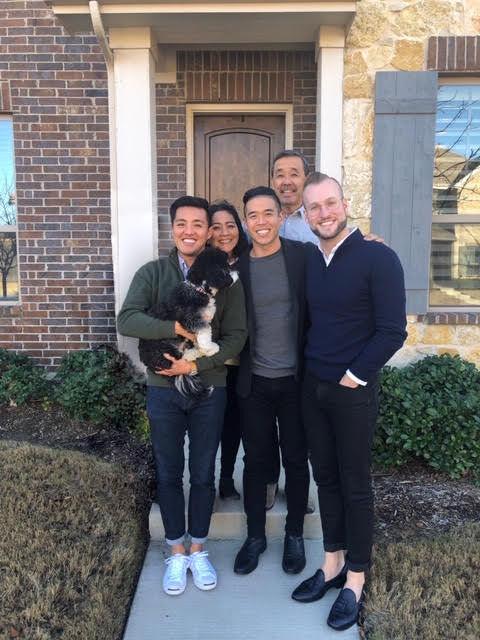 We, as a family, are absolutely thrilled about the recent U.S. Supreme Court ruling for LGBTQ Americans to be protected from discrimination in employment. This is especially important at a time of crisis when so many, like our son-in-law, have lost their jobs because of the pandemic. However, this is only a step towards equality and inclusion, with so much more work to do.
A few years ago, we moved from Los Angeles to McKinney, just outside of Dallas. Work brought us here and we've been able to build a community to make it home. With our move, we were very intentional about finding a church that would be welcoming to our gay sons, Derek and Kyle, when they came to visit. Despite being longtime members of the Methodist Church, we were still struggling with how our church in California went through a rocky period, reconciling with the inclusion of people of all sexual orientations and gender identities.
It was important that our new church in McKinney had those values. We've made an effort to inform and educate, talking to people at our new church to bring them closer to being allies. Within faith communities, acceptance shouldn't be questioned; we are taught to just love everybody regardless of their orientation or identity. 
Our LGBTQ advocacy began when our boys came out to us in 2013. Then, we began listening to really understand what it meant to be a parent to gay sons. It was the basis of our beliefs and attitudes that we are commanded by our God to be loving to others. Our sons just expanded our horizons. 
But, we continue to worry about the discrimination our sons face in their every day lives. Our younger son Kyle has been hurt terribly by his church in New York. He has a love for God that's so strong, but they wouldn't allow him to serve or even stack chairs because he's gay. He eventually left because it broke his heart. It's hard for us to see that he's not able to serve in the way he'd like. 
Someone who discriminates is unwilling to try to understand where someone else fits in, similar to white privilege. Discrimination is harmful in so many ways, whether physically, emotionally or financially. 
Our faith, religion and church strongly discourage discrimination, it goes against the teachings of Jesus. We recognize that people are afraid and discriminate against people for things they don't understand. So, we want to help educate people, but we also want to see our lawmakers step up as there are currently no explicit statewide nondiscrimination protections for LGBTQ Texans.
Additionally, it is still legal under federal law to discriminate against LGBTQ people in public places like stores, restaurants, and hotels and all the places where people spend their daily lives. 
That's why Congress must act now and pass comprehensive federal nondiscrimination protections, like the Equality Act, to ensure all LGBTQ Americans are allowed to live their lives safely with the dignity and respect that every American deserves. 
Our sons are working adults and contributing members of society. If you knew them, you'd love them just as much as we do. We want to see them have all the same opportunities to achieve their dreams whether in their careers, community, faith, marriage or having a family. They deserve that. But, in order to see those dreams become reality, we need equality. 
Glenn and Karen Murakami are proud parents of two gay sons, Derek and Kyle, and have called Texas home since 2017.