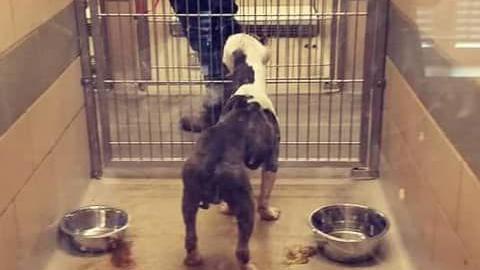 A video clip and several photos of dogs at the Mesquite Animal Shelter have been circulating on social media advocating for the better care of animals at the shelter as well as the firing of the managing director of the Mesquite Animal Services Jeanne Saadi.
This isn't the first time  animal advocates have come forward against the Mesquite Animal Shelter. In 2017 there was an incident regarding a dog named Buddy that was ultimately euthanized.
Most recently, advocates are speaking out about Frankie and Sugar. According to a post by Leslie Hennings with The Underdog Project, Frankie went without proper medical care at the shelter, which allowed hookworms to progress.
"They're telling people that Frankie went to the vet – he went to the vet last minute when there was a rescue interested and people watching," she said. "He got a parvo test, but (Saadi) wanted to keep him in the general population and left him there after the parvo test. If she thought the dog had parvo she was exposing it to other dogs."
Frankie has since been pulled by a rescue and is now in foster care.
Hennings post stated that Sugar was adopted out to a family and returned to the shelter with bite wounds and fearful of other dogs. She was labeled aggressive without a dog test even though she was adopted out with the knowledge that she was dog-friendly, according to Hennings. Sugar was euthanized.
She said a volunteer had gone to the shelter before it opened to network and record videos of the dogs. The volunteer was said to have found a foster for Sugar.
"(The volunteer) ran out of battery, went to her car to charge her phone. Jeanne knew she was networking them and she had just posted the dogs on Facebook. When she came back about 15 minutes later the dog was dead," Hennings said.
Hennings said she has since been banned from the shelter but claims other dogs have been brought into the shelter and euthanized soon after intake without networking or given a chance to get adopted.
Andrew Flores was an animal control officer with the shelter for about seven months before he quit. He said he noticed many things going on that shouldn't have, but the worst was an incident regarding euthanasia drugs.
"There was a time where we had ineffective euthanasia drugs. Once staff became aware that they weren't any good we went to Jeanne and it took about a month to two months for her to finally get the proper drugs reordered," he said.
City Manager Cliff Keheley said there was an incident in March and April 2018 in which the shelter received a bad batch of drugs but stopped using that batch immediately.
"One of the things that we've done since the complaint came up is that we're doing an internal evaluation for the last six months on all of our euthanasia logs. We're also bringing in a third party who can evaluate our staff," he said. "They're all trained and they're all certified animal control officers, and euthanasia is a piece of their license. So they've been trained according to state regulations. We're going to bring somebody in just to make sure that everybody's doing it according to their training."
Assistant City Manager Raymond Rivas said he hasn't seen any cases where an animal has been tagged and has been euthanized, referencing claims in which animals that have been spoken for get euthanized.
"A lot of times a tag comes in after we've already extended deadlines, because in an effort to try and network dogs, we do keep animals probably longer than we have in the past, trying to find that positive outcome," he said. "We communicate on a regular basis with our rescue partners, and we have set better deadlines and communicated those."
He added that if a rescue communicates with the city, they do what they can to make sure that they're not having to make the tough decision of euthanasia.
"We've got excellent save numbers because of these rescue groups, so any time a rescue shows an interest we hold off on any euthanasia. We'll hold on to an animal even if somebody comes in and is interested in adopting it," Keheley said. "If the staff is aware that somebody's interested in it but they haven't quite made up their mind we'll withhold that animal from euthanasia." 
In claims like Frankie's cases where he was said to have needed medical attention but was left untreated for an extended period, Keheley said the city has a specified budget to seek medical care for animals that come in with an injury.
"We have to make choices," he said. "There are some where it's not medically viable. We have to go into the direction of euthanasia, but we're not going to allow an animal to suffer."
Rivas said the animals are checked on a regular basis and a vet tech comes in and checks on the animals routinely.
"Sometimes a medical condition will present itself maybe after the vet tech has come in and checked. We get dogs that are running loose in neighborhoods so we don't know what their background is so we don't know what they have. A dog can be healthy one day and show signs the next day," Keheley said.
In Frankie's case, there was a video of him in a kennel with bloody stool. Rivas said they did notice something abnormal and conducted two fecal tests.
"It really wasn't exhibiting parvo symptoms, but to be on the safe side we did a parvo test and the second one was a comprehensive fecal test," he said.
Hennings said she and others have been requesting open records on several dog cases but haven't been successful in getting records released.
She and other ex-volunteers and employees of the Mesquite Animal Shelter and animal advocates plan to share their concerns with the City Council at 3:30 p.m. Thursday in the conference room at 1515 N. Galloway Ave.