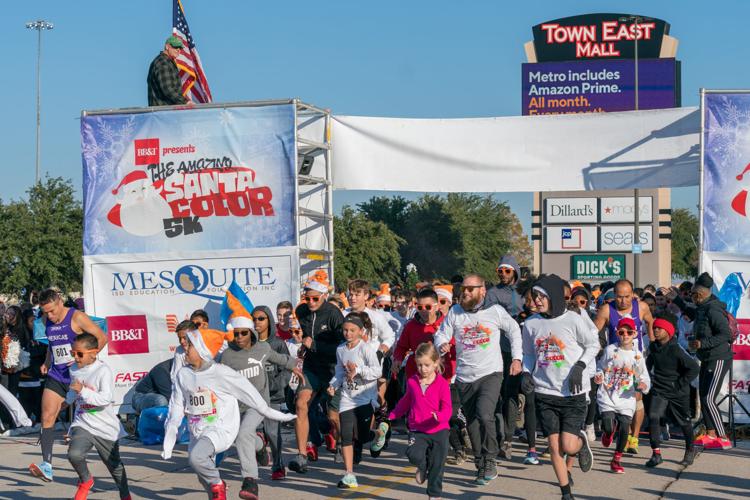 The Mesquite ISD Education Foundation's annual Amazing Santacolor 5K held on Saturday at Town East Mall was another success.
"We ended up with 1,500 participants, which is a dramatic increase from last year," Mesquite ISD Education Foundation Executive Director Randy Lewallyn said. "The weather was outstanding, and Santa made his big entrance via helicopter and stayed at the finish line to high five each runner as they completed the course. That was a special bonus, especially for the children in attendance."
He added that they anticipate the net proceeds to be around $55,000 from this event. The money will be used to fund Innovation Grants in MISD for programs that fall outside the state budget.
One of the sponsors was Dallas Regional Medical Center who had Santa flown in on a CareFlite helicopter.
New this year was chip timing for those wanting an added competitiveness.
The winners are:
Female
Overall winner: Joan Martinez with 16:40
Students age 5-12
1st Lydia Rios - 23:45
2nd  Kassidy Swaner - 25:55:1
3rd Rylee Medill – 25:55:9
Students age 13-19
1st Jadyn Dangerfield – 19:08
2nd Vanessa Ortiz – 19:47
3rd Kaitlyn Cedillo – 20:26
Adults 20-29
1st Kristen Bowlus – 18:36
2nd Lacey Boone – 23:34
3rd Christina Ordonez – 24:59
Adult 30-39
1st Emilie Mason – 22:41
2nd Priscilla Zambrano – 23:05
3rd Jennifer Reed – 25:17
Adult 40-49
1st Audrey Bollers – 26:15
2nd Wendi Swaner – 26:25
3rd Michelle Loughmiller – 26:43
Adult 50-59
1st Michele Lindsey – 29:04
2nd Tameka Hawkins – 29:53
3rd Lea Goossen – 29:55
Adult 60-69
1st Pamela Cavin – 29:04
2nd Carol E. Fernandez - 35:25
3rd Cindy Fugate - 44:24
Adult 70-79
1st Doris Zelaya – 51:15
Males
Overall: Alberto Castro – 15:32
Students age 5-12
1st Alfred Huerta – 17:58
2nd Angel Escamilla – 18:32
3rd Joshua Loera – 20:11
Students age 13-19
1st Jesus Escamilla – 15:45
2nd Juan Martinez – 16:40
3rd Kaneal Cooper – 16:57
Adult 20-29
1st Chris Roberts – 16:58
2nd Wyatt Stubbs – 23:36
3rd Nicolas Gravis – 25:16
Adult 30-39
1st Alex Castro – 17:42
2nd LJ Jinadu – 24:35
3rd TJ Reed – 24:45
Adult 40-49
1st Fade Aziz – 17:03
2nd Wesley Oliver – 18:41
3rd Adrian Mora – 19:03
Adult 50-59
1st Brian Hokanson – 19:46
2nd Doug Goossen – 23:27
3rd Jerome Geisler – 24:59
Adult 60-69
1st Alberto Ramirez – 21:53
2nd William Keeling – 43:34
3rd Gara Stark – 45:09
Adult 70-79
1st Henry Morris – 28:47
2nd Jose Zelaya – 51:00