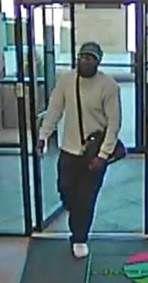 On Thursday morning Mesquite Police responded to a report of a robbery which had occurred at the Green Bank located at 1438 Oates Dr. in Mesquite.
Police said the suspect entered the location and presented a note to the teller demanding money. The teller then gave the suspect the cash that was in the drawer, and the suspect fled the location on foot.
The suspect (pictured), is described as a black male, approximately 6 feet tall, muscular build, beard, wearing a white long-sleeved shirt, blue pants, and a blue hat. The suspect was also carrying a shoulder bag.  
Crime Stoppers will pay up to $5,000 for information called into Crime Stoppers that leads to the arrest and indictment for this felony offense. If you have information about this crime, call Crime Stoppers at (214) 373-TIPS; or contact Mesquite Police at 972-285-6336.