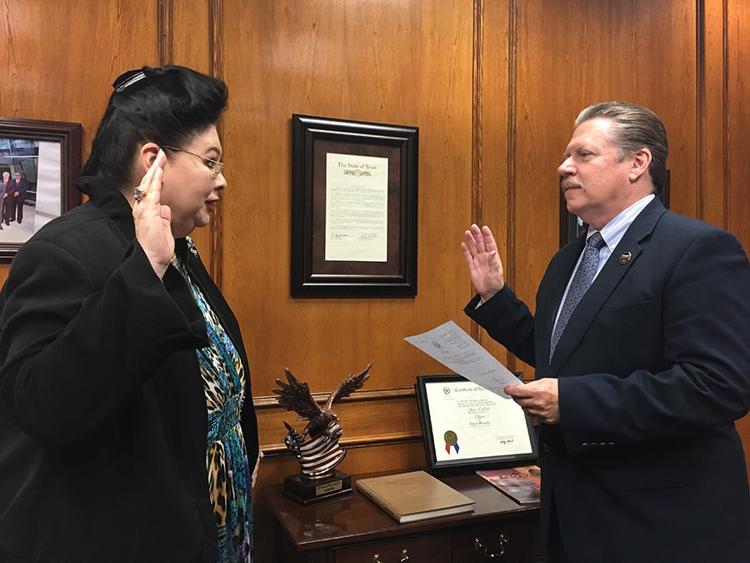 Brenda Jean Patrick was officially sworn in by Mayor Stan Pickett to serve as one of Mesquite's representatives on the Board of Directors for the North Texas Municipal Water District. She joins Terry Sam Anderson as Mesquite's two representatives on the board.
"It is always rewarding to see our citizens get involved and volunteer their time and talent to improve our community. Brenda will be a wonderful representative for Mesquite," said City of Mesquite Mayor Stan Pickett.
The Mayor indicated that Patrick will serve a two-year term on the board and can be reappointed by the City Council at the conclusion of the term in May 2021.
Patrick has served as a Board Member for Friends of Texas Public Schools as well as Advisory Board Member for the Texas Educational Support Staff Association. Patrick attended Texas A&M University-Commerce, where she received her Bachelor of Science in 1981 in Elementary Education with a History minor. In 1984, Patrick received her Master of Science, Professional Supervisor Certificate and her Mid-Management Administrator Certificate. For her work, Patrick has been recognized with many awards.  These include the 2007 Texas Educational Support Staff Association (TESA) Administrator of the Year and the Texas History Teacher of the Year, presented by the Daughters of the Republic of Texas. Patrick is a 7th generation Texan, born in Dallas, and currently resides in Mesquite.