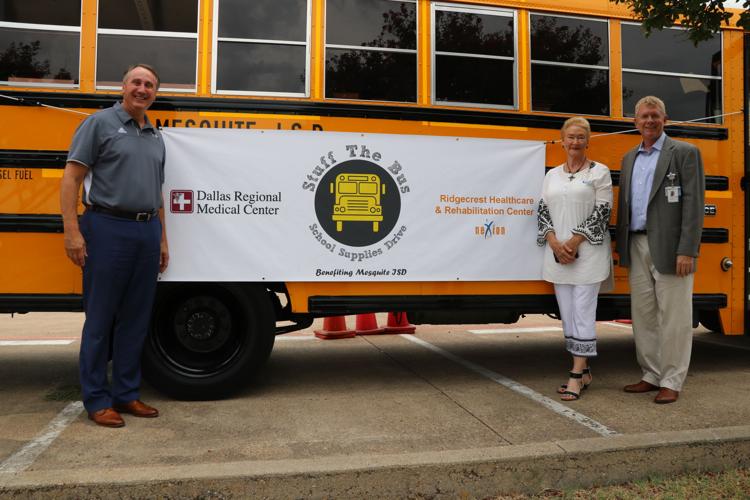 It's mid August in Mesquite, and that means one thing, back to school time. Practices are taking place, teachers are finalizing their lesson plans, and local stores are packed with parents and kids loading up on school supplies to get ready for another school year. While many people are may be excited about a new school year, some parents are feeling the financial strain of buying school supplies. According to Mesquite ISD (MISD), about 78 percent of all MISD students will be eligible for free or reduced lunch.
After learning that statistic, Dallas Regional Medical Center (DRMC) jumped into action and partnered with Ridgecrest Healthcare and Rehabilitation Center to put together a supplies drive called Stuff the Bus. Both groups promoted the event throughout the community and engaged our other community partners in order to drum up support, and more than a 15 business partners joined the cause. 
"We already support MISD in a variety of ways, through event sponsorships and donations to their education foundation, but we wanted something more tangible. After hearing the normal stories about teachers buying school supplies out of their own pockets so their kids are equipped, we decided that holding a school supplies drive would be a great way to help out," said Glenda Matchett, CEO of Dallas Regional Medical Center.  
MISD was happy to participate in the event, and dropped off a school bus a few days before the event in order to generate interest, and serve as a collection point for the supplies. This past Wednesday, the community came together to Stuff the Bus with nearly 1,200 pounds of school supplies. Dallas Regional Medical Center and their affiliated medical group, Dallas Medical Physician Group, contributed more than half of the supplies collected, and community partners helped surpass the goal of 1,000 pounds. 
All of these supplies were given out by MISD at their Back to School Fairs this past weekend, where MISD had to cap the event at 7,000 students. MISD Superintendent, Dr. David Vroonland, personally stopped by after the event to thank everyone for their support. When speaking to DRMC leadership, he commented, "This was a great event and we really thank you all for your support. Our students and teachers cannot thank you enough." 
"We're so happy we could help. As the community hospital, giving back to our friends and neighbors is always on our minds. It was amazing to see exactly what nearly 1,200 pounds of school supplies looks like many of the boxes were stacked two or three boxes tall," Matchett said.
Because of the success of the drive, DRMC officials said they are already planning Stuff the Bus for next year, with the goal of surpassing this year's collections. With this donation, hopefully some local families are even more excited to start the new year.