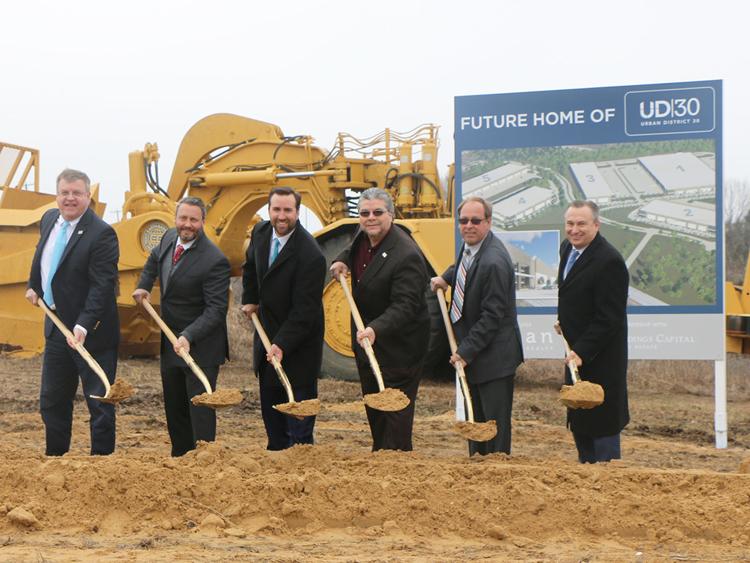 Mesquite officials and Urban Logistics Realty founders broke ground on the upcoming $71 million Urban District 30 Monday morning.
"Today is a benchmark moment in the history of Mesquite because this massive and innovative industrial project shines a spotlight on our city," said Councilman Tandy Boroughs. "It illuminates that fact that companies want to be in Mesquite. It brightens the point that businesses want to invest in Mesquite."
Urban Logistics Realty is a newly formed Dallas-based investment firm focused on industrial acquisitions and development. Urban District 30 is a nearly one million square foot master-planned industrial park in Mesquite that is expected to bring in more than 500 jobs.
Urban District 30 is a joint venture between Urban Logistics Realty and a private real estate equity fund advised by Crow Holdings Capital. This industrial project is strategically located at the northeast intersection of I-30 and I-635, with an anticipated completion in third quarter 2020, according to a press release.
Urban District 30 will consist of a five-building, 980,000 square-foot industrial business park with visibility along and access to Interstate 30. Urban District 30 will offer a variety of building configurations to tenants appealing to a wide variety of businesses looking for spaces in the area. 
"We're thrilled to have begun construction on this project and are grateful for the help from the city of Mesquite," said Jason Nunley, co-founder of Urban Logistics Realty. "As one of the last remaining opportunities in east Dallas for investors to obtain urban in-fill locations with substantial scale, Urban District 30 is a great addition to the DFW industrial market." 
"This project fits perfectly within ULR's strategy of developing logistics-related projects within urban locations here in Texas," said Adam Herrin, co-founder of Urban Logistics Realty.
Mesquite Mayor Bruce Archer said, "The City Council's focus includes more jobs and economic growth in our community. This project and partnership supports that focus."
"The increasing tenant demand and limited supply of functional industrial space in northeast Dallas positions this development very well in the market," said Matt Dornak, vice president of Stream Realty Partners. "We are confident that the project will see fast success, proving to be a top-tier location for future tenants."
According to the press release, Dornak, along with Stream Realty Partners' managing partner Blake Kendrick and senior associate Drew Feagin will oversee the leasing and management of the project. Additional partners in the development include MYCON General Contractors and GSR Andrade Architects. Jones Lange Lasalle arranged the capital for the project, including the construction loan with Comerica Bank. 
During the groundbreaking ceremony the developers made surprise donation of $25,000 to the Mesquite Arts Council.