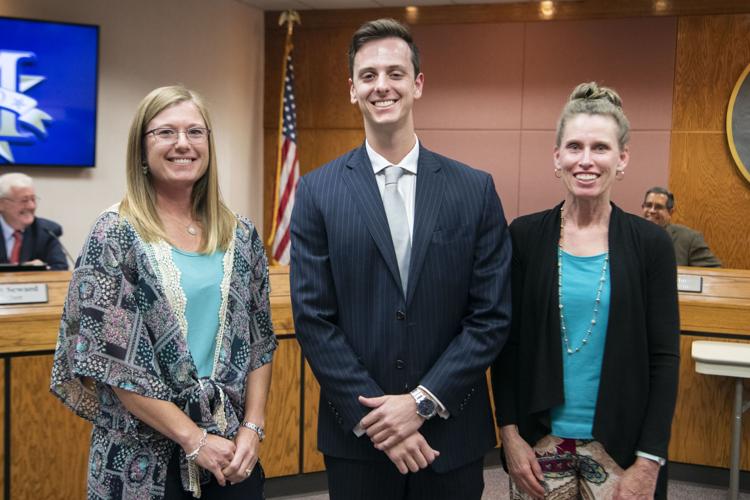 Two Mesquite ISD elementary educators joined the ranks of Apple Corps teachers, the district's highest recognition. The educators honored during the this month's Board of Trustees meeting were Price Elementary first grade teacher Eryn Reid and Gray Elementary P.E. teacher Lindsey Hunt.
The Apple Corps program rewards excellence in teaching by honoring outstanding MISD teachers. Created in January 1990, this honorary program inducts two new teachers each month at the regular meeting of the district meeting. These educators are nominated by their peers and approved by administration and enjoy many forms of public recognition and appreciation each year.
Price Principal Tomika Johnson said Reid was nominated by her peers and the Price leadership team for her outstanding service to their students and the campus.
"When we were voting and thinking about what represents an Apple Corps teacher on our campus, it was very easily identified. Mrs. Reid makes sure her students are learning, they're engaged," Johnson said.
Reid is also a campus leader and has been with Mesquite ISD for about 21 years.
"It is my dream job because I get to have new adventures every day with students and I get to watch them grow. It's the job that's perfect for me," said Reid.
"I believe that with students you want to work with them right where they're at and not push them too much but push them just enough. So with each student you need to get to know them so that you can understand what motivates them, and that will help you be successful in helping them be successful," she added.
Gray's Principal Jennifer LaPlante described Hunt as a phenomenal educator.
"She's passionate about teaching our students how to live a healthy lifestyle. Coach Hunt leads by example and she sets high expectations. Her P.E. class is engaging and high energy," LaPlante said. "Coach Hunt is dedicated to providing our students with experiences they may not otherwise have."