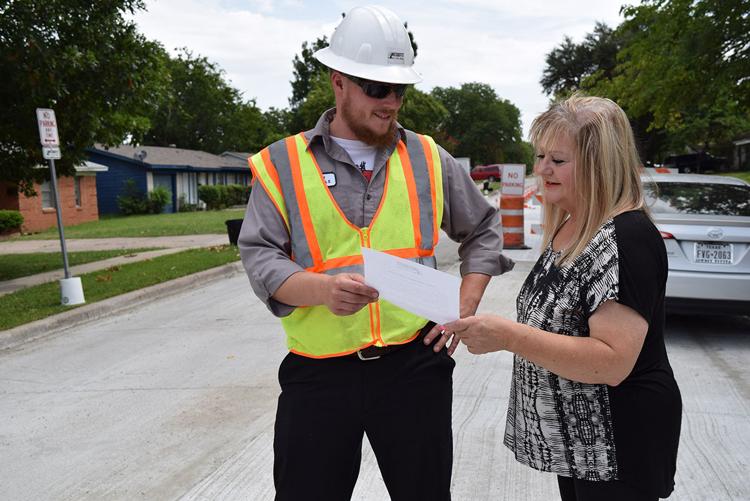 Two independent  architectural and engineering consulting firms have confirmed the process the city of Mesquite is using to repair residential streets is successful, is cost-effective, and should continue with various modifications.
City Manager Cliff Keheley said, "I am extremely proud of our staff's efforts to efficiently improve neighborhood streets. We had two impartial, professional engineering and pavement specialist companies review how we are repairing residential roads. They both concurred the methods our Public Works Department has been using for the past two years is successful."
Keheley indicated the city plans to implement recommendations from the report on opportunities to further improve the repair methods. He confirmed the city will now move forward with the next set of streets to be repaired.
Due to concerns by some citizens, the City Council asked that repairs be suspended and for a review of the street bond process, commonly referred to as "Real. Texas. Roads." CP&Y and The Transtec Group both affirmed the current optimized reconstruction process of combining three different methods saves the city and taxpayers about 66 percent in costs – allowing more streets to be repaired with fewer resources.
Both professional firms calculated thecCity's process generated a 94 percent success rate. The firms did offer recommendations for increased success rates. This includes using full depth repair for streets with commercial traffic and at intersections, new procedures to allow more curing time of concrete as well as extra steps in applying the concrete and the reinforcement materials.
In 2015, Mesquite voters overwhelmingly passed the city of Mesquite's $125 million street bond proposition to issue and sell bonds in order to repair residential streets. The original Real. Texas. Roads. program includes the repair of more than 100 miles of residential streets during a ten-year period. The City Council decided to accelerate the program to complete it within eight years. To date, the city has rehabbed approximately 22 miles of residential streets in the first two years.