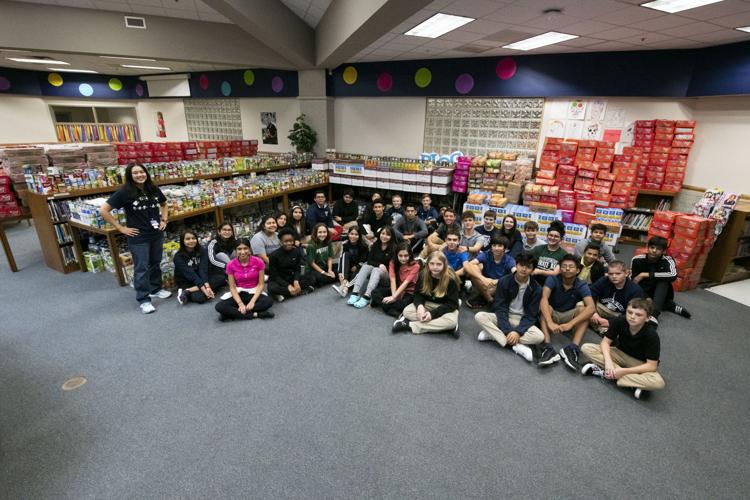 Kimbrough Middle School has the holiday spirit. As part of their Thanks and Giving Month the school collected food items that will benefit local nonprofits Mesquite Social Services and Sharing Life.
Principal Chris Brott said one of their campus initiatives last year was their "Say Something Nice" campaign in which they made it a campus focus to encourage and recognize kind acts that were happening on a daily basis on campus.
"Recognizing the hunger need around us, especially during the holiday season, our staff and students wanting to show kindness to others outside the walls of our school and decided to extend it into the community and give back in a big way to others around them," he said. "Last year, we set a campus goal to collect 7,000 non-perishable food items and collected almost 10,000."
The school has more than doubled their collection this year, and one eighth-grader, Isabel Ybarra, brought in 5,000 items. In total, the campus collected nearly 23,000 items.
"My eyes may have teared up a little bit when I saw all that we had collected, and am so very proud of our students, parents and staff for their compassion and kindness for others and willingness to give back," Brott said.
Mesquite Social Services equips and empowers households experiencing poverty in Mesquite and surrounding communities with emergency basic needs and self-sufficiency programs.
Sharing Life is an organization that offers various services to help those in need including a food pantry and clothes closet, holiday programs, utility assistance and more.