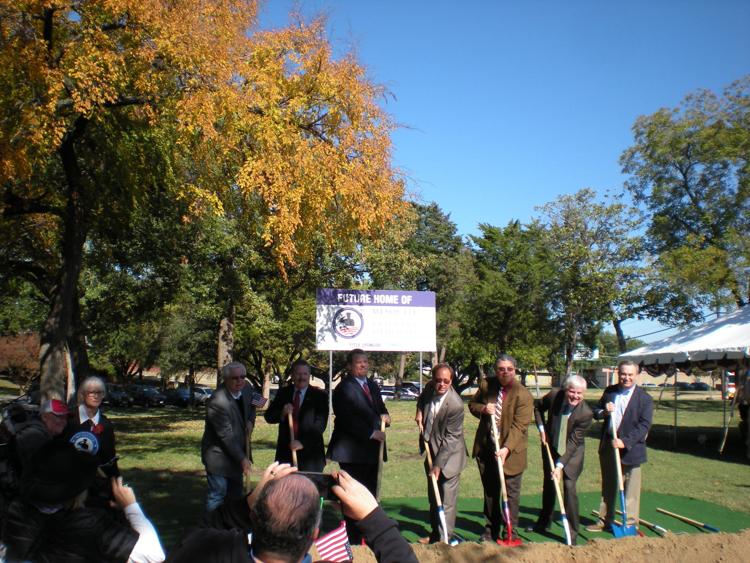 After many years of promoting and fundraising, a groundbreaking ceremony was held in conjunction with Mesquite's annual Veterans Day celebration Saturday morning for the Mesquite Veterans Memorial located at City Lake Park, 403 S. Galloway Ave.
The celebration featured a free concert by the Dallas Heritage Brass Band and free lunch provided by the Mesquite Fire Corps volunteers.
"When we partnered with the city in 2017 we had a little over $6,000 that we'd raised in about 10 years and now we're close to reaching that goal of completing this memorial. You can imagine how happy that makes my heart," said Randy Lawson with Heroes of Mesquite.
He thanked all those involved who helped make his dream into a reality.
"Today is the first step towards honoring those brave men and women from Mesquite that were willing to lay down their life for freedom's sake. Let us not forget all those men and women who came home from World War I all the way up to today," he added. "We are blessed that they were willing to live out their lives in the land of the free because of the brave. And we are privileged to still have many of those heroes here with us today."
The Mesquite Veterans Memorial is a community project to build a new place of honor for all military veterans and their families. The memorial will include a plaza, an area of recognition for those from Mesquite killed in service and various other tributes to military service. The memorial is expected to be completed next year.
It was also announced that the city has begun the sale of bricks to the public for the memorial. The public can purchase a brick online at mesquiteveteransmemorial.org. All bricks will be included in the construction and be placed on the border of the walkway that leads visitors to the memorial.
Each brick is four by eight inches in size and costs $50. The inscription area on each brick will accommodate three lines of messages, with a maximum of 20 characters per line. The public can purchase multiple bricks.
Mesquite breaks ground on new Veterans Memorial