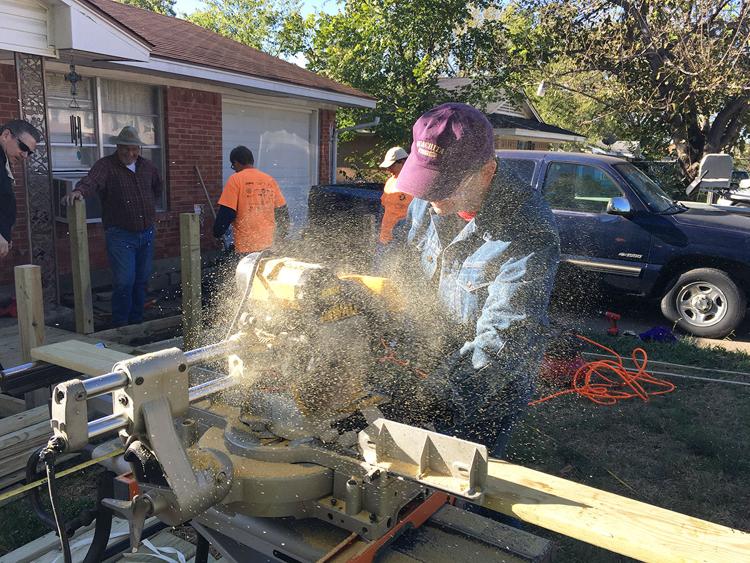 On Saturday, Oct. 12 more than 1,000 volunteers scattered throughout Mesquite to assist 102 homeowners with home projects such as painting and landscaping. Some volunteers even built new wheelchair ramps leading up to the front doors of the homes. This was all part of the annual one-day volunteer day called Addressing Mesquite Day.
It is a day that celebrated its 15th anniversary in 2019 and has aided more than 1,000 homeowners in Mesquite since its inception. It is one of the most successful and sustaining volunteer programs of its kind in any community in north Texas.
The homeowners who receive assistance include the elderly, senior citizens, the disabled, military veterans and single parents. All submissions for help through the program are screened by the City of Mesquite and matched with volunteer teams.
During a volunteer rally to kick off the day, Mayor Stan Pickett said, "Today is a benchmark moment in the history of our city. And each of you are a part of that history. Today, marks the 15th year anniversary of Annual Addressing Mesquite Day. Addressing Mesquite Day has changed the lives of thousands of homeowners and their families. And that is because of all of you. And all the dedicated and devoted volunteers that came before you. But all of us know - Addressing Mesquite Day is not about the projects – it is about the people."
The volunteers who help on Addressing Mesquite Day are from local high schools, churches, civic clubs, the corporate community, City of Mesquite employees and non-profit groups. The funds and materials used for the home projects are provided by sponsors and local businesses.
Addressing Mesquite Day was created in 2005 by local churches, non-profits and the City of Mesquite as a one-day opportunity to aid offer a workday for volunteers wanting to give back to the community. The day has grown during the past 15 years to add more volunteers, sponsors and community support.
Addressing Mesquite Day 2019