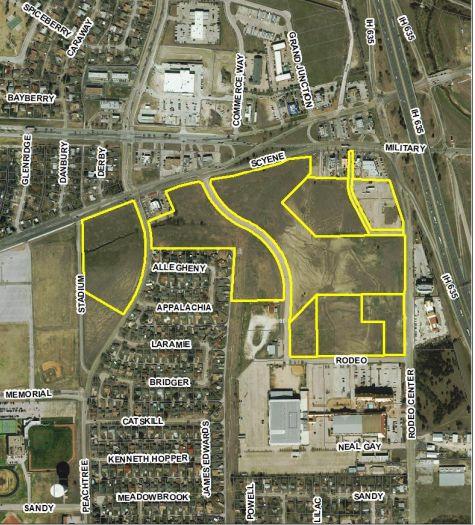 A public hearing was held recently to consider an ordinance change of zoning to allow a development with residential and commercial uses within the Mesquite Arena Rodeo overlay district. This development, Iron Horse Village, is located at 1900 and 2000 W. Scyene Road, 21713 and 21717IH 635, 1703 and 1705 Rodeo Drive and 417 Rodeo Center Drive.
Five responses in favor and four responses in opposition to the application have been received from property owners within the statutory notification area. Per the recommendation of the Planning and Zoning Commission, the City Council approved this item with a few stipulations.
The stipulations are to have senior living residential uses dedicated to adults age 55 and over provided on the property areas shown as senior targeted areas on the concept plan, and 75 percent of all residential homes will exceed the minimum square footage specified in the concept plan – bungalows – 2,600 square feet, villas – 4,000, zero lot line – 1,296; rear and front entry townhomes – 1,400.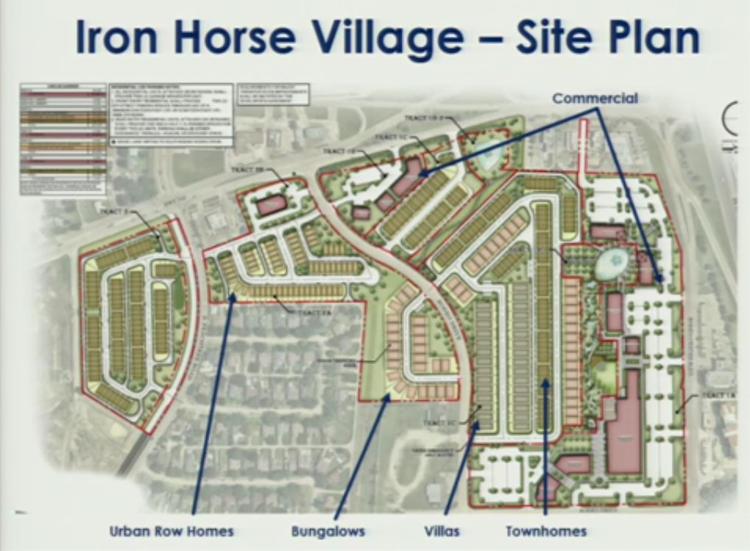 This development is a mixed-use community on about 56 acres that will include 338 single-family residential home sites: 30 single-family detached villas; 51 single-family detached bungalows, 57 detached urban homes and 200 rear-entry townhomes.
The community is also expected to feature 4.5 acres of creek, ponds, trails, open space, lookouts and park amenities; decorative metal and masonry walls that embrace yet modernize the rodeo culture of Mesquite. They plan to incorporate steel cattle, sculptures, benches, pathways and native landscaping within the development that will be maintained by HOA and POA, CCR's (covenants, conditions and restrictions) regulating property maintenance.
Thomas Fletcher, Kimley-Horn and Associates Inc., consultant for the applicant, said they looked at the area as a whole – the Mesquite rodeo, existing hotels and conference center – and worked to build a project that's going to be sustainable for city of Mesquite and a valuable addition to Mesquite and its residents.
"We wanted to create a certain streetscape, we wanted an urban feel, we wanted a walkable community, so during this process we made all the townhomes rear entry so that we can kind of help with that feel," he said.
He added that their street design also allows for parallel parking, which was one of the biggest concerns voiced, making sure there was ample parking for residents and their visitors.
This project also includes 130,000 square feet of retail, restaurants and entertainment.
"We want to see this as an entertainment area/venue/destination with restaurants and entertainment, so it works in concert with the residents, this open space, this community living, the Mesquite Rodeo, the hotel and conference centers that are adjacent to the project," Fletcher said.
For more images and detail on this project, visit Mesquitenews.com.