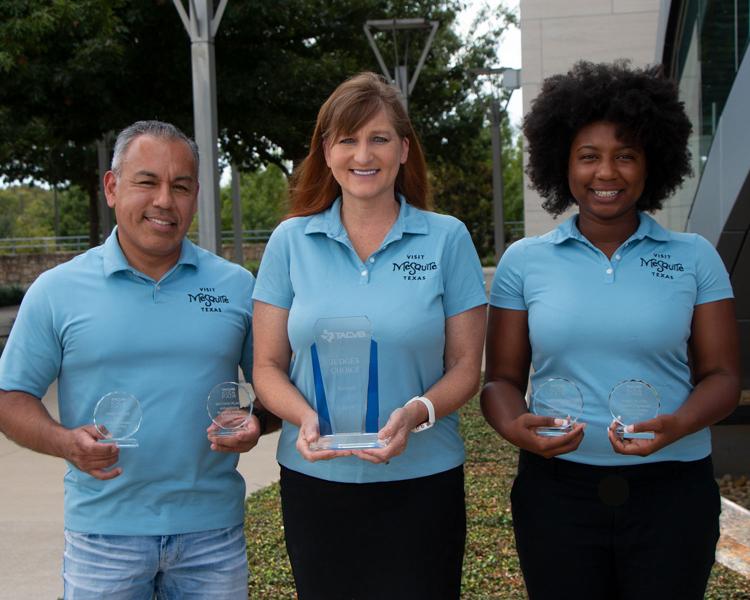 The Mesquite Convention and Visitors Bureau (CVB) received five awards at the recent Texas Association of Convention and Visitors Bureau's (TACVB) Annual Conference for excellence in destination marketing. 
The Mesquite CVB was honored with People's Choice Awards, selected by tourism industry peers, for its budget size in the categories of Advertising, Website, Mobile Site and Video.
Additionally, the Mesquite CVB was presented a special Judges Choice Award, chosen by a panel of judges comprised of tourism industry experts, for the best website from all entries regardless of budget size. The Mesquite CVB launched the new website VisitMesquiteTX.com in April.
"We had a record 116 entries this year," said Kim Phillips, TACVB Chief Operating Officer.  "The winners faced stiff competition and these awards are well-deserved". 
One of the judges, Lois Rodriguez, Strategic Partnerships Manager of the Travel Information Division for the Texas Department of Transportation reported, "The competition was tough, but VisitMesquiteTX.com's TACVB win as best overall website is testament that you don't have to have a million-dollar budget to produce an excellent tool for visitors. This website stands out because it offered all the necessities in a beautiful, functional package."
The Mesquite CVB will continue to balance its award-winning marketing efforts with strong sales partnerships with local hotel properties as well as collaborative programs with restaurants, retail and area attractions. Digital outreach and printed materials will contribute to a blend of promotional campaigns to sustain Mesquite's relevancy as a destination of choice for conferences and day travelers.